GOLFERS GALORE: Team BT-AmEx ProAm gets together at the 19th hole before teeing off for the day
Beatnik and underground humourist P.J.O'Rourke found out that all the important lessons in life are contained in three rules for achieving the perfect golf swing: keep your head down; follow through; and, be born with money.
But you don't have to necessarily be born with money to blow it on the course. You've got to earn it.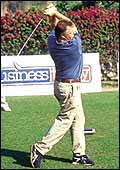 "Both golf and the scotch we make come from Scotland"
, Regional Director, Highland Distillers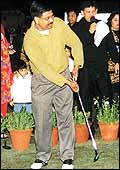 "Tyres and golf keep you going"
, Marketing Director, Goodyear India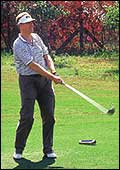 "Both golf and Coke are very, very competitive"
, CEO, Coca-Cola India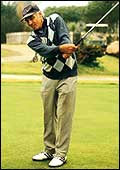 "Pharma cures all physical ailments and golf is a great revitaliser for the body, spirit and mind"
, Chairman, Ranbaxy
Just like the corporate honchos and professionals at the Business Today-American Express Pro-Am Champions 2002. They fought hard, real hard, to earn every point on the undulating 18-hole green. Venue: the rolling greens of the Jack Nicklaus-designed Classic Golf Resort in Gurgaon. Days: March 2 and 3, 2002.
In its seventh consecutive year, the two-day, Rs 1.5-crore rendezvous packed in 102 amateurs, 17 professionals, 34 caddies-delivered from hole to hole on 34 battery-operated carts.
Both days as a gongoozler, I lazed around hole # 10. Right next to the food stall, and each time the ball hit the pole jutting out of the hole, I just couldn't resist a couple of chicken sandwiches. Y.C. Deveshwar (itc Ltd), Bharat Patel (Procter & Gamble), Sanjay Rishi (American Express), Gopal Ansal (Ansal Buildwell), Alex Von Behr (Coca-Cola India), Rana Kapoor (Rabo Bank)-they all teed off from where I would love to crash out.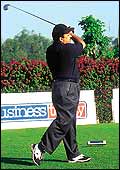 HERO NO. 1: Pankaj Munjal of Hero Group in the swing of things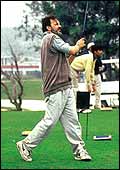 GOLFAHOLIC, Despite a handicap of 18, Prannoy Roy--the NDTV chief--waxes humility claiming to be a third-rater in golf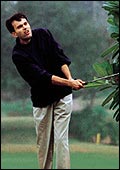 BUNKER: Ruchir Sharma of Morgan Stanley drives on a course pock-marked by bunkers
Despite a-more-than-normal chill in the morning, rolling on the grassy carpet on the first day was perhaps more interesting than the roll of the ball for most players. 'Blame it on the weather' was the common refrain as the sun refused to shine the first half of the day.
But who cares as long as there is hobnobbing and camaraderie. Over lunch, it was clear our amateur players had a ball even if they couldn't swing it to the right hole. For Y.C. Deveshwar, 54, Chairman, ITC Ltd, golf is quality time. A time to relax and sharpen his skills in managing. And when he plays on his own company promoted course in the Classic Golf Resort, it is ultra special. One of the first to tee off in the championship, he was thoroughly at home notching up 34 points in the stableford format. ''The game was okay and it is a pleasure to play with your peers. The banter, the competitiveness all makes it very interesting,'' he said.
Deveshwar's team-mate, Procter & Gamble Chairman, Bharat Patel plays a number of PRO-AMs. ''This is special. The whole ambience and the prize-like playing at St. Andrews-all make it so exciting.'' Of course, Patel was referring to an all-expenses-paid trip to the Old Course at St. Andrews in Scotland, the Mecca of Golf. The tournament every year flies out two winning amateurs to St. Andrews to play competitive golf and get a better grip on the sport. The two who made it this year are Anup Singh of ITC (any familiarity with the course is purely coincidental!) and the Singapore-based Seagate General Manager Robert Yang. This is what Yang sang after the event on the first day: ''I've come from Singapore to attend this (event) and although the greens were tricky, I scored 87 points.'' When asked how Classic compared with other courses, the widely travelled Oriental quipped that the course in Bangkok was his favourite since it had lady caddies to assist you from hole to hole.
It may take a while for Classic to undergo such sex-change, but the 34 caddies slotted for the job proved more than a handful-slinging the golf kits, collecting balls, and keeping scores as the four players per team (technically called four-ball) moved all along the course.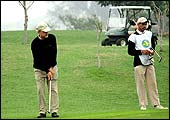 PUTT SERIOUSLY: ITC honcho Anup Singh putts as Kapil Dev Puckers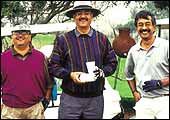 THREEDOM OF EXPRESSION: Bharat Patel of P&G (L), Y.C. Deveshwar of ITC & GE's Pramod Bhasin (R) say cheese over tea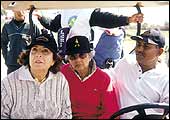 GO-KARTING: Mehroo Irani of Associate Breweries with a fellow golfer being carted for tee-off
Ranbaxy Chairman Tejendra Khanna ''got along very well (with his team members) in terms of mutual chemistry.'' Sporting a black baseball cap, he claimed his long game was good and blamed the multiple and undulating slopes for difficulty in putting. But when it came to choosing his favourite course, Classic was indisputably on top.
There was Vikram Mehta, chairman of Shell India, nursing his drink not very far from Khanna. The Mumbai-based oil honcho was visibly jet-lagged as he had flown in from London, but being bleary-eyed did not stop his enthusiasm. He was perhaps the only candidate who desisted from taking the cart. Instead Mehta, who ''just enjoys hitting the ball'', did hard work physically covering the course on foot.
For Delhi Police super-cop Ajai Raj Sharma, although ''the environment at Classic is refreshing'', the Nainital golf course was much prettier and challenging topographically. Nearby somewhere, super-Coke CEO Alex Von Behr was seen lurking with ''a light whisky'' held close to his chest. ''In golf you're always trying to push yourself further'', the 15-handicap Anglo-Dutch said with a wink in his eye.
The Famous Grouse Scotch Whisky was one of the sponsors of the event and its Regional Director Anacreon Barnard drew a classic association between the sport and scotch-presto, both come from Scotland. Prannoy Roy, the face of Star News, was there too and despite a handicap of 18, was waxing humility: ''In golf, I'm a third-rater'', is what the bearded anchor-head of New Delhi Television (NDTV) had to say.
Understandably then, the show was a big draw with both the artists and tyros of the turf. They came, they stooped (for the shot, of course) and they conferred. It was an opportunity to get the heads in and set the ball rolling and the tournament did that to the tee.
TEE IN THE DARK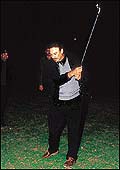 Movie star Suresh Oberoi trying his hand at night golf
Ever teed off at night? The experience as I have just experienced, is far from the ordinary. The ball sits there on the tee about an inch or so above the ground. It has a special green incandescent strip running around it imparting a fluorescent glow. You can't see the ball. Just a green neon ring above the ground. All you need to do now is putt it into the hole that glows at a distance. As extras, there are candles to light up the fairway. But there is darkness at the edge of everything else. And mind you, no floodlights.
That's uphill for any pro, but amateurs can really lap it up. Says Procter & Gamble Chairman Bharat Patel: ''This night golf business is absolutely fabulous. Also it is a great opportunity of getting together with friends who do not often meet because of very pressing schedules.''
Aptly called 'Tee in the dark', Business Today and Malaysia Airlines conjured up this event for the first time in India. About 100 glow balls were imported from Taiwan at an average $7 (Rs 336) a piece. And now for the concept man-'Tee in the Dark' was Classic Golf Resort's Head (Golf Operations) John Volz's baby, through and through. Volz is from Florida, with a hint of pride in his high-octave pitch: ''Friends back home say I'm a creative person.'' You betcha!
HONOURING THE CHAMPS

WINNING TEAM: Pro--Rohtas Singh (middle); Amateur--Arvind Wable (right), (not in picture) J.S. Jong and Ashwin Kapur
1ST RUNNER UP WINNERS: (From right) Sanjay Sehgal, Kamal Oberoi, and Sonny Iqbal
ROBERT YANG (40 POINTS) bags an all-expenses-paid trip to participate at the All-England old R&A course at St. Andrews, Scotland, the Mecca of Golf
TEE IN THE DARK: Winner of night golf Rajeev Rai gets a Delhi-Kuala Lumpur-Delhi ticket to two from Henry Moses of Malaysia Airlines