"The Indian plantation industry is fuffering; but established brands have a point in importing teas to enhance brand value."
C.K. DHAWAN, Vice President, Indian Tea Assoc.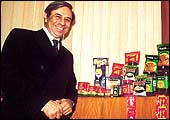 "It is essential that tea gets recognised as a healthy and refreshing drink with the trappings of a gracious lifestyle"
,
MD, Tata Tea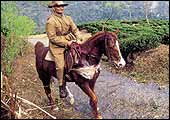 "We have created a heritage image and it is important for us to ensure that the goodwill level remains constant"
,
Planter makaibari Estate
Pankhabari road, which winds giddily up and down the hills of Darjeeling district, leaves you breathless in more ways than one. Every sharp turn brings you closer to the majestic Himalayas, and the hills are dotted with legends that have entered the hall of fame of the tea industry. Makaibari, Longview, Castleton, Ambootia... the list goes on. All gardens that made Indian tea the pride of the world in stores like Harrods of Knightsbridge. Yet on the misty winter drive here in Darjeeling, as you pass the gardens, each with their famous nameplates affixed to the gate, you cannot help but feel that those legendary names may be losing some of their sheen.
All is not well in the kingdom of teas-whether it is Darjeeling, the Brahmaputra Valley of Assam, or in the rolling blue hills of the Nilgiris, down in southern India. While domestic demand for tea has been flagging, in the global markets, aggressive newcomers like Indonesia and Vietnam, besides old rivals like Sri Lanka and Kenya, are pushing the Indian tea industry to its limit.
To put it bluntly, the Indian tea industry is passing through one of its most critical periods. In the 673 million kg domestic market, demand has been inching up by only 2.1 per cent a year. From 597 million kg in 1997, domestic demand for tea grew to just 673 million kg in 2001. Things aren't good on the global front either where at 180 million kg, demand for Indian tea has been declining at an average of 1.5 per cent a year for the past five years. Naturally, this has meant softer prices for Indian tea. Since 1998, tea prices have been on a decline, falling by eight per cent in the last four years.
This has had a serious impact on the profitability of tea companies and the worst hit have been the ones banking on south Indian teas. South Indian gardens have suffered because of lack of replanting and in terms of price-realisation. And because of their relatively mediocre quality they are not finding too many takers at the auctions. A look at the numbers will also show you how tea majors like Jayashree Tea-the company posted a loss of Rs 25 lakh in 2000-01-and Harrisons Malayalam have both gone into the red. HLL and Tata Tea have also shown lower topline growth in their tea business. For HLL, the packet tea price-realisation went down 4 per cent over last year, while for Tata Tea, the slump was more, at 5.5 per cent.
The other major challenge that Indian tea companies today face is imports, particularly after the removal of quantitative restrictions in 2001. Last year, at 16 million kg, imported teas accounted for 20 per cent of the total annual tea consumption in India, up from one per cent just three years ago. In 2001, domestic consumption accounted for around 673 million kg and exports around 180 million kg. Against that, the total output (domestic plus imports) was 866 million kg. Or, a glut to the extent of 13 million kg. Says C.K. Dhanuka, Vice President of the Indian Tea Association (ITA): ''On the one hand, the Indian plantation industry is suffering, on the other, established brands have a point in importing teas to enhance brand value. The ideal solution is yet to be found.'' K. S. David, Managing Director, Goodricke Tea, goes a step further: "The industry has thrived on bulk purchases by CIS countries for too long. Quality has been sacrificed and today we are paying the price. We also took the domestic consumer for granted."
Souring The Brew
» Demand has remained stagnant. Tea has failed to penetrate the market and has lost out to soft drinks and coffee.
» Extremely high labour costs are putting the operation margins in most plantations under severe pressure.
» Low-cost tea producers like Vietnam and Indonesia are making Indian tea unviable in the low-value export market.
» India has not been able to penetrate high-value markets like the US. In Japan, another high-value one, India comes a poor third.
» Unviable plantations means lesser investments. The bushes are getting older and quality is slipping in both south and north India.
At the fabled 125-year old Makaibari tea estate that produces OME of the finest darjeeling teas and sells directly to developed markets like Japan and the UK and commands the connoisseurs' reverence, Raja Banerjee, a planter, rides out on his magnificent chestnut stallion every morning at six. Banerjee's keen eye is quick to pick the condition of every bush. Proud of its heritage, teas from the Makaibari estate aren't sold at auctions, but through private deals. ''We have created an image and it is important for us to ensure that the goodwill level remains constant,'' explains Banerjee. But it's a tough task. Over-dependence on the CIS countries and little efforts at growing the domestic market are starting to take their toll.
A tepid brew
While India has an impressive 59 per cent share of the CIS market, it is non-existent in the high-value US market and ranks a poor third in another high value market, Japan, with a share of only 9 per cent. A 17 per cent share of the UK market is some consolation, but even in terms of total tea exports in volume terms, India has dropped behind Sri Lanka, China, and Kenya. Says Tea Board Chairman Naba Das: ''This is largely because we have a very well-developed domestic consumption pattern and that has always made us look inwards. The worry is that base is not expanding and the invasion of soft drinks has made the task even more difficult. The younger generation is giving tea a go by.'' To encourage tea drinking, the Tea Board has launched a series of generic campaigns entitled ''piyo more chai'' to help grow the market.
In a stagnant market, where costs are not declining, the only option is to create a higher value-added product that can realise bigger margins. Tata Tea and Hindustan Lever are two companies that have been able to do so through aggressive branding. Says Homi R. Khusrokhan, Managing Director, Tata Tea: ''We have been able to create a whole new range of teas, starting from the top of the line Tetley to the premium Temptations and even a new product in the lower category, which will help the company consolidate its position.'' At HLL, plans are afoot to create better value with the Taj Mahal brand by making it richer. At the same time, Lipton's once-famous Green Label is facing the axe because of the lack of availability of good quality tea. But the root of the tea industry's crisis is at the plantations. Lack of modernisation (which results in low yield) and high wages make the tea industry particularly vulnerable to the vagaries of the market. With domestic demand falling, the problem has got exacerbated. Says ITA's Dhanuka: ''Branding is a value addition in tea, but to bring that about the plantation industry must become profitable at its own end.'' The tea industry employs nearly 10 million people and the cost of employment has gone up from Rs 13 per kg in 1998 to Rs 21 per kg today. Against that the industry's average price-realisation has dropped from Rs 76.43 to Rs 61.25 per kg over the same period. The arithmetic is just not right. But there is some hope of setting that right. Down south, Indian tea planters and the labour unions have recently agreed to link wages to productivity and profitability and this could provide a precedent to other tea growing areas. In Darjeeling, high wages are a severe problem,. Says V.M. Atal, Managing Director, Carrit Moran, a tea-broking house: ''Most of the gardens are privately-owned and the cost of wages is far too high for these owners to continue investing in the gardens. As a result, the quality of the bushes are on the wane and so are price realisations.''
Trying For A New Blend
So what's the way out? A blend of different things, of course. While the Tea Board has engaged international consulting firm Accenture to draft a road map for the tea industry, there some no-brainers that have to be done if Indian tea wants to regain its place of pride. First, the glut has to be addressed. And one initiative that has been recently taken is to cut production of end-season plain teas. This would reduce croppage by around 20 million kg during the lean season. Not only will this move cut oversupplies but also ensure that poor quality teas don't queer the pitch. Says Aditya Khaitan, director, Williamson Magor: "The industry has to pay attention to quality, and to do that we have to cut production. It will help replanting and increasing the age of the bushes even if it hits gross sale for the time being."
The other move is to increase the output of orthodox teas, which are the regular two leaves and a bud variety as compared to the cut-tear-and-curl (CTC) variety. The reason orthodox output has to go up is because it gives more value for money and it is also easier to blend. "We need to do this so that the whole processing becomes easier," says Khaitan.
The ITA and the Tea Board's other initiative is to push consumption of teas by promoting the brew as a health drink. Already, under the aegis of the Tea Board, the industry is working on several countrywide campaigns to promote tea consumption. Says Tata Tea's Khusrokhan: "What the campaign is doing is giving tea a public face as a generic product. A fact that we have neglected for too long. It is essential that tea gets recognised as a healthy and refreshing drink with the trappings of a gracious lifestyle." Such initiatives may work, but they're hardly a panacea for the Indian tea industry. In the global market, particularly in the high-value markets like the US and Japan, it is Indian tea's competitors who rule the roost. And unless the industry can chip into those markets, the future looks bleak on the export front. Tea, after all, is a commodity. And what can be worse than operating on the low end of the value chain in a commodity market?
But there is the proverbial silver lining. A recent issue of Harrods Catalogue lists a price tag of £50 (Rs 3,500) for a 125-gm pack of Darjeeling and Assam teas. Things surely aren't that bad yet for the Indian cuppa!