Gary Wendt: Pioneering BPO
Gary C. Wendt was Indian Business Process Outsourcing's (BPO) Vasco da Gama when he was at the helm of GE Capital Services. Today, as the Chairman and CEO of outsourcing giants Conseco and Exl Service, he's still betting big on India. BT caught up with him to find out what the future holds for India in this opportunity area.
How did you spot this opportunity?
I cannot take credit for starting it. Five years back, GE's leasing business division came up with the idea of shifting some of our back office operations from the US down to India-amidst a lot a scepticism. But the Indians not only did the job, but they did it better as well.
What were the bottlenecks in coming to India?
The telecom infrastructure presented some problems. They were not overwhelming. It required a fair amount of capital to build redundant systems. There still is resistance in moving jobs to India. That will gradually wear away, as it did in the case of Indian software companies.
In terms of geographies, what are the options other than India?
COPY CAT, ER... DOG
Rexona and Cinthol deos use a girl and dogs. Coincidence?
No one is complaining as yet, but somebody soon will. The recent TV ad for Godrej's Cinthol International Deodorant shows a girl being chased by bad guys and bad dogs, and the girl befriending the dogs (thanks to that Cinthol smell), which then chase the baddies away. That's strikingly similar to HLL's Rexona International Deodorant ad, where a girl escapes from a prison and throws sniffer dogs off course, courtesy her deodorant. Now we won't say who's copying whom (a global ad, Rexona's was made in 1998). But can somebody tell us what's with the dogs?
English speaking countries like Jamaica and Ireland. But they're very small. You run out of talent the minute you want to expand operations. In India there's plenty of workforce available.
How do you differentiate yourself in a crowded BPO market?
Exl stands for excellent service. That's what we hope to deliver. We have the advantage of having a big client in Conseco. But at the end of the day if you aren't going to offer high quality service, clients won't stick with you. If we find the quality of Indian work force going down, we will quickly move back to the US.
Do acquisitions make sense in India for a company like Conseco?
At the moment there really aren't very many big BPO activities that aren't totally internally focussed. GE and American Express only focus on their own business. So there's no question of stealing clients from someone. But it will be a competitive market.
---
NET-NET
A Foot In the Door
The promos have already begun for the XVII World Cup Soccer, but will they score in a battered consumer market?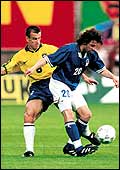 Kickstarting the ad promotions
To Pepsi must go the credit for kicking off World Cup Soccer- related advertising with a global campaign featuring David Beckham and some Sumo pros. Coke will start later, in the middle of May, and just a fortnight before the event, but its campaign, says a spokesperson, ''will touch everything from fountain glasses to an online football game''. It isn't just cola majors, a number of companies are gearing up to tap the World Cup; estimates put cumulative viewership in India for 64 matches that made up the last World Cup at 37 billion. Interestingly, the telecast rights for India are still to be awarded.
Consumer durable companies have latched on to the opportunity. Hyundai Motors India has just concluded a purchase-led promotion. LG India is launching a special edition football-shaped TV; Philips India is going a step further with interactive football games. ''Most Indian homes don't have a computer, so the interactive games will be a value-add,'' says Rajeev Karwal, Senior Vice President, Philips India.
Companies associated with the event globally will do their bit too. ''Our promotions will centre around bringing the excitement to our retail stores,'' says Harish Doraiswamy, General Manager, Adidas India (its parent is a sponsor). Recession, or not, this just seems to be one marketing opp no one wants to ignore.
---
POLARISATION
One Man's Meat
Consolidation in media buying is worrying media owners.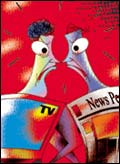 No prizes for guessing who's unhappy with the recent consolidation in media buying. The media owners, of course. ''At a time when 60 per cent of ad agencies have defaulted on hundreds of crores of rupees, (consolidated media buyers) are talking of huge volume-led discounts,'' says Pratap Pawar, President, Indian Newspapers Society (ins), print media's apex body. The fear among media owners is that there is a uni-polar power shift towards the consolidated buyer, what with just three or four entities (including WPP Marketing Communications, Starcom India, and the soon-to-be launched IPG's Magna Global), slowly gaining control over the entire planning/buying end of the Rs 8,500-crore ad market. Is the fear real? ''It is largely psychological,'' quips Gautam Rakshit, President, Advertising Agencies Association of India (AAAI). Andre Nair, CEO (South Asia) WPP Marketing Communications, is more diplomatic: ''We will negotiate fairly with media owners, because it helps us keep media competitive.'' Still, it isn't quite a win-win.
-Shailesh Dobhal
---

CIM's John Stubbs: Voice for marketing
Q&A
"Business Processes Need To Support Marketing Promises''
A veteran of J. Walter Thompson and Unilever, John Stubbs now leads the Berkshire (UK)-based The Chartered Institute of Marketing (CIM) as its Chief Executive. CIM's objective: create an international ''voice for marketing''. An avid golfer and part-time fiction writer, Stubbs, 60, spoke to BT's Shailesh Dobhal on a recent visit to India. Excerpts:
You have been involved with projects that demonstrate the contribution of marketing to competitiveness. Your learnings.
We started five years ago by sponsoring research through the London Business School to establish the relationship between customer focus and business success. From a statistical base of 5,000 companies, where we wrote to the chief executives and analysed the responses from around 500 companies, we were able to establish that the greatest co-relation is between companies that cared for their customers and also gave highest returns to their shareholders.
What do you consider the most successful example of corporate branding internationally?
There are two or three elements that can elevate corporate branding, either the chief executive taking the role of the chief reputation officer or different elements of the business helping to move corporate brand up the agenda. I think what British Petroleum Chairman, Lord John Brown, did as the company's chief reputation officer was exceptional. He moved BP from being perceived as a dirty energy company to a dynamic and innovative company, which is moving to cleaner energy sources.
What are the challenges for marketing as one (like India) moves from mere consumer goods to a services-led economy?
The problem in trying to migrate from the consumer goods mindset to services marketing mindset is that processes in the business do not support what the marketing guys promise in their ads. Unless the marketing people are seen to be genuine professionals who can contribute at the strategic level, they are left to do leaflets. Unless you find the business processes in the company that will deliver guaranteed outcomes for consumers, and you have ways of measuring outcome and driving it along, and the marketing people are involved, it doesn't work. And people think they are doing marketing by getting the guy who supposedly does the brand. But the brand is the customers' experience of you and not the name or faces you stick-on the service.
---
BACK-END
No Queues Here
Retail's new service providers wait to serve.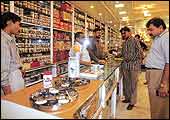 At your service, any time
If organised retail is a Rs 75,000-crore industry, how big could be its outsourcing opportunities? Pretty big, thinks a recently-spawned clutch of service providers offering everything from supplychain management to pilferage control to loyalty management. Take Solutions, a Chennai-based firm, has set up a nation-wide network of transporters and warehouse owners. Checkpoint Systems has just launched its pilferage prevention system, and Venture Infotek has come in with transaction management for loyalty programmes. The problem: there are few takers. Venture Infotek has just two clients (Bharat Petroleum and Apna Bazar), and take Solutions is already looking for customers outside retail. ''We may look at such companies as we acquire that critical mass to do away with in-house operations,'' says Arvind Nagarajan, CEO, Arcus, a home decor retailer. As long as that's a promise, it should be ok.
-T.R. Vivek