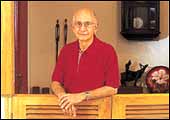 XERXES DESAI: ready for a long-awaited vacation
He is the reluctant employee who never left. More than 40 years ago, Xerxes Sapur Desai took a sabbatical from his academic pursuits at the Oxford University to do a stint at Bombay House, the Tata Group's headquarters. The J.N. Tata scholar's idea was to return to Oxford and academia after that break. He never did. Instead, he stayed put and went on to work with group companies such as Tata Chemicals, Tata Press, Indian Hotels and, finally, Titan Industries. Now, Desai is ending his long innings at the only employer he's known. On March 31, the 65-year-old will retire from the watch company he launched in 1986 and headed as its Vice Chairman and Managing Director, and hand over the charge to his protégé Bhaskar Bhat.
Under Desai, Titan became India's best-known, and the world's sixth-largest, watch company. But just like his employment at the Tatas, Titan was something that almost didn't happen. Desai first thought of it in 1976 after a chance encounter with a bureaucrat. When he suggested the idea of a watch company to J.R.D. Tata, the legendary chairman of Tata group was immediately excited. The idea, however, remained just that for the lack of a technical collaborator. It wasn't until 1986 that Titan was born. But within a decade, Desai had led the company to the top of the heap. Last year, Titan raked in Rs 708.53 crore in revenues, and turned the second-quarter loss this fiscal into third-quarter profits ahead of his retirement.
So, what's ahead for the western classical- and jazz-loving Desai? "I'll go around the world, visiting friends," he recently told BT. Considering that the last time he went on vacation was way back in 1979, Desai can do with a bit of break. Once that's done, he wants to do something socially relevant. While nothing has been firmed up yet, he says he would like to work with a think-tank that lobbies for change in the way companies and the economy are managed in India. Ultimately, Desai-who often brought his two daschunds, Max and Minus, to work-wants to make a difference to the lives of India's poor. See you around, Xerxes...
Getting Under His Skin(s)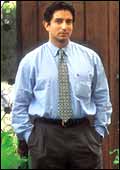 GAUTAM THAPAR: aiming for a hole-in-one
Just in case you haven't noticed it yet, golf is corporate India's game of the season. Soon after Shaw Wallace jumped in to sponsor Indian Open for the next five years, Gautam Thapar, Vice Chairman and Managing Director of Ballarpur Industries Ltd (BILT), has ushered in 'Skins'-a golf format introduced in 1980 to attract non-golfers and TV audiences. In other words, Skins is the one-day international of golf: the game is played for increasing sums of money over each of the 18 holes. The BILT-Skins event, to be held on April 20, 2002, at DLF Golf and Country Club in Gurgaon, carries a prize of $45,000 (Rs 21.6 lakh).
Apart from the fact that the 42-year-old Thapar himself is a golf freak, what's common to Skins and a paper company? ''BILT has got into golf because the sport has a clean image and India has been consistently producing winners,'' explains Thapar. Hitting the greens for the prize money will be, among others, former cricketer Kapil Dev and Fiji-born, but native of India, ace golfer Vijay Singh, who, not surprisingly, won the Royal Challenge Indian Open championship held last month. We don't know about the sponsors, but the golfers for sure are hitting pay dirt.
Sayonara, Fujisaki-san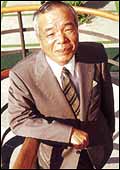 TERUO FUJISAKI: going back 'home'
The auto industry's longest-serving Japanese expat CEO in India is moving on. On March 31, Teruo Fujisaki, Honda Siel Cars' President and CEO, quit his job to move to Taiwan, where he'll be in charge of Honda's new fully-owned subsidiary. In the 10 years that Fujisaki-san spent in India, he was part of all Honda ventures, including two-wheelers and generators. ''I am really sad about leaving India,'' says the man, who regrets not having visited Kashmir. But how does he rate his own performance, given that Honda Siel has just 2 per cent share of the overall car market?. ''8.5 on 10,'' comes the answer. Why? ''Honda scores very high on brand image, product quality, and customer satisfaction, as borne out by the seven JD Power awards we have won since our launch in 1997,'' says the 'butter-chicken' lover. Taiwan, where Fujisaki was born, could be his last corporate posting and home on retirement. For some, life has a nice way of turning a full circle.