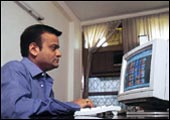 From his home at Sarvodaya Enclave, a Delhi borough, inveterate day trader Vikas Gupta, 35, plots his next move
Klackety Klack on Qwerty. The furious pounding of the keyboard is interrupted only by war cries of ''Archies 54, Carnatic 40, Rolta beecho (sell), Infosys chaepo (buy)''. Cradling one phone, Bharat Gala screams into another, eyes and fingers constantly dancing between the flashing query windows popping up all over his screen and the console of a telephone that is lit up like a Christmas tree. Four flickering monitors have already made his five-by-three feet office unbearably hot and it's only eleven in the morning.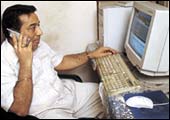 SURINDER MIGLANI, 45, HOTELIER, DELHI
EDUCATION: B.Com
DAY TRADER SINCE: 1997
DAILY TRANSACTION VALUE: Rs 40-50 lakh
BEST DAY: Made Rs 4 lakh-plus on Reliance Industries
WORST DAY: Lost Rs 2-2.5 lakh on Zee Telefilms
INITIAL INVESTMENT: Rs 50 lakh
FOCUS: A-Group shares
TRADING STYLE: "Every time is buying and selling time," laughs Miglani, who finds all he wants to know about the market in the papers or on CNBC. He trades in both small and large stocks and sells at margins as low as 2-3 per cent.
With his prematurely graying hair and slight paunch, 42-year-old Gala looks an unlikely mascot. Yet, mascot he is for a bunch of hard-nosed speculators. Close to 600 people across 50 Indian cities log onto his chat-room every day, eagerly lapping up the continuous stream of tips, technicals, and plain-old market gossip he dishes out from his claustrophobic office behind the Bombay Stock Exchange. It could be a cloth merchant in Mumbai, a housewife in Kolkata, or a retired government employee in Jalandhar, all united in their quest for the fastest buck.
Today, day traders account for over Rs 2,500 crore, between 70-75 per cent of current daily market volumes (National Stock Exchange & Bombay Stock Exchange combined) making them arguably the biggest force in the country's stockmarkets. If you're a little unsure on who a day trader is, Mumbai stock broker Samir Dholakia has a succinct definition. ''A day trader is simply someone who doesn't believe in taking risks home, preferring to start every day with a clean slate.'' No messy deliveries, no portfolio planning strategies, just a tidy profit at the end of 335 minutes of frenzied trading (provided, of course, you are lucky).
And Lady Luck is smiling. ''The last two months have been boom time for day traders,'' says Chandan Desai, Head (Equity), JM Mutual. ''Thanks to the threat of war, volatility, generally restricted to few counters, has spread across the index.'' Trade on.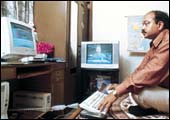 SANJAY RASTOGI, 41, ADVOCATE, DELHI
EDUCATION: B.Com, LLB
DAY TRADER SINCE: 1999
DAILY TRANSACTION VALUE: Rs 10 lakh
BEST DAY: Made Rs 2 lakh
WORST DAY: Lost Rs 4.5 lakh on Pentamedia
INITIAL INVESTMENT: Rs 30 lakh
FOCUS: Media and Communication stocks
TRADING STYLE: Apart from reading the financial dailies, Rastogi surfs websites such as Myiris.com and monitors the performance of companies similar to the one in which he is considering an investment
THE DAY TRADER M.O.
Volatile markets get day trader adrenalin flowing. The species basically makes money by exploiting small price imperfections in shares-a few rupees, at the most. It doesn't matter which way the market is headed, the more a counter (share) fluctuates, the higher the potential for making money. Given their narrow spreads or margins, day traders are always looking for large volumes to buy or sell. Mitul J. Lal a paan-chewing 32-year-old cloth-merchant-turned-day-trader swears by volumes. ''Latch onto momentum stocks; stocks with volumes of 15-20 lakh per day and you're in day trader heaven,'' he exclaims. Sectors don't matter. Nor do individual stocks. Yesteryear's favourite, software, was dumped for old economy stocks like cement, steel and infrastructure. Volatility and volumes, such are the simple needs of most day traders.
Simpler, sometimes bordering on the bizarre, is how most day traders make investment decisions. ''Tips, technicals, and plain luck; in the same order,'' says Hasit B. Pandya, Director, Twin Earth Securities. That's evident in the investing strategy of Sanjeev Selvaria a 35-year-old Commerce graduate who's been into full time day trading for the past seven years, sometimes notching up volumes as high as 10 million shares a day. ''I buy them when they're blue (denotes rising prices) and sell as soon as they turn red (when they start falling),'' he says.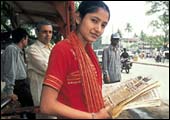 NAMRATA KANDOI, 21, STUDENT, MUMBAI
EDUCATION: Graduate
DAY TRADER SINCE: 2001
DAILY TRANSACTION VALUE: Not fixed
BEST DAY: Made Rs 2,000
WORST DAY: Lost Rs 6,000
INITIAL INVESTMENT: N.A.
FOCUS: Broad. Her aim is to gain an understanding of the stockmarkets
TRADING STYLE: Kandoi believes day trading makes sense only if the trader has a strong knowledge of a company's fundamentals and the required technical (analysis) skills.
If you find Selvaria's technique superficial, take a peek into the innards of small brokerages dotting Mumbai suburbs Borivali, Kandivali, or Malad. Phones ring incessantly, orders are hollered out in a Marathi-plus-Gujarati patois after furtive glances at a CNBC monitor. Groups of young men huddle seven-deep around flickering BSE and NSE terminals playing ''follow the leader''. The leaders are large brokerages, foreign institutional investors, and mutual funds. When they buy, raucous day traders follow suit and punch in buy quotes hoping the demand will push up prices. And when the heavyweights sell, they do too, Graham & Dodd and value investing be damned.
WHY THE FEVER CAUGHT ON
It isn't difficult to see why day trading caught on. It requires little capital, limits the risks, even attracts a preferential brokerage rate. Today, day traders can start off with an initial capital as low as Rs 25,000. Brokerages charge anything starting from 0.6 per cent for delivery based trading; for day traders the charge is 0.1 per cent-a concession for bringing in volumes. And even when they lose money, they do far less than what they would have if forced to take delivery of shares.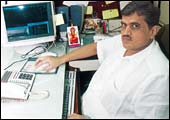 BHARAT GALA, 42, TECHNICAL ANALYST, MUMBAI
EDUCATION: MBA
DAY TRADER SINCE: 1996
DAILY TRANSACTION VALUE: Rs 30-40 lakh
BEST DAY: Made Rs 47,000
WORST DAY: Lost Rs 18,000
INITIAL INVESTMENT: N.A.
FOCUS: Broad. Aim is to maximise profits and minimise risks
TRADING STYLE: Gala relies heavily on technicals and believes it is possible to make money in day trading if you are disciplined. Problem is, most aren't.
Technology is also doing its bit to propagate the religion of day trading. Today's day traders can trade from anywhere they like-home, office, laptop, even mobile phone. Transparent screen-based trading systems ensure that they can leverage price variations of even a few paisa to their advantage. Market information is everywhere-in financial papers, on the tube, and on personal finance websites. Market data is also available in chat rooms, websites, bulletin boards, and other online sources of gossip, and analysed with a bewildering array of tools-all in real time.
As interest in day trading grows, companies keen to cash in are launching products tailor-made for day traders. Mumbai-based Sharekhan.com has sold 300 copies of its trading software, SpeedTrade-within two months of its launch. ''It provides streaming quotes, instant trade confirmation, streaming market info-depth and data, price and research alerts all on a single screen-which serious day traders are finding hard to resist," gushes Jaideep Arora, Executive Director, Sharekhan. With everything so easy, is it any wonder the day trading virus has caught on?
VIRUS IT IS
If international experience with day trading is anything to go by, there's a significant other-side to the phenomenon. As the nasdaq composite plummeted and Wall Street fell out of love with dotcoms in 2000, fingers were pointed at many bow-wow traders who had hyped obscure technology stocks to stratospheric levels.
Despite the current craze for day trading, opinions differ on whether it is possible to make money. ''At the end of the day, day trading enriches only brokers who benefit from the higher volume of trades,'' feels Hyderabad-based K.S. Krishna, Vice President (Marketing), Heritage Foods, and an active day trader since 1997.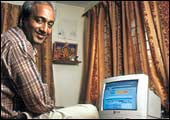 K.S. KRISHNA, 42, VP (MARKETING), HERITAGE FOODS, HYDERABAD
EDUCATION: Post-Graduate
DAY TRADER SINCE: 1997
DAILY TRANSACTION VALUE:
Rs 40-50 lakh
BEST DAY: Made Rs 8 lakh
WORST DAY: Lost Rs 6 lakh
INITIAL INVESTMENT: 1-2 lakh
FOCUS: A-Group shares—MNC, Pharma, FMCG, and TMT stocks
TRADING STYLE: Krishna follows the age-old philosophy of "selling on good news and buying on bad news". Technical analysis and a spot of independent research help him stay ahead of the market.
But die-hard enthusiasts like Gala, whose Mumbai firm makes more than half its revenues from day traders, say a disciplined approach-focus on few shares and sell to cut losses if the need arises-could help even an investing ingénue make some money from day trading. ''Even a capital of Rs 1 lakh to Rs 2 lakh can generate Rs 30,000 per month,'' claims Gala.
P.S. Salvi, a bearded 49-year-old former central excise employee, would vehemently disagree. He has seen his entire capital of Rs 1 lakh being wiped out. A wiser man today, he advises all small-time investors to stay away from day trading. Echoes Namrata Kandoi, a bubbly 21-year-old student who trades from the Mumbai suburb of Borivali, ''I find it risky and speculative; sometimes I have taken positions in companies like dcw and itil without knowing what they do.''
Many conventional brokerage houses consciously stay away from day traders even at the cost of forgoing huge revenues that they bring in. Manish Shah, Senior Vice President, Motilal Oswal Securities, believes that in the long run less than 2 per cent of the day traders make money and prefers to ''concentrate on long-term portfolio clients instead''.
It is definitely boisterous and brash, maybe at times bordering on the irrational. But for die-hard day traders winning or losing doesn't matter, it's the buzz that keeps them going.
-additional reporting by Subhajit Banerjee in New Delhi, Venkatesha Babu in Bangalore,
Nitya Varadarajan in Chennai