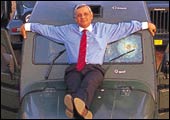 The orders are pouring in: Mahindra Defence Systems' Brig. (retd.) Khutub A. Hai reclines on one of the Rakshak light combat vehicle his company makes for the Army
On a hot Delhi afternoon, Bharat Malkani circles his index finger over the titanium-plated Citizen on his wrist, as he talks. Malkani, a 37-year-old masters in electronics engineering from Washington University, is a self-styled "maverick" who quit a lucrative career as a defence equipment analyst for McDonnell-Douglas, to come back home. Today, Malkani, as the Managing Director of Max Aerospace, is doing his bit for his country.
Malkani's eight-year-old firm set up the first black box shop in India, catering to defence needs. Max Aerospace is perhaps also the first to indigenise the technology behind the engine gearbox for helicopter. Malkani's is one of many private sector companies that have eagerly grasped the emerging opportunities for India's private sector in manufacturing for the defence sector. The Rs 4,112-crore military equipment market that has been thrown open to private companies isn't huge. But it's growing. Estimates suggest, the market could balloon to Rs 10,000 crore in another five years. And people like Malkani are getting in on the ground floor before that happens. Recently, Max and three other private players were handed out eight letters of interest for strategic security equipment, ranging from bullet-proofing to a variety of vehicles, radars, warships, missiles and avionics-a clear departure from the past when defence production was seen as the preserve of hand-picked PSUs. Malkani's next objective: to make unmanned aerial vehicles (UAVs) and assemble choppers.
| | |
| --- | --- |
| PLAYERS | PRODUCTS/SERVICES |
| Max Aerospace & Aviation Ltd | Chopper assembly; repair and maintenance of aircraft; manufacture of simulators, aircraft electricals; and radio systems. Plans to get into the manufacture of vehicles |
| Larsen & Toubro | Components for satellites; systems for missiles; torpedo launchers. Plans to manufacture weapons systems for ships, submarines, and armoured vehicles |
| Mahindra Defence Systems | Light armoured vehicles; specialized software; and installation of surveillance centres. Plans to make mine-proof vehicles |
| Ashok Leyland | Field artillery vehicles; light recovery vehicles; and water carriers. |
| Tata Engineering | Trucks; ambulances; and water carriers. |
| Tata Consultancy Services | Building a computer-aided action information system for the Navy |
| Kirloskar Oil Engines Limited | Ship engines |
| Godrej Aerospace | Critical applications for Agni missiles; production of hardware and subsystems for cryogenic rocket engines |
| Ramoss India | Bulletproof gear |
Made In India
At Manesar in Haryana, about 31 kilometres away from Delhi, Brig. (retd.) Khutub A. Hai of Mahindra Defence Systems (MDA), is getting ready to wheel in light armoured vehicles for which his company has already teamed up with Israel's Ramta last year. Simultaneously, MDS is working on software and installation of surveillance centres-radars and the like. Besides, the company already has an agreement with the UK-based Lockheed Martin Info Systems to jointly develop simulators for the forces. However, the 57-year-old Hai maintains that his company will stick to its core-manufacturing vehicles for the armed forces-with toppings (such as surveillance mounted trucks) never served before, as he proudly reclines on the bonnet of one of the company's made-in-Manesar bullet-proof Rakshaks. A light combat vehicle, the Rakshak is dear to Hai and his crack team of researchers and engineers at MDS. He claims the Army fired 41 rounds in test trials and even exploded a grenade beneath the vehicle, but the Rakshak managed to hold fort, "unlike the competition, which could resist a maximum of 21 rounds."
Hai's firm is awaiting an order of 200 Rakshaks (at Rs 15 lakh a pop) from the Army alone and has already sold 70 of them to state police and the paramilitary. MDS was set up in 2000 as a division of tractor and utility maker, Mahindra & Mahindra, and "will break even this year, irrespective of whether the Army's order comes through", informs Hai. Yet the former brigadier is wary of the pitfalls. He insists, for instance, that discrimination still exists between domestic and foreign players. "While Indian companies receive 95 per cent of the payment only when the item reaches the consignee and 5 per cent later, foreign players are often handed out down payment and some are even given letters of credit," says Hai. The brigadier has come a long way from his first day at the 3rd Cavalry Regiment on a cold misty morning in a Punjab railway station when the first vehicle he got into was a Mahindra left-hand drive jeep. He's now thinking in terms of manufacturing mine-proof vehicles and "is in the process of acquiring a suitable chassis from outside".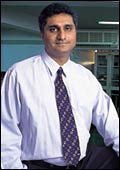 "My next objective: to make unmanned aerial vehicles (UAVs) and assemble choppers"
, MD, Max Aviation
Not very many years separate Hai from the 54-year-old M.V. Kotwal, Executive Vice President (Heavy Engineering Division), Larsen & Toubro, but then, the distance does. From its hi-tech facilities in Mumbai, L&T, clearly the big daddy among the defence manufacturers in the private sector, has been churning out defence equipment over the last 20 years-from nuclear to aerospace research and has worked on satellite projects like augmented satellite launch vehicle (ASLV), polar satellite launch vehicle (PSLV) and geostationary satellite launch vehicle (GSLV). The company has already manufactured launching systems for the Nag missile carrier, missile carrying systems for Trishul, multi-barrel rocket launchers for the navy, torpedo launchers, stabilised platform for ships, designed platform for launching the Dhanush missile, launchers for Pinaka, a multi-barrel mobile rocket launcher system used by the Army, and components for the Akash missile. That's quite a list, yet Kotwal rues the fact that the gestation period in the business is very long and a lot of time, money and effort has to be sunk in. L&T has been working on the Pinaka project for 15 years and expects it to be completed only now.
But L&T has already applied for licences in five different areas-weapon systems; ships and submarines; radar, sonar and electronic warfare; armoured vehicles and airborne systems. The heavy engineering division accounts for roughly 10-12 per cent of L&T's total Rs 8,359-crore turnover. And, defence, nuclear and aerospace equipment account for roughly 20 per cent of the turnover of this heavy engineering division. That's nearly Rs 184 crore. At a conservative rate, says Kotwal, this proportion would increase to 30 per cent over the next three years. L&T, reveals Kotwal, is also planning a foray into the aircraft industry. "We plan to develop aircraft with HAL and have started a dialogue in this direction," he proudly proclaims.
Down south in Chennai, R. Seshasayee, truckmaker Ashok Leyland's Managing Director, is playing his part as a private supplier to the armed forces. The company started out with supplies of Hippo, the popular heavy trucks for a general service role way back in the seventies. Since then, it has made inroads into the production of field artillery tractors, high mobility vehicles, light recovery vehicles, water carriers and the like. "The Stallion 4x4 logistics vehicle has come to be the mainstay of the Army and in the last five years, more than 20,000 vehicles have been inducted into the Services," says Seshasayee. Defence equipment production accounts for 20 per cent of Ashok Leyland's turnover.
The Rs 4,112-crore military equipment market could balloon to Rs 10,000 crore in the next five years
For Mumbai-based Tata Engineering, the opportunity lies in the high-tech needs of the defence sector. It isn't a newbie in the business, having supplied equipment to the forces since 1958. But now, says Executive Director, commercial vehicles business, Ravi Kant, it is actually looking at bigger things. While, like other players, it is exploring opportunities in surveillance, armouring and mining, Kant believes Tata Engineering is capable of developing a 100 per cent indigenised combat vehicle for the army, replicating its civilian world success with the 407 light commercial vehicle, which after its introduction in the 1980s, outsold the LCVs made by Indo-Japanese joint ventures.
Ready To Explode
India Inc.'s private sector warriors also include software major Tata Consultancy Services, which is building a computer-aided action information system for the Navy; Kirloskar Oil Engines Ltd., which specialises in ship engines and, strangely enough, Godrej Aerospace under Godrej & Boyce, which reportedly provides a critical application for the Agni missiles. According to the Indian Space Department, Godrej is one of the companies that contributed to the production of hardware and sub-systems for India's cryogenic engine.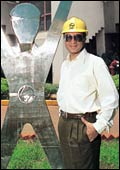 "We plan to develop aircraft with HAL and have started a dialogue in this direction"
, Exec. Vice President (Heavy Engineering), L&T
Defence manufacturing in India began with the establishment of 39 ordnance factories and eight defence PSUs. The idea was to indigenise defence production through state-owned enterprises. Although the public sector units did involve a few private players, their participation was limited to manufacturing nuts, bolts and washers. However, in May 2001, the government decided to open up segments of the defence sector for private participation and allowing FDI of up to 26 per cent. Says Narendra Sisodia, Secretary (Defence Purchase & Supply): "This signals a complete paradigm shift in the role of the private sector-from being mere suppliers of raw materials, components and sub-systems, to becoming partners in the manufacture of complete defence equipment and systems."
Still, the Confederation of Indian Industries (CII), which is spearheading the privatisation drive by assimilating the various domestic companies into a consortium, remains skeptical. Says a concerned S. Sen, Deputy Director General, CII: "The 26 per cent FDI can never work out unless the Ministry of Defence indicates the projected demand." Moreover, he explains, procedures need to be simplified and the prevailing distinction between the private and foreign players blurred. "When a foreign player quotes an equipment price, it is exempted from paying customs duty, unlike domestic players," he complains.
Of India's current defence procurement of Rs 34,707 crore, 70 per cent is imports. Out of the remaining 30 per cent, a sizeable chunk goes to the psus, leaving a minuscule amount of Rs 4,112 crore to the private players. But the government's policy change has signaled opportunities and Indian businesses-both entrepreneurs like Malkani as well as heavies like L&T-are upbeat about that. Indeed, the Ministry of Defence estimates that the rules of the game could get reversed by 2020 when 70 per cent of defence equipment could be made indigenously and 30 per cent procured from outside. Says a defence analyst Atul Bharadwaj: ''Indigenously manufactured defence equipment on an average would cost half, if not less, that of their imported counterparts.'' But Bharadwaj also admits that privatisation in defence is also a mechanism to prop up industrial growth, bypassing the rigorous WTO route. "Defence and national security do not come under the purview of the WTO," says the 38-year-old analyst. As for the future, emphasises Bhardwaj, defence will operate only on its "core competency"-maintaining and managing combat operations. The rest, he is categorical, "will be privatised." India Inc. should be getting its ammo ready.