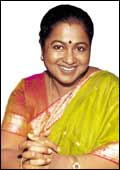 Radaan's R. Radikaa: South India's queen of soaps
Life comes to a standstill in most households in Tamil Nadu at 9.30 p.m. For the next 30 minutes, everyone sets their insignificant little problems aside and catches up with the life of Annaamalai, a wronged single mother of four who, through sheer dint of industry becomes the publisher of an investigative publication, and with the lives of others (their number is not inconsiderable) out to ruin her. The eponymously titled soap has been aired on Sun TV, one of the most profitable television channels in India, since October 2002. And it will likely coast through one more year with television rating points (TRPs) in the 20-27 region.
In one of life's delightful little coincidences, Annaamalai, is produced by Radaan Mediaworks, founded by R. Radikaa, an actress with some 300 motion pictures-she was the leading lady in most-behind her. The idea for Radaan came to Radikaa in 1994, when she was a single mother herself. "I didn't want to travel around doing roles in films I wasn't really interested in; I wanted to be with my daughter." And so, she decided to get into television.
The early years were forgettable; Radaan did nothing much of note. Radikaa was back in the movies and as Anil Mishra, coo, Airtime Sales and Syndication, UTV (one of Radaan's marketing partners) points out, "A creative person can contribute by way of expertise and talent, but this is quite different from the nuts and bolts of running a company." By 1997, Radikaa realised this. She sent an SOS to her brother M.R. Mohan Ratha, who had settled down in Sri Lanka.
Today, Ratha is the company's Managing Director, Radikaa, its Chairman and Creative Director, and Radaan is a profitable company with revenues of Rs 25 crore and earnings of Rs 1 crore (in 2002-03).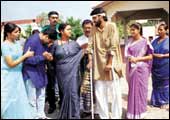 Women rule : Mega-serial Chithi bestowed Radaan with creative respectability and taught it a winning formula
Ratha-BT couldn't meet the media-shy managing director because he was travelling-hired a professional CFO, who later became Director Finance (D. Ravichander Babu, a management consultant in an earlier life), adopted modern hr practices, and generally cleaned the place up. Radaan's first big break came in 2000. That was the year Kaun Banega Crorepati rewrote the rules of television programming. Radaan pitched a similar show in Tamil to Sun TV. The channel's CEO Kalanidhi Maran wasn't interested. But when rumours that Star's Tamil channel Star Vijay was launching a similar show hosted by Kamal Hassan surfaced, Maran turned around and signed up Radaan.
The gameshow, Koteeswaran, hosted by Kollywood Sharath Kumar, turned things around for Radaan (and Kumar went on to become Radikaa's third husband in 2001). From Rs 4 crore, its revenues zoomed to Rs 16 crore. "But a Rs 4-crore company had to first face the challenge of raising Rs 2 crore required to produce the show," laughs Babu. Koteeswaran may have catalysed the coming of age of Radaan, but it was another serial, Chithi, which the company launched in 1999 that set the stage for its popular and commercial success.
488 Reasons Why
For two years and 488 episodes, Chithi (Tamil for stepmother) dominated the Tamil soap market. Much like Balaji Telefilms' Ekta Kapoor, Radikaa-the two share another common interest, numerology, which explains the peculiar spelling of Radikaa's name and Kapoor's K obsession-discovered the secret of great soaps around that time: strong women. "Radikaa and I agree that women are the prime generators of trps for serials," explains C.J. Baskar, the Scriptwriter and Director of Annaamalai (he also directed Chithi). Even the antagonists in the soap are strong women. Today, the majority of the company's 10 soaps showing across three channels in South India follow this formula.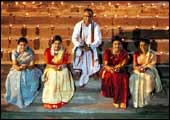 Not little women: Radaan's Rajugari Koothurlu, now being aired on Telugu channel Gemini, is a tale of four sisters
Still, while a plot revolving around strong women can guarantee audiences-every week Radaan reaches some 9 million viewers, the bulk of them women, through its soaps-it can't, profits. Chithi, admits Babu, was not as outstanding a commercial success as its popular success makes it out to be. "It only made marginal profits; I signed on with Radaan after half of the serial was over and went about rewriting contracts with people; we even went to court."
Still, Chithi gave Radaan the creative respectability all production houses crave for, and it taught the company several valuable lessons about the making of serials. Babu rattles these off.
One, focus on costs. "Sometimes, when a director says he needs to spend lavishly on a wedding scene I tell him that such a thing can only hurt the company; maybe our TRPs will go up marginally for a day or two, but they'll soon settle down again." Two, pay actors only through cheques, and after deducting tax at source. The February 2003 IPO helped the company retire its high-cost debt. There are more in the same vein, but surely, you get the picture.
Make That 489
The most important reason for Radaan's success is its business model. Unlike most other television production companies, Radaan buys time-slots from channels and markets its soaps to advertisers through marketing partners (such as UTV).
This has helped the company retain the rights to its shows, and market them in other Asian markets. And a market exists: the (pirated) video release of Chithi, for instance, was a success of sorts in South Africa, a country with a sizeable proportion of Tamil speakers.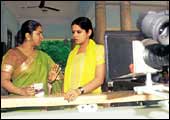 True lives : Radikaa (left) on the sets of Annaamalai
The company has also worked at acquiring a footprint outside India: it is co-producing a Sinhalese soap for the Sri Lankan market, a Malay and Tamil bilingual for the Malaysian market (it is also working out the details for a Malaysian version of Koteeswaran), and supplies software to Dheepam, a UK channel that caters to the Tamil population in that country. By early November, claims Babu, Radaan will announce its plans for the national market; its earlier attempt to do so, through a dubbed version of Chithi on Zee came a cropper.
With its share trading at a modest Rs 53 (a fact that will push it down the rankings some next year), Radaan hopes to close 2002-04 with revenues of Rs 35 crore and earnings of Rs 3.5 crore.
Its attempt to create big-screen magic could help its cause, but it could also derail its growth strategy. Its last full-length motion picture, Dhum (in Telegu) bombed at the box office. Undeterred, the company has announced two more motion pics, one each in Telegu and Tamil. Each of these could set the company back by Rs 3-4 crore, and Radaan, according to Babu, "will get into big budget movies too".
For her part, Radikaa is clear that Radaan's ultimate objective is Hollywood. "We want to be a global player," she says. As Annaamalai regulars well know, anything is possible in Radaan's world.