Three years ago, in February 2000, economist Surjit Bhalla, predicted that the decade beginning 2010 would belong to India. Ha, said his detractors, ''the man is an incurable optimist''. True enough, India's growth in gross domestic product, flagged in 2001-02 and 2002-03. Inadequate rains devastated the agricultural sector, an effect that found an echo in an industrial sector already plagued by idle capacities.
In September 2003, Bhalla, the Managing Director of Delhi-based Oxus Research and Investments articulated his opinion again, this time encapsulated in a catchy slogan that looks better coming from a politico than an economist. ''Asian Century, India's Decade'' is Bhalla's choice of words to describe the dominant economic trend of this, the 21st century. Only this time, the man's idea about India becoming the fastest growing economy in the world by 2010, brighter, even than superstar-of-the-moment China, isn't being met with ridicule.
Bhalla's prediction is based on his theory that a one percentage point fall in real interest rates (the interest rate less the inflation) translates into a 0.3 percentage point growth in GDP. A simple back-of-the-envelope calculation shows that the 6 per cent fall in real interest rates over the last two years, then, translates into a 1.8 per cent growth in the rate at which the country's economy is growing. Between 1992 and 2002, India's GDP grew at an average of 5.75 per cent. Add the increment and the result is a more-than-respectable 7.55 per cent. And were the government to push some critical reforms-Bhalla's hypothesis is reforms-independent-the rate of growth could touch 8, even 9 per cent. At that rate of growth, India's per capita income would double in 10 years.
This time around, Bhalla has support. Ashima Goyal, a Professor at Mumbai's Indira Gandhi Institute of Developmental Research (IGIDR) believes, simply, that India's time has come. The growth rate of the economy, she reasons, was stuck at around 6 per cent because of artificial factors, including US economic sanctions against India following a nuclear weapons test in May 1998, the earthquake in Gujarat, a mini-war in Kargil, stockmarket scams, and a slowdown in the US economy.
THE INDIAN ECONOMY: 2010

GDP growth:

7-9 %

Agricultural growth:

3-3.5 %

Industrial growth:

8-10 %

Services growth:

8-10 %

Inflation rate:

1-3 %

Export growth:

10-15 %

Import growth:

10-15 %

Rupee:

Rs 45-50 a dollar

Source: Surjit Bhalla's predictions
Facts suggest that the two economists are right. India's literacy rate has improved dramatically, from 62 per cent in 1997 to 65 per cent now. The proportion of the population aged between 20 years and 59 years (the most productive age group from an economic point of view), which has stayed steady at 35 per cent since the 1980s is now inching up and is estimated to touch 47 per cent by 2010, according to a study by the Asian Development Bank. A research report issued by Goldman Sachs in early October says pretty much the same thing as a basis for its theory that the Indian economy will be growing faster than the Chinese one by 2010. ''...this will be driven largely by the demographic dividend India is likely to reap over the coming years with a sharp surge in its working-age population.'' And Indian industry, as evident from its showing in the last financial year and the first half of this, has learned to live, even thrive, in a competitive global economic landscape.
It isn't that the Indian economy doesn't face any threats (See 2010 Or Bust), but these seem insignificant compared to those that ail others. China could soon face the double whammy of rising wages (these are currently among the lowest in the world and will have to, per force, increase) and an appreciating currency. The yuan trades at 8.5 to the dollar, but this is a controlled exchange rate. Were it to appreciate by 30-40 per cent, says Subhash Mittal, the Vice President of the Federation of Indian Exporters Organisation, ''India can compete with China in textiles, engineering goods, handicrafts, and steel.'' And China, reasons Subir Gokarn, the Chief Economist at CRISIL, ''cannot move up the value chain'' like Japanese car majors did when the yen appreciated in the mid-1990s because there is little scope for doing so in toys, engineering goods, and textiles.
The US economy is yet to recover from 2000s recession, the European Union will spend the next few years or more integrating poorer European nations into its fold (and suffering the temporary economic consequences), and most East Asian economies revolve around exports to the US and the EU. 2010, here we come!
-Ashish Gupta
---
» The growing divide between India's poorer northern states and richer-by-the-minute southern ones could destabilise the economy
» In the absence of agricultural reforms, one poor monsoon is all it will take to affect a quarter of the Indian economy
» India's fiscal deficit, unsustainably high at just less than 6 per cent of GDP, continues to remain a cause for concern
» Labour reforms, such as an exit policy, are nowhere on the horizon, and these are a must
» India's power sector remains a mess with most reforms targeted at the domain remaining still-born
» An extended period of communal tensions could hamper economic activity and put the Indian economy back on the 5 per cent plus growth rate trajectory
---
IT's Still Hot
India's software industry bounces back.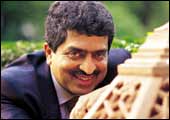 Infosys' Nandan Nilekani: There's reason for the mile-wide smile
No one expected Infosys Technologies to announce that it would be a billion-dollar company (in terms of revenues) by March 2004. The company, if the opinions of a we-think-a-blip-is-a-downturn analysts were to be believed, was going through hell and the sector, waking up to the reality of declining profit margins and competition from transnational information technology services firms. So, it sort of surprised everyone when, in the course of declaring its results for the July-September quarter, the company announced the billion-dollar thingamajig Not too long after that Wipro announced its results; the company's profit margins, which had declined for six quarters, remained steady and it beat analyst estimates of a 9 per cent growth in revenues over the previous quarter; it did 14 per cent.
In a conversation with analysts, Infosys CEO Nandan Nilekani said the company wasn't scared of MNCs. If they did not ramp up their operations quickly, he argued, it wouldn't make a difference, and if they did, they would have to apportion higher fixed costs over a lower revenue base.
Indian software services companies still aren't winning the billion-dollar contracts analysts speak about but they are showing significant gains in the business of infrastructure management. HCL Technologies, for instance, has won a large infrastructure management order from chip-major AMD; Wipro's infrastructure business grew 34 per cent; and IDC estimates the size of this business at $80 billion (Rs 3,62,400 crore)
The buzz in the industry is that customers have more faith in the ability of Indian it services companies than in those of transnationals. One analyst speaks of a huge General Motors request for proposal (RFP) floating around in the Indian market. The auto company spends over $4 billion (Rs 18,120 crore) a year on it and EDs is its preferred vendor; but with the order up for review soon, says the analyst, GM is looking at an Indian alternative.
They may be immune to the transnational threat, but India's software services biggies could face competition from the likes of Symphony e-services and Hexaware that have set up contract software product factories and charge around 10-15 per cent less than the likes of Infosys. Indian it services, once again, is hot and happening.
---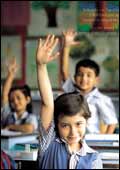 The shining: Would it have gotten Indians to stand up and be counted?
Until the election commission stepped in and played spoilsport, the Shining India campaign sponsored by India's finance ministry, and created by advertising agency Grey Worldwide was cutting a wide swath across the collective consciousness of the country. Warm pictures of happy middle-class families, contented pensioners, and beaming farmers greeted Indians from the pages of mainstream dailies. ''We are basically asking people to share in the optimism,'' says Prathap Suthan, Creative Director, Grey, a logical extension of the agency's brief to communicate India's new-found confidence. The ministry and the agency wouldn't speak about the budget for the campaign, but Grey lets on that it was asked to create 15 ads. Three was all it managed before the Election Commission frowned on this exhibition of look-at-what-we-have-achieved at a time when several states are going to the polls. If the sentiment lasts, we'll have to wait till December to see the rest of the campaign.