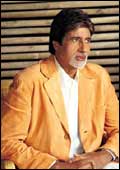 The phoenix-like rise of a fallen icon has been the theme of many a Bollywood blockbuster. Die-hard fans of Amitabh Bachchan would want his second attempt at running a business built around his considerable brand image, to follow a similar script. During his 61st birthday bash in October, the Big B declared that he's ready to exorcise the ghosts of ABCL with a new look AB Corp. The company will tap every segment of the entertainment industry like film production, marketing, TV software, music and multiplexes. If the bulls continue to rule the bourses, even an IPO could be in the offing. With a tie-up with A.V. Birla Group's Applause Entertainment, and high profile backers like Anil Ambani and Amar Singh, the thespian is hoping the sequel will put up a better show. After all, Bachchan knows better than most, that his audience loves a dash of bravado.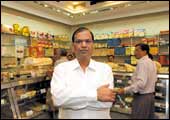 Westward Ho!
In 1950 S.S. Aggarwal's family moved to Delhi from Bikaner to expand its traditional food business. Its lone eatery in Delhi's Chandni Chowk became such a hit that the family started selling packaged snacks. Now, Aggarwal is taking his Rs 100-crore Bikanervala restaurant and savouries business international. Last month he opened a restaurant and snack manufacturing facility in Dubai. He has also firmed up plans to open more outlets in other Middle-East countries and Canada by the year end. "With rapidly growing demand, it makes more sense to manufacture locally in the West than to export." Can't dispute the Marwari business wisdom.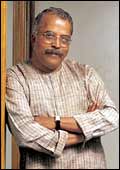 Altitude Sickness?
For Ram S. Ramsundar, who's switched two jobs in two years, every change seems to come at a cost. We wouldn't know about the financial part, but he's moving farther away from the corner room with every move. Ramsundar quit consumer durables maker Electrolux as its Managing Director in November 2002 expressing disappointment over the sector's sluggish growth. This, after the Swedish company piled up a loss of Rs 145 crore on a turnover of nearly Rs 485 crore. Soon he joined as coo at Nipuna, Satyam's subsidiary in the hot and happening BPO sector. Now, barely a year later, he's back in Delhi-this time at Ranbaxy as Executive VP (Finance) and CFO designate. What next?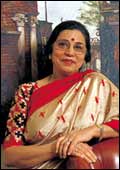 NPA Nipper
At Indian Bank's headquarters in Chennai, 57-year-old Ranjana Kumar has the reputation of being a jet-setter. The first woman CMD of a nationalised bank, she is also credited to be the first in the 96- year history of the bank to have visited all its 30 circles across the country to personally review the performance of nearly 1,400 branches. Having reversed the fortunes of the ailing bank during her three-year tenure (NPAs came down from 40 per cent of total advances to under 15 per cent), Kumar has now landed another turnaround job, this time at NABARD. Given the state of the apex agriculture finance institution, she'll have to continue with her jet-setting ways for a little longer.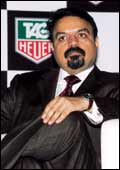 TAG On Loan
This festive season you may end up buying a TV, a music system or a car on a finance scheme. But a watch in installments? You could definitely do with the incentive if it's a TAG Heuer, which costs anything between Rs 30,000 and Rs 2 lakh. Ravi Thakran, the 40-year-old Regional Managing Director (Asia-Pacific), LVMH Watches & Jewellery who thought up the scheme, feels it's a sure shot way to expand the market. Having worked with Tanishq and the Swatch group, the IIM-A alum knows a thing or two about selling expensive horologes. "There's a burgeoning class of aspirants who can't afford a TAG Heuer just yet. Such schemes have brought us big volumes in countries like Malaysia and Indonesia." Credit certainly works in India too.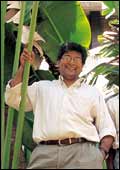 Strands Of Success
It's a common refrain that Panacea for Indian it companies lies in developing products. Branded products constitute the staple fare of Bangalore-based bio-informatics hotshop Strand Genomics. The three-year-old start-up's niche products Sphatika and Acuris have met with considerable success in the US. And now it has high hopes from Avadis, its newly-launched data mining software package. "Avadis is potentially a high-volume product and we are into putting up the systems in place for a strong marketing push not just in the US but also in Asia-Pacific," says Vijay Chandru, Strand's Chairman and Chief Scientific Officer, a Ph.D from MIT, who's also a visiting prof at the hallowed institution. The company's DNA consists of a group of four professors from Bangalore's IIS (where they still teach) with a funding of $4.6 million from UTI Ventures, Westbridge Capital and IIS-the institute's only investment in a private enterprise. Great employers, good investment.