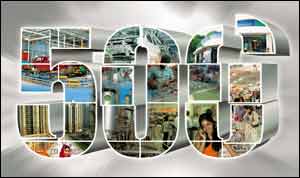 It's easy to dismiss BT 500 as just another listing of companies, this one on the basis of market capitalisation, the value assigned by the stockmarket to a firm. In numerical terms, it is just that. Over the 12 years of its existence, the listing has used a point-in-time measure of market capitalisation (on March 31, the year-end for most companies, and the calculation is the simple product of the number of outstanding shares on the day and the stock price), an annual average of the previous financial year and, more recently, a six-monthly average for the current financial year. Numbers all.
Only, numbers, as the mathematically minded among us already know, speak a language all their own. The unique syntax of this language makes it impossible for BT 500 to lie. And it bestows the listing with an ability just short of the oracular. BT 500 may be a ranking of publicly traded companies-since the basis is market capitalisation, privately held companies, including the Indian arms of some transnational corporations fall outside its purview-but it remains the most accurate mirror of macro-trends in circulation.
The biggest story of this year's listing is its composition. The new #1, Reliance Industries-it last held this position in 1995-owes its rising fortunes to the fact that it is now four companies rolled into one: a petrochemicals powerhouse, a petroleum major, an up-and-coming telco, and an oil and gas heavy-weight-in-the-making. As this article goes to press, the Reliance scrip is nudging Rs 500, its all-time high, and the company has just announced the acquisition, by one of its subsidiaries, of Flag Telecom, a global bandwidth provider with an impressive network of undersea cables.
Software's glimmer twins, Wipro and Infosys are #3 and #4; the first has dropped one place down the rankings and the second has stayed put, but it is what has happened to the other software companies on the list that is interesting; now that they have dropped far behind Wipro and Infosys, it seems legit to term them pretenders.
Ranbaxy and Dr Reddy's remain in the top 10 (yawn!), but it's the surge of Aurobindo, and upstarts Matrix and Divi's, all residents of India's pharmaceutical capital Hyderabad, that's fascinating.
THE TOP 10 COMPANY

2003 Rank

2002 Rank

COMPANY Market cap 2003 (Rs crore)

1

3

RELIANCE INDUSTRIES
46,501.24

2

1

HINDUSTAN LEVER
36,340.98

3

2

WIPRO
22,789.19

4

4

INFOSYS
22,634.82

5

5

ITC
18,176.67

6

7

RANBAXY LABS.
14,580.05

7

8

HDFC
9,933.66

8

N.R.

ICICI BANK
9,331.48

9

13

BHARTI TELE-VENTURES
8,440.92

10

10

DR REDDY'S LABS.
7,774.79
* ICICI Bank was ranked as a PSU last year
N.R.: Not ranked
Then, there are emerging sectors such as entertainment. Did you know that a total of 10 entertainment companies with an aggregate market capitalisation of Rs 6,571.92 crore are scattered through the listing? And that barring Radaan Mediaworks, a recently-listed company that makes mega-serials in Tamil, and Media Matrix, a professionally-run content provider, all entertainment companies have seen their rankings slide? The universal opinion that entertainment stocks have the potential to be the next big thing could explain Radaan's debut at #77, just like the inability to parlay their initial success into a growth story could explain the decline of most others.
Why, even organised retail has a presence in BT 500. There's Trent, the Tata Group company that runs the Westside chain (it has moved up two places in the rankings), and there's Pantaloon Retail, the company that has scripted what is arguably the retail success story of the past two years, Big Bazaar-understandably, it has moved up 117 place in the ranking.
It is BT 500's ability to capture such trends (open up the gatefold for a 12-year perspective as well as some more insights into this year's listing) that makes it the most authoritative chronicle of Indian business in motion.
If you have read this far into what is a part self-congratulatory, part-insightful essay, you, Constant Reader, deserve a reward. Here's one: #485 in this year's listing is Solectron Centum, a Bangalore-based contract manufacturer of hi-tech products. It is the subsidiary of one of the world's largest contract manufacturers, Solectron, a company that counts the likes of Sun Microsystems, Cisco, Nortel, NEC, Ericsson, Hewlett-Packard, IBM, Microsoft, Motorola, and Sony. This, we believe, is one company that could go places.