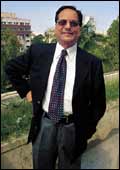 DRL's Anji Reddy:
Will his bets pay off?
DR. REDDY'S LAB: Its strategy of challenging patents has yielded dividends. But for how long can lawyers drive a pharma company's growth?
10
Investors are getting their fix from drug companies. And it's not a recent addiction. For a while now pharmaceutical companies have been the cynosure of investors-the big boys like FIIs and Indian institutions as well as the retail investor. A quick glance through the BT 500 proves that. Ranbaxy slots in at No. 6, Dr. Reddy's Labs (DRL) comes in at No. 10. Cipla, Sun, Wockhardt, Lupin, Nicholas Piramal, Cadila, Pfizer, Aurobindo, Aventis, Novartis, Divi's Labs, Matrix Labs, all feature in the top 100.
True, some of these companies may be the Indian arms of foreign companies, but a good many of them are homegrown start-ups that were little more than a spark in their promoter's minds less than 10 years ago. Though some might argue that these companies have been helped in their rise up the charts by 'stolen' patented technology, that would be an unfair statement to make today.
The Big Push
Several of these companies are now in the midst of cutting-edge R&D, developing drugs not just to address the grand-daddy of all drug markets, the US (in value terms over one-third of the $450-billion global pharma market exists in North America, talk about a pill-popping culture!), but also coming out with new formulations and delivery techniques to address the local market.
Desh Bandhu Gupta, MD of Lupin, feels that the 'Go West!' cry that seems to have been adopted by most Indian pharma companies is the biggest reason for their success. "Prices and volumes, even for generics in the US, are very high, so even if the market is competitive, there are significant opportunities for companies like ours," he says. In fact, with almost $80 billion (2002 sales) worth of blockbuster drugs coming off patent protection within the next five years, he believes that Indian companies are sitting on a potential goldmine.
Shahina Mukadam, Pharma Analyst, Motilal Oswal Securities, also believes that pharma is the sector for investors to keep their eye on. "The market for generics is expanding fast, with a number of blockbuster products losing patent protection in the next five years. The US FDA is also determined to facilitate the launch of generics to reduce the cost of medicines. And Indian companies are now well-positioned to capitalise on this." Quite right. Lupin, for instance, has got three new approvals this year. Aurobindo Pharma, based in Hyderabad, has already started reaping the benefits of its investments in China and from next year expects European and US markets to contribute significantly to its revenues.
But it is not just in producing the finished, packaged product, Indian pharma companies are also getting into outsourcing. Every drug produced has an Active Pharmaceutical Ingredient (API), which is usually its most expensive chemical component. Indian companies are able to produce APIs for several blockbuster drugs at considerably lower costs. Sameer Narayan, Pharma Analyst at ENAM Securities, believes the IT outsourcing story can now be repeated in pharma. "Our pharma exports of $1.6 billion (Rs 7,250 crore) are still low if we look at the global API outsourcing market of around $30 billion (Rs 1,35,900 crore), over two-thirds of which is in the US. The shift will be aided by the pro-generics environment prevailing at the policy level in the US." He cites the fact that Indian pharma companies have applied for 58 Drug Matter Files (DMFs) for bulk drugs to the US Food and Drug Administration (FDA) in the first half of the calendar year, nearly double the number of filings in the corresponding period last year.
Indian pharma companies have adopted different kinds of strategies to crack into the lucrative western (read US) markets. Ranbaxy, for instance, has already established itself as one of the top 10 US generic companies. Others like Sun Pharma have followed the conservative approach of sticking to regular products like generic anti-diabetics. But some others, like DRL, are aggressively pursuing the game of patent challenge, which is a high-risk but high-return strategy where Indian companies apply for patenting their products, taking on existing multinational giants. Yet others, particularly second-tier drug companies, have lined up a large number of Abbreviated New Drug Application (ANDA) filings for generics.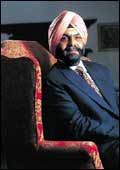 Ranbaxy's D.S. Brar:
Consolidating gains through R&D
RANBAXY: It has broken into the echelons of the top generics manufacturers. But to become a truly big player, its new molecules research needs to pick up.
6
Although it is risky-it can lead to expensive litigation without an assurance of success-the patent challenge approach has potential, particularly with affordable healthcare becoming a major issue in the US. Most drugs are protected by patents, which, on an average, are valid for seven to 12 years. However, there are provisions in the US law that allow patents to be challenged. Any successful challenger has a one-year exclusive period to manufacture the generic product. DRL's first successful challenge was on Eli Lilly's mega-blockbuster, the anti-depressant Prozac. In August 2001, DRL launched Fluoxetine 40 mg capsules.
The great thing about the Indian pharma industry is that it is still in a stage where-from the investors' point of view-it is still a story that is unfolding. Unlike in infotech, where the outsourcing story has been played out and margins are under pressure, in pharmaceuticals, the take-off run is just beginning. Says Jigar Shah, Head of Research, KRC Research: "The Indian pharma story is sustainable. In fact, it will only accelerate in the coming years. And with this, the Indian companies will have a large marketshare in the newly opening regulated markets."
Indian companies have already made their moves. Besides the biggies like Ranbaxy and DRL, many others too have set up their marketing infrastructure in the US and have applied for licences. There has been a spate of DMF filings from India this year and even small players are now getting into the value- added (ANDA) segment. In addition, large MNCs have begun outsourcing to reduce costs by using the crams (contract research and manufacturing) model in India.
A Tough Act To Follow
The lodestar that a host of Indian companies want to follow is the sixth ranker on BT 500. Yes, Ranbaxy. Last year, overseas sales comprised 72 per cent of total revenues, making it a truly international company.
But it is an act that may not be easy to follow. There are currently more than 20,000 pharma companies in the highly fragmented market. Given that the domestic market is valued at Rs 30,000 crore, a shakeout is inevitable. Ranbaxy itself believes that there will be shift back in the marketplace towards the Original Research Companies (ORCs) and that growth will come from new products. Consequently, those that are not into basic research-an expensive proposition if you are a small or medium company-will face pressures as margins for generics will get squeezed further.
Also in a post-trips environment, everybody expects the MNC pharma companies to come back into India in a big way. A Ranbaxy spokesperson believes that "they will spend money in amounts no one has ever heard of before". Satish Reddy, coo, DRL, feels that times would be tough looking forward, "MNCs will get back into the country to launch proprietary products either through their own arms in India or licence them to partners with strong marketing and distribution networks."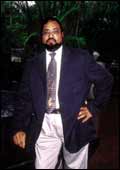 Divi's Lab's M.K. Divi:
Setting a scorching pace
DIVI'S LABS: It has emerged as one of the biggest API exporters in a short time. Will the outsourcing model's success in IT be repeated in pharma too?
95
To prevent being caught out in the race for new products, and trying to stand above the 'generics gang', both Ranbaxy and DRL have invested heavily on research. Reddy points out the importance of this. "Indian companies with research in their portfolio will continue to grow as they adopt alternative strategies of introducing products such as acquiring brands and in-licensing products." DRL has eight molecules in clinical trials, including one in Phase-III US FDA trials and Ranbaxy has seven molecules in its drug research pipeline.
But basic research costs money and takes time. The cost of developing a drug can run into tens of millions of dollars. Pharma majors estimate that it costs over $500 million to develop a drug. Drug development can also take time-sometimes up to two decades. However, if a drug is successful the rewards can be tremendous, in the first nine months on offer, erectile dysfunction drug Viagra totted up $790 million (Rs 3,578.7 crore) in sales. Pfizer's biggest-selling drug Lipitor targeting fat-control is worth an estimated $6 billion (Rs 27,180 crore) a year, and in the eight-plus years it has been on the shelves, has totted up sales of over $35 billion (Rs 1,58,550 crore).
So do the Ranbaxys and DRLs have it in them to match an AstraZeneca, a Pfizer or a Glaxo-SmithKline? It may be unfair to compare them. For one, MNC pharma companies have hundreds of molecules under research or trial at any given point in time; all put together, Indian companies may be developing fewer molecules than the number of fingers on your hands. Plus there's the small matter of size.
The combined market cap of all the pharma companies on the BT 500 sounds like an impressive Rs 62,324 crore, with net profits for the last fiscal touching Rs 3,043 crore, which works out to $13.76 billion and $672 million, respectively. Compare that to Pfizer's market cap of $240 billion, or Rs 1,087,200 crore, and net income of $9.1 billion (Rs 41,223 crore). It spent seven-and-a-half times the combined profits of all Indian pharma companies on R&D last year.
Sensibly, Indian companies don't want to take on giants like Pfizer. Instead, their strategy attempts to leverage technical skills instead of trying to match the global giants' financial muscle. Ranbaxy, for instance, focuses on increasing productivity and shortening the development timeline. Its edge: Ranbaxy has already entered the highest echelons of generic drug makers in the US and has in place a competent marketing structure.
Analysts and investors alike might be gung-ho on pharma. But while the small and medium sized companies try to emulate the biggies like Ranbaxy and DRL, not everyone may be able to grow that big. The alternative is the infotech model, where India leverages its low costs and high skills to become the world's back office. But that model, as Indian it companies without proprietary offerings are increasingly beginning to realise, has its downsides, namely, declining margins and an excessive dependence on their customers' fortunes. Does the pharma industry really want to copy such a strategy?