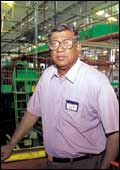 K. Mahesh, CMD, Sundaram Brake Linings: Cautious, but optimistic
SUNDARAM BRAKE LININGS: Mahesh feels it may be too early to cheer. he says the hype over export figures may result in a dotcom-like bust
534
A few years ago, if you told a punter on Dalal Street to put some easy money on stocks with names like Motherson Sumi, Rico Auto, and Rane Brakes, you'd be lucky to escape unscathed. These days, any investor who has made fantastic returns in the ongoing bull rally-and there are thousands of them-would have at least a couple of the 30-odd auto component stocks that figure in the BT 500 in his portfolio. Market caps of many like Bharat Forge, Motor Industries, Asahi India Glass, and Motherson Sumi have doubled in the past six months. These players may be nowhere close to rubbing shoulders with their larger-cap brethren in corporate India, they may still be small, highly-fragmented, family-owned and low on the pr trimmings, but make no mistake: Most of them have relationships with global automobile majors who could provide them with orders that could result in these fledglings taking on gigantic proportions in the years ahead.
To be sure, the Rs 20,000-crore Indian auto components industry has come a long way over the last six to seven years. Since 1995, as more and more multinational auto majors set up shop in India and decided to step up the local content, the auto component firms had little alternative but to improve quality and reduce costs. And thanks to that, this industry is today growing at 15 per cent annually and shipping out exports to all major multinational automobile manufacturers. Exports of auto parts have recorded an increase of 65 per cent over the last 18 months. "The growth in the auto component industry is essentially driven by the performance of the domestic auto industry," says C.S. Patel, Chief Executive Officer of the Anand Group, which owns Gabriel India. In the last 18 months, four-wheelers have recorded a growth of 65 per cent, two-wheelers a growth of 16 per cent, and commercial vehicles close to 30 per cent.
The Big Bang
What promises to propel the auto component sector into another league altogether is the increasing keenness of global auto majors to use India as a low-cost source. The potential for exports is enormous. While the size of the domestic components sector is only around Rs 20,000 crore, the global industry is almost 98 times that. As per figures provided by the Automotive Component Manufacturers Association (ACMA), exports of auto components have grown from $578 million (Rs 2,601 crore) in 2001-02 to $800 million (Rs 3,600 crore) in 2002-03 and by the end of the current financial year, exports should be around $900 crore (Rs 4,050 crore).
ACMA's target: Exports must touch $1 billion by 2005 and $2.5 billion by 2010. Industry persons for their part are sanguine that these targets could be achieved ahead of those deadlines.
Almost every global vehicle manufacturer worth its wheels is today outsourcing components and vehicles out of India. While Toyota is making India the hub for transmission systems, Hyundai and Suzuki are making India the export hub for small cars. Fiat, Renault, and Volvo are outsourcing components and assemblies out of India. Honda Motorcycles and Scooters wants to make India the hub for two-wheelers, and two Chinese truck original equipment manufacturers (OEMs) are sourcing drive trains from India. Ford is already exporting engines out of India. And players like GM, Caterpillar, Cummins, Delphi, Volvo, Denso and global tier-I vendors have big plans to outsource components from India. Obviously, this translates into more business for Indian auto component firms.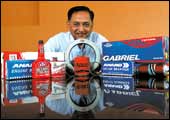 C.S. Patel, CEO, Anand Group: Riding the outsourcing wave
GABRIEL INDIA: The Anand Group company has a unique export track record in the US and EU
412
Compare this to the situation five years back, when 80 per cent of India's $330 million worth of exports were to the aftermarkets (spare parts sector). Today, suppliers are becoming more oriented towards OEMs and 40 per cent of all exports are to OEMs. Global majors too, are showing interest in Indian firms. In the last 12 months, Spicer Axle Holdings Inc made an open offer to buy stake in Axles India, GKN Automotives GmbH made an open offer in GKN Driveline India and Kirloskar Oil Engines in Kirloskar Systems.
"Auto components is a booming sector largely because India has a number of technical skills," says Amit Kalyani, Vice President and Chief Technology Officer, Bharat Forge. India is highly competitive in metal parts, electricals, forgings, castings, plastics, transmission and distribution systems, engine parts, and tyres. Bharat Forge saw its turnover rise from Rs 473 crore in 2001-02 to Rs 684 crore in 2002-03. It is exporting to MNCs like Mercedes-Benz, New Holland, Volvo, the DANA Corporation (USA), Meritor Corporation (USA), Mitsubishi Motors, Lister Petter (Europe), Dirona (Mexico), Renault, Toyota, Spicer, Caterpillar-Perkins, Isuzu Motors, and Ssang Motors. Last year, it acquired a Rs 60-crore order to supply forgings to a heavy commercial manufacturer in China. It's also pocketed the order book of a vendor in UK that was shutting shop since it couldn't meet the cost pressures put by countries like India and China.
"Structurally, the automotive components industry in India is rapidly transforming into a highly competitive sector," says Amul Gogna, Executive Director at rating agency ICRA. As per data available with ICRA, the end-of- the-line rejection rate has improved considerably for Indian auto part companies with the current figure standing at 0.5.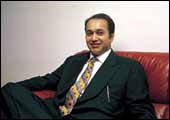 Amit Kalyani, VP and CTO, Bharat Forge:
Exports are buoying up the bottomline
BHARAT FORGE: The company posted a turnover of Rs 684 crore in 2002-03 and is exporting to MNCs like Mercedes-Benz and Toyota
50
The Cost Angle
Thanks to cheap availability of labour, engineering skills, and a new thrust on quality and cost reduction, Indian auto companies are today highly competitive in the global market. According to a survey conducted by ACMA, the wage cost/sales ratio in the forgings industry was as high as 38.8 per cent in the case of DANA Corporation of the US. For Indian firms, it was as low as 9.4 per cent. According to the report, the average wage rates are $ 8 per hour in India, as opposed to $20 per hour in the developed markets.
"We hope to see 100 per cent growth in exports this year," says Arvind Kapur, Managing Director of Rico Auto. Kapur's company has bagged large orders from Ford Motor of the US and the deliveries start in September 2004. In fact, over the last one year itself, Kapur has bagged five global orders for exports. Kapur is focusing on China, the US, Europe, and Thailand.
"Auto components is a booming sector largely because India has a number of technical skills," says Kalyani. Right now, 40 per cent of Bharat Forge's turnover comes from exports. "I believe this proportion will grow, simply because the global market is a lot bigger than the domestic market," he adds.
What's also helped the Indian industry become more competitive is the movement of many high-cost European and American units into the country. That, for instance, has provided the Anand Group with a rather unique export model. Its collaborators in Europe and the US, who are facing cost pressures, are moving some of their units to the Anand Group's plants in Nashik. "For overseas business, we at Anand Group follow a different business model. We partner the growth of our business associates," says Patel. Since the group works with its collaborators, the risk is much less. "We also do some private labels," he adds. The Anand Group has added about 25 per cent of its customers (in value terms) in last two years.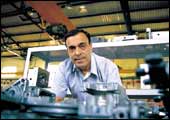 Arvind Kapur, MD, Rico Auto:
Its order books are running full
RICO AUTO: It hopes to see 100 per cent growth in exports this year and has bagged large orders from Ford Motor of the US
253
Just A Beginning
The progress made by the Indian auto component industry is really the proverbial drop in the ocean. "In my opinion, there are islands of excellence in auto component industry. We still have a long way to go," says K.Mahesh, CMD, Sundaram Brake Linings.
"It's nice to know we are making progress. But it's too early to believe that we are a global player," says Mahesh. "Many players know nothing about warranty failures, product recall, product liability insurance, etc, but are nonetheless excited about exporting to the US and Europe," says A.K. Taneja, Senior Executive Director, Shriram Pistons & Rings. Taneja is one of those who feels that the export target of $1 billion (Rs 4,530 crore) set by ACMA will be achieved this year itself, two years ahead of the original plan. "It is possible that exports will grow to $2 billion (Rs 9,060 crore) within the next three years," he adds. However, Mahesh feels that there is little to cheer about. "When the base is low, percentage growth figures have no meaning." Mahesh is also of the view that the hype over export figures may result in a dotcom-like bust. The robust global revenue model of the Indian auto components sector will ensure it doesn't go the dotcom way.