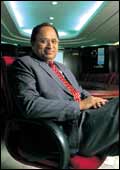 IOC's Chairman N.H. Ramachandran:
Caught in the disinvestment crossfire
In the cold, dark winter of the Indian stockmarket's bear phase, any glimmer of hope, however small or dull, was welcome news. For most of 2002 and a good part of 2003, the government's drive to disinvest its holding, or part of it, in public sector companies, was the source of such news.
Then, the bears went into hibernation, the bulls, spurred by a good monsoon, and an even better showing by corporates entered the scene. The stockmarket went into overdrive. And even a Supreme Court judgement on Septembet 16 that halted the government's disinvestment drive dead in its tracks was brushed away.
As this article goes to press, Bombay Stock Exchange's Sensex is nudging 5000, BSEPSU, the exchange's PSU index, is at 3125.35 and all is well with the world. "The time-frame of the bull run has taken us by surprise, although the appreciation hasn't," says Navin Agarwal, the head of research at brokerage Motilal Oswal, referring to the fact that most stocks were undervalued (and how) before the current run. The man is also relieved that the stockmarket is no longer hostage to news on the disinvestment front.
The stock of the oil major in which the government seems most likely to sell its stake, IOC (an easy option because this company, which the government once had no intention of privatising, wasn't created by an act of Parliament), has lost around 7 per cent since September 17. The BPCL scrip has gained 7.6 per cent in the same period.
"The appreciation (in stock prices in general) is based on economic fundamentals," says Shailendra Bhandari, CEO & Managing Director, Prudential ICICI Management Company. "And it is driven by foreign institutional investors." Between April 1 and October 14, 2003 FIIs invested $4.46 billion (Rs 20,516 crore) in the Indian stockmarket.
But what explains the continuing boom in PSU stocks. S Srinivasan, Co-head, Investment Banking Operations, Kotak Investment Banking believes it could be a combination of undervaluation and performance. Reliance, he points out, trades at a price-earnings multiple of 15.6. HPCL, trades at 7.5, and BPCL, 9.9.
The other reason for the continuing boom in PSU stocks is the performance of banks. Most have reduced workforce, streamlined operations, and, as U.R. Bhat, Head of Securities and Director, JP Morgan India, says, "make huge profits from their treasury operations". That could explain why the market capitalisation of 51 PSU stocks, aggregated Rs 3,25,636.40 crore on October 17, as compared to Rs 1,62,708 crore on March 31, 2002. Moral: Only when the going is bad does the market needs triggers.
PSUS SCRIPS STORY

DATE
DISINVESTMENT NEWS
BSE PSU INDEX
BSE SENSEX
5. 02. 2002
IBP sold to IOC and VSNL to Tatas 1,129.67
3,311.73
27.02.2002
CCD* takes in-principle decision to privatise HPCL and BPCL 1,380.04
3,705.66
2.09.2002
Defence Minister George Fernandes writes to PM Atal Bihari Vajpayee against PSU disinvestment 1,568.43
3,187.26
7.09. 2002
CCD delays sell-off HPCL, BPCL by three months 1,469.37* (As on Sept. 9)+
3,089.47
2.10.2002
Angered by bickerings of his cabinet colleagues, PM tells them to stop sell-off squabbles 1,383.62* (As on Oct. 3)+
2,938*
7.10.2002
PM tells Financial Times that disinvestments process is on track and irreversible 1,445.44
2,952.78
15.10.2002
CMC sold to Tata Sons 1,459.54* (As on Oct. 16)+
2994.99
30.10.2002
Disinvestment meet put off after Fernandes' flip-flop 1,456.46
2,888.59
9.12.2002
CCD allows sell-off of BPCL through the IPO route and HPCL through the strategic sale route 1,536.74
3,269.31
26.01.2003
Government clarifies that PSUs cannot bid for PSU oil companies 1,611.3 (As on Jan. 27)+
3247.71
31.01.2003
Shourie to review BSNL, MTNL merger 1,624.41
3,250.38
5.09.2003
Supreme Court reserves order on HPCL, BPCL sell off 3,000.55
4,369.17
16.09.2003
SC restrains government from going ahead with the disinvestment of HPCL, BPCL with parliamentary approval 2,857.34
4,274.75
17.09.2003
Attorney General Soli Sorabjee rules out appeal against SC verdict 2,728.17
4,222.60
25.09.2003
Residual sell-off in VSNL and IPCL frozen 2,788.15
4,297.15
3.10.2003
CCD decides to split IOC and sell off part of the retail unit 2998.73
4,552.92
13.10.2003
Government uses the Jessop issue to plead with SC for reconsideration of HPCL, BPCL decision 3142.26
4,849.27
+ The next trading day
* Cabinet Committee on Disinvestment