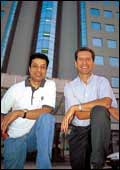 Alok Aggarwal (L) and Marc Vollenweider: Patents R Us
India may not be filing too many patents just yet, but one start-up has made a viable business out of filing patents for anyone, anywhere in the world. The company, Evalueserve, is founded by Marc Vollenweider, the man who set up McKinsey's knowledge centre in India, and Alok Aggarwal, who did IBM's research centre, and it operates out of one of those new glass-and-chrome buildings in Delhi's booming satellite, Gurgaon. Evalueserve advertises itself as a remote business research outfit-Vollenweider claims it has thus far completed research assignments across 195 countries, involving 65 different languages-but it is its fixed-price patent-filing service that is truly unique. "In law, this is a novelty," says Vollenweider, who operates out of Austria (Aggarwal is based in the US). "And it is best done by technologists with minimum legal training." Patent-filing is a logical diversification for a remote-research operation; the bulk of the process involves research. Aggarwal, who brings his patent-filing experience for IBM's Indian research centre, and Vollenweider, whose McKinsey stint taught him a thing or two about building remote-research outfits, have hired marketing execs in the US, and hope to offshore patent-filing activity from that country to India. Today, almost 20 per cent Evalueserve's revenues comes from patent filing; and patents for key technological discoveries made in other parts of the world, are made by a 230-man operation in Gurgaon.
---
BOOMTIME
Getting Better All The Time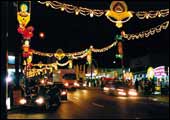 Festive season: Gift are a good indicator of economic well-being
As avid fans of the big MAC index-a measure of whether a currency is overvalued or undervalued based on the price of a Big Mac in that market-we have a predilection towards unconventional metrics. Here's one to mark India's festive
SEASON: every year, around this time companies and PR agencies call up scribes asking for the address to which corporate-gifts-of-the-season should be delivered. The past couple of years saw a decline in such calls leading this magazine (which proscribes its journalists from accepting the gifts) to assume that things had changed for the better. We were wrong. This year, the number of calls has increased tenfold, clear proof that we are well and truly into an economic revival.
---

To Bharat Puri, Managing Director, Cadbury India. Yes, we know this magazine has already taken the company to task (see Taste Of Real Life, page 14) for its response to the worms-in-chocolate controversy, but to try and get away by blaming the trade...

To Sharad Yadav, the Union Minister for Food and Civil Supplies. The monsoon has been good, but the prices of essential commodities have risen simply because of distribution problems. Thanks to this, inflation is at nearly 5 per cent today.
---

Prem Mehta: Delhi's on fire
Lowe India CEO Prem Mehta must be worried. Following news of the impending departure of the agency's Delhi front-man Santosh Sood, the market is rife with rumours about an exodus of executives and accounts. Sood-he was designated Executive Vice President-spent over eight years at Lowe's Delhi branch and was the man who bagged the LG account (now valued at around Rs 45 crore). Next month, he will join Rediffusion DY&R and go back to working with his former boss Preet K.S. Bedi. The buzz about the exodus seems true: Vice President Vikas Verma is signing up with the UN, senior brand services director U.T. Ramprasad is Euro RSCG-bound, Brand Services Director Naresh Sharma is headed for Mudra, and Executive
Creative Director N. Ramesh, O&M. None of the agency's prized accounts (LG, Wills Sport) has moved yet and COO and President Pranesh Mishra is spending lots of time in Delhi. "We are talking to the clients who would naturally be upset with the goings-on," he says. That won't be easy.