Damned if you, damned if you don't. Such is the quandary that industry faces in Karnataka, a perennially power starved state, where units that generate power for captive consumption have been asked to pay 50 paise per unit as tax. According to the state's Additional Energy Secretary & Chief Electrical Inspector, T. Munirathnam, the idea is to help cross-subsidise power supplied to the agriculture sector. The tax, which is expected to generate Rs 250 crore per annum, has the local industry livid. Says an angry and incredulous B.S. Arun Kumar, President of the Federation of Karnataka Chambers of Commerce and Industry: "This is the most ludicrous proposal."
Interestingly enough, captive producers generate more power generation installed capacity (4,300 mw) than the state itself (4,200 mw). One reason for that, industrial consumers say, is poor quality of supply. However, a bigger reason could be the price: the state charges commercial users Rs 6.70 per unit, compared to Rs 4 it costs when independently produced. Ergo, there's a lack of demand for state supply from big users. With the government refusing to back down, the state's power struggle may have only just begun.
---
MOOD
Out of Favour
MCA seats in Karnataka go abegging.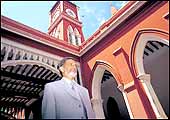 M.S. Thimappa, VC, Bangalore University: Not surprised
The it industry's fortunes are looking up and the top companies are hiring once again. So, the demand for it education should be rising too, right? No, not in Karnataka. For the 1,900 master of computer applications (MCA) seats on offer at the Bangalore University-Asia's largest with more than 450 colleges affiliated to it and four lakh students-there were just 600 applicants this year. In fact, so unviable have the courses become that more than 15 colleges have approached the University for permission to withdraw the course. So why is MCA going out of fashion in Karnataka? University Vice Chancellor, M.S. Thimappa, thinks the answer is simple: "When the curriculum gets divorced from market realities this is what happens. There is little value in the graduate or master's programme that a lot of these colleges offer," he says.
He is right. Taking advantage of the boom in technical education, dozens of colleges have sprung up in the recent past. K. Balveera Reddy, Vice Chancellor of Vishweshwariah Technical University, the nodal university for all engineering colleges in the state, points out that engineering seats have more than doubled to around 40,000 in the past five years. And not all of them are as good as they ought to be. Not surprisingly, then, the colleges with the worst infrastructure have been the hardest hit, indicating that students have become more choosy and conscious of the value a college offers.
Much like the IT companies that they hope to staff, Karnataka's engineering colleges need to stay in tune with the market demand. Otherwise, things can only get worse for them.
---
COOLNESS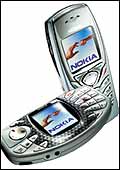 Damn the Bells and Whistles
Thinking of upgrading your handset? be warned. new software and features on the fancy new handset that you covet may be too much to handle. That's what BT discovered with three new handsets-3100, 6600 and N.Gage-from Nokia. The N.Gage died on us with a software glitch before even one game was played; the 3100 hung every once in a while; and the 6600's video camera also caused it to hang more than once. Sure the three were prototypes, but our point holds. As handsets vie to become PCs, they'll likely have all the desktop's problems too.
---
The Flight Gets Bumpy
Air Deccan hits an air pocket, but it's not May Day yet.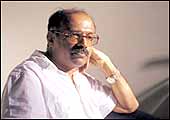 G.R. Gopinath, MD, Air Deccan: Keeping his cool
For India's first low-cost carrier, the flight so far has been extremely rough. On its inaugural flight from Hyderabad to Bangalore, its ATR 42 caught fire in full view of media and VIP passengers, including civil aviation minister Rajiv Pratap Rudy. Then, Air Deccan's schedules, announced weeks in advance, went haywire as the additional ATRs ordered did not turn up. Besides, some travel agents have been bad mouthing the carrier because it runs a direct booking system through the internet and a customer contact centre, making agents redundant. Several flight cancellations due to technical snags haven't helped either.
But ask Air Deccan's Managing Director G.R. Gopinath if the troubles will ground the airline, and he dismisses the question as an exaggeration. "Just because we hit an air pocket does not mean that we abandon flight. Just a few weeks into the show and already some people want to write us off. We are here to stay," asserts Gopinath. As for the fire on the inaugural flight, Gopinath says that the incident has been blown out of proportion. According to him, it was fuel traces on the wing tips that caught fire due to atmospheric friction and that at no point were the passengers in any danger. And as proof of public confidence, he says that the very next flight from Hyderabad to Bangalore flew full capacity.
Nor does Gopinath think that the no-frills model is flawed. Explaining why his company ventured into no-frills airline, he says that India's huge middle class offers a very big market for an airline like Air Deccan. India currently has 380 flights per day, with 40,000-odd people flying them. In contrast, the US, Gopinath points out, has just a third of India's population, but 40,000 flights per day. "The amount of air travel is bound to increase as long as it is affordable," says he. As a low-cost carrier, Air Deccan's unique proposition is its fare. For instance, its Bangalore-Hyderabad fare is just Rs 2,270, compared to Rs 4,900 of Indian Airlines and Jet Airways.
Despite the hiccups, Gopinath is projecting revenues of Rs 250 crore in the first year and possibly even profits. "Low cost airlines are the future worldwide, air pockets or not," says Gopinath. Maybe, but he had better keep his seat belt fastened.
---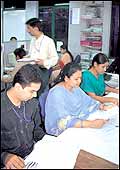 Techbook: Thanks to Brits
Here's a new one on the outsourcing front. The us-based Techbooks has quietly assembled a team of 1,800 at Okhla in Delhi to remotely provide publishing support services. Whether it's filing sec statements, applications to the FDA, writing legal briefs, developing content for techno-medical journals, the centre in India does everything for the $50 million company. "The margins are more than what most make in the software business," says Ranjit Singh, CEO of Techbooks India, which counts McGraw Hill and Pearson among its clients.