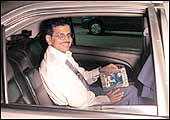 S. Rajam, CEO, Ittiam Systems: Going global with DMA
It seems somehow apt that a company that takes its name from Rene Descartes' famous Cogito Ergo Sum quote decides to come up with a product to showcase its chip-design skills-sort of like a 'We've produced this innovative product, therefore we must be good', statement. That's exactly what Bangalore-based Ittiam Systems (I Think, Therefore I AM, see?) has done. The company is a global wannabe in the Digital Signal Processor-design space; so, what better way of establishing itself than coming out with a prototype combo player, the Digital Media Album (DMA for short)?
"DMA," says Srini Rajam, Ittiam's CEO and a chip-industry vet (he headed Texas Instruments' Indian ops for nearly a decade), "is a multimedia Swiss Army Knife". "It can store and play pictures, music, and movies, act as a digital video recorder, a digital camera, and a camcorder". The company developed the hardware and the software that goes into DMA locally. When Ittiam started out, it decided that it would make money from licensing Intellectual Property (IP). "But corporate customers want to see the end result," explains Rajam. Ergo, "this mother of all media appliances that showcases our software IP". For the record, eight IPS have gone into DMA, and the company claims the applications for the technologies used in the product are "mind boggling".
Already, several global consumer majors that have seen the prototype, are excited, but Ittiam, in keeping with its original philosophy doesn't plan on entering the realm of mass production. Instead, it'll be content to sell the IP.
---
UNIFIED LICENSING
Trouble Ahead
Why the unified licence will not end litigation in telecom.
There's nothing for the cellular companies in the unified licence regime, and given that they benefited from the government's decision to move from a licence-fee structure to a revenue-sharing one in 1999, it is unlikely that the future holds anything.
There's a feeling that the Rs 485 crore penalty levied on Reliance Infocomm for providing `full mobile' services is too low, given that the company has acquired some five million customers on the strength of it.
In the case of some circles and some operators (Tata Tele in Andhra Pradesh and HFCL in Punjab), the licence fee paid by basic telephony companies is higher than that paid by companies that acquired the fourth cellular telephony licence. Given that this is the basis for determining entry fee into mobile telephony for basic telephony companies, are Tata Tele and HFCL eligible for a refund?
What happens when an operator in a certain circle decides not to migrate to an unified licence?
Bharti, and this is a unique case, wants to return its basic telephony licences because it has cellular telephony ones in the same circles and can, according to the terms of the unified licence, provide both services on the strength of these. Oops!
Given that India's telecom regulator is working on a real unified licence (basic plus cellular plus domestic and international long distance plus whatever else it can think of), what happens then?
---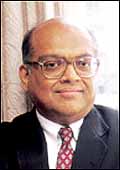 A+
To Ashwin Dani for proving that vengeance is a dish best eaten cold. Six years after ICI Plc's abortive attempt to acquire a 9.1 per cent stake in Asian Paints, the company has acquired the government's 9.2 per cent stake in ICI India. Bravo!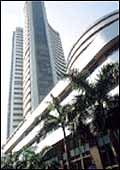 X
To BSE Sensex. It crossed the 5000 mark on November 3, something no one could have predicted at the beginning this then dismal year. We'd like to think it is poised to go even higher, but given the unpredictability of Indian bourses we'll take refuge in that universal symbol of the unknown (X).
---
From your car to your rocking chair to your toothbrush, almost everything that you use today is designed. And increasingly, manufacturers are turning to computers to do the designing. The $120-million SolidWorks, a subsidiary of Dassault Systems, is the biggest vendor of three dimensional (3D) computer-aided design (CAD). Its CEO, John McEleney, was in India recently and spoke to BT's Venkatesha Babu on the technology and the Indian market. Excerpts:
Why has design become such a critical issue?
Markets have become very competitive. A 3D model is worth a thousand 2d drawings. But improved visualisation is only the tip of the iceberg of productivity gains. CAD gets products on store shelves faster. It allows designers to make mistakes and rectify them inexpensively, since (3D) solid models can be pushed, pulled, turned on the computer screen.
How do you see the Indian market?
Because of the low cost of engineering skills, India has been a traditional 2d market. But as India tries to become competitive in manufacturing on a global basis and costs of cutting-edge engineering skills rise, a lot of 2D users will migrate to 3D.
SolidWorks has been late to India's $25 million CAD/CAM market...
Yes, but we've had presence through distributors who have sold more than 900 licences to 400 customers, including EID Parry, ABB and Ucal. We are looking to enhancing our 5 per cent market share in India to reflect our global leadership in the space. Last year, we set up our development centre in Pune and I am happy at the progress done here. With nearly 44 employees, it designs nearly 10 per cent of our software. The amount of talent here is incredible. We want to tap the Indian market both for the selling opportunity as well as a resource base.