If there's one sector that finally looks set to find its place in the sun, it's media. Advertising revenues are looking good-analysts expect a 12 per cent growth for the industry in 2003, as against a practically flat market last year-and the stockmarkets never looked as buoyant in a long time.
For an industry that's accustomed to revenue-raising constraints in the midst of a highly-competitive scenario, a flourishing secondary market is indeed good news for growth-hungry promoters. ''I expect plenty of IPOs (initial public offerings) by media companies in the near future. That's because their funding compulsions are high, and the cost of funds has always been higher for media firms because of the risk premium they attract. So equity financing is the best option for these companies,'' explains Shubabrata Majumdar, Motilal Oswal's media-tracking equity analyst.
First off the blocks is TV Today Network, which owns Aaj Tak and Headlines Today (and is also a part of the group that publishes BT). The leader in the news space will raise Rs 100-120 crore via a public issue of 14.5 million shares (face value of Rs 5; it will take the book-building route). Says G. Krishnan, CEO, TV Today Network: ''Being the market leaders, our objective now is to raise resources for faster growth. We want to increase our viewership even as we hold on to our existing loyal audience.''
For the year ended March 2003, TV Today's profits recorded an almost 10-fold spurt, to Rs 26 crore. Krishnan attributes this rapid growth to various initiatives, including incentivised rate cards for existing advertisers as well as aggressive moves to convince hitherto non-news advertisers to advertise on Aaj Tak and Headlines Today.
To be sure, TV Today won't be the only equity-raising media company. Analysts point out that implementation of the conditional access system (CAS) is inevitable, and will happen in 12-18 months. What''s more, creating DTH and hits infrastructure will also call for considerable investments.
Investment bankers point out that a number of broadcasting majors like NDTV, B4U and UTV, which were actively considering going public a few years ago, could once again reignite their plans for the primary market. Sony, too, on the back of the cricket rights it has in the bag till the next World Cup as well as blockbuster serials like Jassi Jaissi Koi Nahin (it opened in the top 50 serials by rating points, an achievement for the channel) would find this an opportune time to raise money from the public.
Meantime M&A activity could also step up in the print medium, what with the cash-rich Bennett Coleman group eyeing prospective targets. And of course foreign investment has only just begun trickling in. The flood could well be on its way.
---
BT-CIRRUS
A Bitter Bite
Worms eat into Cadbury's traditionally positive image.
Brand equity can be a very fragile thing. Just ask Cadbury. Until September this year, it was one of the most loved chocolate brands in the country. Come October, it had even the most abject chocolate slave worried. Why? Blame it on worms-the ones found in Cadbury chocolates by the Maharashtra Food and Drug Administration. While in the past, Cadbury has almost always received positive press (the BT-Cirrus data, however, pertains to May-October 2003), the coverage it received in October was overwhelmingly negative. That worms were found in Cadbury chocolates was bad enough, but the company made it worse by laying the blame squarely at its retailers. In fact, the company's Managing Director, Bharat Puri, even asked consumers to be careful about where they bought Cadbury chocolates. In doing so, he forgot two things: One that the retailer was appointed by the company and hence it was equally responsible in ensuring proper storage of chocolates. Two, consumers put their trust in Cadbury and not the retailer. No doubt Cadbury will recover from all the drubbing. But had the company handled the crisis better, it may have actually ended up with a better image.
1.Visibility scores and image scores measure all news items. Visibility scores are a factor of the size of the article multiplied by the readership of the given newspaper or magazine where the article has appeared.
2. Image scores are the tonality of a given news item. The visibility scores are multiplied by one, two or minus one depending on whether the articles are neutral, positive and negative.
3. Quality of Exposure (QoE) determines the relationship between the visibility and image scores. A positive story well-covered merits compliments but a negative story covered extensively is not good for a company. Normally, all media reports for a given company are a combination of positive, neutral or negative articles. QoE is always expressed as a percentage.
---
THE BT 50 INDEX
BT 50 touches a high of 184. Now, wait for next fortnight.
After some vacillation, the BT 50 index is again on the ascendant. Next stop: 200. But like we warned in an earlier edition of this column, things could change faster than you could say s-c-a-m. And there's a lurking fear in D-street that hedge funds, the ones held responsible for the current boom, could suddenly decide that it's time to download stocks. Still, given the strong showing of India Inc. in the second quarter of the financial year, and the improved prospects for the Indian economy, we'd like to think this run can last. And last. And last. Meanwhile, we carried out our usual quarterly exercise of recalculating the weightages assigned to BT 50 stocks because companies provide updates on holding patterns at the end of every quarter. That's the table you see to your right. As for the snake you see on top, that's the index.
---
Want Rent-free Digs?
The government puts out an attractive lure for BPO firms.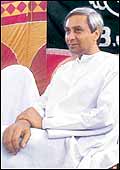 N. Patnaik: Hit by BPO fever
In recent times, no industry has caught the imagination of India's politicos the way the booming business process outsourcing (BPO) one has. That's because it involves technology (something the public, for some reason, likes) and has the potential to create jobs, lots of them. The latest Chief Minister to jump onto the BPO bandwagon is Orissa's Naveen Patnaik.
The state has an offer that few others can emulate: it is offering rent-free (for three years) accommodation to companies willing to move into its BPO Complex in Bhubaneshwar. "We have more than 200,000 square feet of built-up space into which BPO companies can move in and start running their operations," says Rajesh Verma, Managing Director, Orissa Industrial Infrastructure Development Corporation. The state will vet the credentials of companies to ensure that no fly-by-night operators misuse its offer. "We are doing this in order to attract investments in the IT enabled services segment that can create lots of jobs for local youth," explains Asit Tripathy, the state's it secretary. With 38 engineering colleges, producing 10,000 engineers a year, the state sure has enough of that.
---
First Time; Second Hand
Just how much is your car worth.
The average Indian car is worth only 55 per cent of its initial value after two years. So, says a survey, the first of its kind, conducted by NFO Automotive on used cars. And the average second-hand car (across segments) costs Rs 213,115. According to Rajeev Lochan, General Manager, NFO Automotive, "It is evident that users are willing to pay a five to ten per cent premium for cars that are in a good condition and with a warranty. This is evident by the increasing share of the used car market being enjoyed by new car dealers." In fact, several manufacturers themselves have realised this, with Maruti taking the lead with its 'True Value' chain. Across the world manufacturers actually keep a tight rein on the second-hand car market. "During our new car buyer survey it was quite clear that resale value was the most important factor in customer retention," says Lochan.
---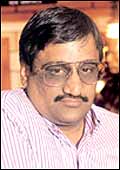 Caveat, retailers. Pantaloon Retail's (of Big Bazaar fame) Kishore Biyani (above) is on the prowl and he doesn't want your stores, but your best men. The chain, which grew 56 per cent last year to notch Rs 445 crore in revenues, is expanding aggressively into new markets and business categories and wants eight new senior managers to join its existing top team of 12. Biyani's first big catch: V. Muralidharan, until recently VP (Operations) at Lifestyle, who has joined as Head of Mall Business and Concept Director for Training. Other positions that Pantaloon wants to fill include heads for International Procurement and Sourcing, Business Development of Pantaloon, Private Label Programme for Food Bazaar, Chief Technology Officer for the group, New Businesses and New Categories for Big Bazaar. Says Biyani: "We are envisaging a lot of growth and working towards our Vision 2007 and for that we need a larger management team". Here's a shoplifter that big retailers can do little about.