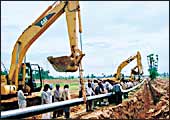 Lay 'em thick: Distribution will be key to making natural gas a much more cost-effective source of energy
Sometime soon in the future, a 1,400-km gas pipeline will snake its way from Kakinada to Ahmedabad. But this won't be just another energy sector investment. It will mark the private sector's maiden foray into a business long monopolised by GAIL India. To be built by Reliance Industries, the Rs 3,000-crore pipeline will transport gas from Reliance's offshore field in the Krishna-Godavari (kg) basin to NTPC's Kawas and Gandhar power project in Gujarat. Making that possible will be a change in the pipeline policy, to be sent soon to the Union Cabinet for its approval, that will end GAIL's privilege as the sole builder of gas pipeline on trunk, or interstate, routes.
At the moment, Reliance is the only energy company to have made known its plans to invest in its own pipeline, but it's almost certain that other players will follow suit. In the recent past, major gas reserves have been struck on the East and West coasts of India and onshore in Rajasthan by companies such as Reliance and Cairn Energy. That apart, LNG is now being imported into India by Petronet LNG (a consortium of IOC, BPCL, ONGC and GAIL), and a couple of others like Shell Gas and Power have plans of bringing in natural gas starting end of this year.
Transporting natural gas from the landing site to institutional consumers such as power and fertiliser companies will require a network of pipelines across the country. Says A.M. Uplenchwar, Director (Pipelines), IOC: "Once the government allows multiple players, we'll go all out."
Although GAIL contends that allowing multiple operators will lead to potential supply disruptions, the government is unlikely to have too much trouble deciding in favour of it. Set up by the government in 1984 with the sole mandate of developing pipeline network and marketing gas, GAIL got to build and control all the trunk routes (a total of 4,500 km) including the 2,700-km Hazira-Bijaipur-Jagdishpur (HBJ) line, while some of the intrastate pipelines, open to competition, went to regional players like Assam Gas and Gujarat State Petronet.
Despite GAIL's contention that allowing multiple players will lead to disruptions in supplies, the government is likely to rule in favour of greater competition
But the nature of gas business has changed dramatically since. Besides ONGC and oil, private companies like Reliance, Shell, Cairn Energy and Niko have entered exploration and production. This, in turn, has boosted gas production. The turning point came in October 2002 when Reliance reported discovery of a huge gas reserve in kg basin, and it wanted to transport gas from here to the western parts. Ordinarily, it would simply have been an issue of hammering out a transportation agreement with GAIL. But here's the problem: over the years, GAIL has diversified both into exploration and distribution. Its new status, therefore, puts it head on with other players such as Reliance.
Now it seems the UPA government will favour a multi-operator national gas grid as India currently has multiple sources of gas and a huge market to satisfy. So GAIL's plans of becoming the sole implementing agency for building a national gas grid (approximately 8,000 km with an investment of Rs 23,000 crore) may not happen. Even the Planning Commission, responding to a GAIL pitch early this year for retaining its monopoly, said that granting exclusivity to the PSU in any segment of the gas infrastructure will be counter-productive as it is present in gas production, transmission, distribution and trading. In any case, the plan panel said, the government should first appoint a regulatory agency for gas pricing before allowing GAIL to set up the proposed national gas grid. Anindya Chowdhry, Chief Advisor (Strategy), Shell Gas & Power, says that pipeline business needs to be "isolated from the rest of the businesses a company does"; otherwise the regulator will have difficulty in determining pipeline tariffs.
WAITING TO GO

There are a dozen potential entrants into pipeline, but these could be the bigger ones.
Reliance
Awaiting government approval for its 1,400 km Kakinada-Uran pipeline proposal. Will be a major player in gas transportation business.
ONGC
The gas exploration and production giant has plans to lay pipelines across the country barring areas where distribution partner GAIL already operates.
IOC
As part of a consortium that includes Russia's Stroytrangaz and Essar Constructions, IOC has already commissioned a Rs 198-crore Baroda-Ahmedabad-Kalol gas pipeline project for Gujarat State Petronet. Has other projects on the cards.
Gujarat State Petroleum Corporation
Government-owned, it is already setting up a 2,500-km pipeline in Gujarat. Once the interstate network is open for multiple players, GSPC is likely to get into trunk routes too.
Gas pricing is as much a driver behind the deregulation. Reliance argues that PSU costs were inflated and its own pipeline transportation charges would be substantially lower than those of GAIL. For instance, Reliance has won the bid to transport gas to NTPC's plants in Gujarat for 48 cents (Rs 22.25) per million metric British thermal units (MMBTU) compared to what GAIL charges (70 cents, Rs 32.45) on the HBJ grid. (GAIL says it is willing to offer 40 cents per MMBTU.) Says Rajiv Thakur, oil and gas analyst at ICRA: "If Reliance gets the go-ahead and other players follow suit, there will be a fair amount of competition that will result in more competitive pricing, benefiting the consumers."
Even though the pipeline policy envisages a common carrier principle with an additional 25 per cent capacity to transport gas other than one's own, it's not just about transporting gas. Says Sandeep Biswas, Senior Manager, Accenture: "The issue is availability of gas at competitive prices and not availability of gas per se."
But the reason why there will be a rush to set up gas pipelines is that in the foreseeable future gas is expected to remain a major source of energy. And according to O.P. Sharma, President, Saw Pipes, manufacturer of oil and gas pipes, "gas (unlike oil) can only be transported via a pipeline". That means the pipe dreams of GAIL's competitors will sooner than later come true.
-By Sahad P.V. and Supriya Shrinate
---
SECOND
WPP Nation
With Rediffusion DY&R almost in its bag, Martin Sorrell's WPP Group will control nearly half of the media spend in the country.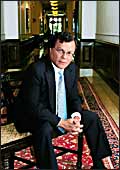 WPP's Martin Sorrell: Lord of advertising
Sir Martin Sorrell has now become the second Edward VII, the emperor of India,'' says Suhel Seth, CEO of Equus Red Cell, commenting on ad-conglomerate WPP-owned Young & Rubicam's reported takeover of the Rs 1,000-crore Rediffusion DY&R from its majority Indian owner-managers, Diwan Arun Nanda and Ajit Balakrishnan. Seth, an ad-man about town, may be given to exaggerations, but this time he's bang on. With Rediffusion almost in its portfolio, WPP, which already owns a clutch of outfits in the country (see WPP's India Empire), will control half of the Rs 8,600-crore market for advertising. ''An aberration has been corrected,'' says Ranjan Kapur, Country Head of WPP India, a liaison office, referring to $6.76-billion (Rs 31,096 crore) WPP's minority status in Rediffusion for almost two decades now.
Negotiations with Rediffusion started more than a year ago, and the purchase is likely to have been struck at an enterprise valuation of approximately Rs 150 crore. Nanda, however, says that "it's premature to speak of valuations at this stage," since "no deal has been agreed upon." However, he adds that "the timing and extent of an increase of (Y&R) stake are all aspects of ongoing discussions" with Y&R
While the deal per se hasn't surprised the industry, it does throw up some interesting questions at the fundamental level. For one, does this takeover, of one of the last big Indian-owned agencies, indicate the end of Indian ownership in advertising? With nearly half of the market under its belt, has WPP, even though just a holding structure back in the United Kingdom, become too big in India for the industry's own good? Will competing networks such as IPG, Omnicom, Publicis, Dentsu and Havas take cue from an aggressive WPP and up their ante in the country?
Most people in the industry agree that at the creative end group-wise synergies is a non-issue, since all agency brands compete aggressively for the same business
''Ownership does not matter. What matters is ideology, and Indian managers will drive ideology in this market,'' says O&M India's Chairman & National Creative Director, Piyush Pandey. He may be right. Most people in the industry agree that at the creative end, group-wise synergies is a non-issue, since all agency brands compete aggressively for the same business. And that media consolidation has already happened with Group M accounting for around Rs 3,000 crore worth of ad purchase. So, Redffusion's media kitty being added to Group M it won't change the rules of the game any significantly.
With Reliance-backed Mudra Communications the only big Indian-owned agency (Omnicom's DDB Needham owns just 10 per cent in it) still standing solo, does it mean that any agency worth buying in India, from a global group's point of view, is already bought? Well, yes and no. If you look at agencies such as Madison Communications, which is perhaps the only serious competition to WPP's Group M in India and is headed and zealously guarded by the feisty Sam Balsara, the answer is a No. Then, for every Madison there are dozens of small and medium Indian-owned agencies that are game. So there is room for more acquisitions by WPP or one of its rivals. ''Sadly, from the point of view of Omnicom or IPG, there is just no big agency left worth looking for acquisition in India,'' says the CEO of one the Omnicom group agencies (Mudra Communications, RK Swamy BBDO and TBWA Anthem) in the country.
» JWT India
» Ogilvy & Mather
» Contract
» Bates India
» Equus Red Cell
» RMG David
» Everest
» Rediffusion DY&R
» Group M
Except for Group M, which is a media planning and buying outfit, all the agencies are in the creative business. Rediffusion DY&R, however, has both creative and media planning and buying arms.
The moot question, then, is, if there isn't enough size to be picked up through acquisitions, how will Omnicom, IPG and Publicis take on WPP in India? ''Well, they could push, much like WPP, for a media consolidation across their agencies in India,'' says a senior manger at one of the IPG agencies (Lowe, McCann Erickson, FCB Ulka and Enterprise Nexus) in India. Problem: IPG and Omnicom's track record here has not been exactly impressive, what with Omnicom unable to up its stake in Mudra or even launch its group wide media arm, Optimum Media Direction (OMD) in the country.
But that may change with the realisation setting in that a big market such as India cannot be left unattended for long. And WPP-what with its $1.3-billion bid for Grey Global if it comes through-will only get more powerful in India. ''Omnicom may soon tie-up with Mudra to launch a majority owned new agency in India. And IPG's media arm, Magna, will be here, latest by April 2005,'' says the CEO of a WPP competing network-agency in India
Looks like Sir Martin, who loves a good fight, be it over his pay packet or a takeover (of Grey Worldwide at the moment), will finally have competition gearing up for a real fight in India.
Most people in the industry agree that at the creative end group-wise synergies is a non-issue, since all agency brands compete aggressively for the same business
---
Getting Tux To Fly
Big Blue is pushing Linux-especially in India.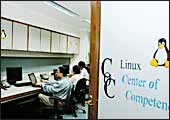 Go Open Source: IBM India's Linux revenues are up 50 per cent in 2004
Five years after IBM's former CEO Lou Gerstner decided to put the it giant's weight behind the open source movement, and especially back Linus Torvald-fathered Linux operating system (OS), it has set aside a billion dollars to fuel the movement across the world. Not surprisingly, a sizeable chunk of it is coming to India, which unlike America or Europe, does not have a market that is already wedded to proprietary OS. "We have identified the emerging markets of BRIC (Brazil, Russia, India, China) as thrust areas for Linux," says Jyothi Satyanathan, Linux Business Manager for ASEAN and South Asia, IBM. (FYI, the company is also scouting for a Head of Linux for India.)
At the moment, some 2 per cent of the total installed pc base in the country runs on Linux, according to estimates by Manufacturers Association of Information Technology. But the numbers are steadily increasing. IBM India's revenues from Linux, for example, has seen a 50 per cent jump from last year to this year. This growth, however, has come mostly from the enterprise segment.
Why is IBM going out of its way to mid-wife Linux in India? For a variety of reasons, most of which have to do with cost and security, most governments in Asia, China and India primarily, want to adopt open source software. By pushing Linux, IBM not only gives customers what they want but should also make more profits since it does not have a Microsoft to pay for the OS it puts on its servers and desktops. Recognising the potential of the government sector, IBM has set up a Centre of Competency in Bangalore to provide an infrastructure for Linux testing, prototyping and training to the Linux user community, besides IBM's business partners like resellers. That apart, it has tied up with Karnataka and West Bengal on e-learning initiatives based on Linux. If IBM's efforts pay off, Tux (the Linux logo of a penguin) may actually take wings in India.
-Sudarshana Banerjee
---
Q&A
"Linux Is $6-billion-big In India"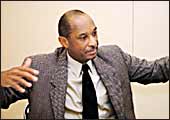 Jim Stallings is the worldwide head of Linux for IBM. He spoke to BT's R. Sridharan on Linux's progress over the recent past. Excerpts:
On IBM pushing Linux since 1999
We are happy with the progress we've made. The speed with which a lot of corporations are moving to Linux is really surprising. Analyst data put Linux-based server shipments at about $1 billion every quarter. Which means Linux has clearly emerged as an alternative to Windows. Even a couple of years ago, some people would have doubted that happening.
On Linux in India
You'd be surprised to know that already there is a $6 billion-big Linux market in India, but most of that is going to markets abroad like the US. But we find governments very interested in open source, and I think India is going the right way in building a Linux ecosystem.
On Linux vs Windows
Let me tell you, it's not about Linux or Windows. Just because people are switching to open standards doesn't mean Windows is going to go away. We believe in giving our customers choice. In fact, one of our server initiatives offers OS/400, AIX, Linux and Windows so that customers can run different operations on the same server.
---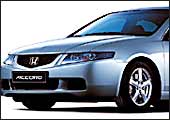 About two months ago, Honda-Siel Motors recalled some 12,000 of its new Honda City cars. Last fortnight, it announced that it was recalling 2,000 of its Accord luxury sedans as well. What's going on? Nothing unusual, says Neeraj Garg, a spokesperson for Honda-Siel Motors. ''This is an international recall, and the cars we have recalled in India are those with potentially defective components that were sent to us, and only the hood top requires replacing. Otherwise only a bit of tweaking is required. This is not similar to the City recall,'' he says.
But wouldn't two product recalls in two months hurt Honda's brand image in India? If Honda City's experience is anything to go by, then maybe not. There is still a three-to-four week waiting for the City, and it still sells more than 2,500 units every month. When the Accord recall was announced, it was the market leader in its segment and had sold over 3,000 units since its launch a year ago. ''From what I have seen, customers have not complained about the recall at all. This is all part of our corporate transparency strategy," says Garg. No doubt, it is also a sign of the car market maturing.