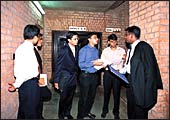 Games companies play: While employers try every trick in the book to woo B-school grads, it's usually frank talk that works
I remember," says Sanjiv Lamba, MD, BOC India, of a memorable moment wooing B-school students, "we once placed a dozen oxygen cylinders on the stage, and turned them on in front of a hall full of management grads, and asked how many would be interested in selling the product." This presentation was part of the Pre-placement Talks (PPTs), and competitive recruiters had already moved from clickety old slide-shows and yawn-inducing speeches to SFX-enhanced razzle-dazzle. Students had to be hit between the eyebrows, went the prevailing wisdom. "There was stunned silence for close to a minute," recalls Lamba, "apart from the satisfaction of giving them clean air to breathe, we didn't get much of a response. Maybe we should try laughing gas next time." At least nobody would forget it.
But Lamba and his fellow recruiters are going easy on the confetti-n-hoopla shows nowadays. It doesn't work. On campus after campus, it's back to the basics: the 'talks' part of PPTs. What used to be the mandatory Q&A session is transforming itself into something of a dialogue. "We talk to them about what we expect from them and what they can expect from us," says Lamba, who holds himself up as an example too, having made it to the top swiftly after signing up as a management trainee with the company just 11 years back.
Shaping The Talks
Before getting to coffee at midnight with students, though, recruiters have to do their 'market research'. For companies such as Maruti Udyog, this means engaging first-year students long before they're actually up for jobs. Company managers routinely take guest lectures, and encourage students to visit their plants. "The idea is to co-create a sense of rapport and value," says S.Y. Siddiqui, Chief General Manager (HR), Maruti, "and thereby establish a clear lead during placement time."
There are other interaction devices too. "An MNC last year did a two-day workshop at IIM, Bangalore to convey their initiatives in different product categories," recalls Y.L.R. Moorthi, professor of marketing and placement coordinator with IIM-B. And B-schools are only too pleased to have such corporate involvement. "We ask companies to get involved with the students at a more direct level-by organising classes, guest lectures, discussing case studies with them etcetera," says Professor Abbasali Gabuli, Chairperson (External Relations), S.P. Jain Institute of Management and Research, Mumbai. It's an exercise in mutual learning.
Sometimes, the spadework takes the form of formal surveys. Beginning 2003, TCS has been using commissioned research reports to gauge motivations. "Job content is going to be the primary driver this year," discloses Dilip Mohapatra, head of recruitment at TCS. The other drivers, in order of preference: one's own growth prospects, learning opportunities, take-away pay, work independence, market value enhancement, corporate ethics, market performance, company's growth prospects, favourable work environment and cross-functional mobility.
Remuneration is always a hot issue, and this year, TCS expects fresh MBAs to assign greater weightage to take-home pay than cost-to-company packages. This could be because they expect their first jobs to be of short duration, and are thus less concerned about career-span benefits. This is an insight TCS expects to make the most of in its PPT pitch, currently under rehearsal.
Open-Ended Dialogue
The dialogue gets the adrenalin pumping only once the substantive issues come up. Thanks to the info-glut, students are already tuned into the basics. "Students who turn up at these interactions also study the background of the companies concerned, and appreciate recruiters who level with them," says Gaurav Nagpal, member of the placement cell at IIM, Calcutta. And 'level with us' is often a demand for a credible disclosure of just how much management-say they'd really get. Will they really get to formulate strategy? This, says Sanjay Muthal, Senior Group VP (HR), Hinduja Group, is what's on their minds.
According to Sanjiv Goenka, Vice Chairman, RPG Enterprises, qualitative aspirations have become quite crucial to fresh MBAs, and the more sensitive ones must be approached with a silken touch. "We talk to them about career progression and the amount of freedom they can expect in day-to-day operations," he says.
Talking Passion
In all, the aim is to generate pre-nup enthusiasm; and some recruiters do this by dropping the inhibitions of formality to convey a sense of intoxication with their own jobs. If students get the 'high', they'd probably do well. Cadbury, for instance, tries to besot students with visions of the 'Cadbury taste of life'. According to Sharad Gangal, GM (HR), Cadbury India, the company's PPTs are getting increasingly informal. It helps attracting those who'd bring more than their analytical skills to the business.
Eventually, though, for any enduring vision alignment to occur, it's good old honesty that must seal the deal. Both signatories need to be utterly convinced of the mutual gain in consummating the talks.
---
SPOTLIGHT
Psychometric Testers

Ma Foi's Chhabra: Delving deep into grey cells
Ever been put through a psychometric test for a job? If you want to be on the other side-as a test administrator-you would have to be a specialised recruiter. According to Shruti Chhabra, Consultant (Assessment Practice), Ma Foi, Delhi, the discipline needs post-grads in psychology, though "non-psychologists need rigorous training before they can be licensed to conduct the tests". Ma Foi holds a licence to the 16 Personality Factor (or 16pf) 5th edition test, issued by the Institute of Personality and Ability Testing in the US, from where officials visit India every six months to grant licenses. Statistical training is a must. You'd need soft skills too, to interpret subconscious expressions. The money? Veteran testers "charge a substantial sum by the hour", says Chhabra.
---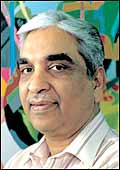 I am a 39-year-old working as a senior personnel officer with a PSU for the last decade. I also worked with the Railways earlier as a legal assistant for five years. Now, I want to join an MNC in the HR department. But despite my experience and a good educational background (Masters in social work and Bachelors in law, with specialisation in HR and labour laws respectively), I haven't got a good offer so far. Will it help if I do an additional course in HR from an institution such as XLRI? Also, can my age be a hindrance? Please advise.
Honestly, given your age and PSU work experience, you're an unlikely candidate for an hr position at an MNC. However, it's tough, but not impossible. It can be done if you follow a few steps. First, a full time course at an institution like XLRI will surely help, but for that you have to be able to take two years off. If that does not seem possible, try looking at personnel/IR (industrial relations) jobs in factories in the private sector. After accumulating some work experience there, you can then attempt to move to hr. That will be a simpler, and probably the best, route to attain your objective.
I am a 22-year-old agriculture graduate. I want to be successful in a corporate job, and am slightly perplexed about the right career path to choose. Firstly, I would like to know what prospects are open to me if I do a course in agri-business management. Also, I have two other options: one, I am interested in being a stock analyst, and two, I have done a diploma in export management from the National Institute of Export Management. Given all these alternatives, what should I choose to do? Please help.
What's critical is: do you know what you are good at? After all, agri-management, stock analysis and exports are vastly different from one another. An agri management course could lead you to agro-chemicals, fertilisers or other agro-based industries in the operations or marketing side; to be in the finance/stock market field, you need an MBA in Finance or a CFA degree; and your diploma in export management will be able to get you a job in either export companies/departments. All can lead to successful careers, but you need to choose the one where your real interest and aptitude lie.
I am a 25-year-old commerce graduate working as an accounts assistant with a textile company for the last two years. I am looking for a career in banking/investment or in foreign exchange. Will a CFA course from ICFAI help me get a good job in any of the sectors? Also, how do the prospects of a person who has done a CFA course differ from those of a CA or someone with an MBA in finance? And is it necessary to have work experience if I intend to take up a job in any of these sectors? Help.
Let me address your last question first. In any field of work, it is always an advantage to have prior experience. After all, any company will prefer someone who already has some knowledge about the job that he has to do. Having said that, however, let me make it clear that it is not a hurdle you cannot cross. Regarding your qualifications, a CFA course will certainly enhance your prospects of entering the field of investment. But a ca or an MBA Finance will have an advantage because both these necessitate two-to-three years of fulltime activity and offer more career choices.
I am a 21-year-old science graduate with specialisation in agriculture. Biotech is the field that attracts me the most, and in this regard I would like to have your advice on how best to equip myself, in terms of educational qualifications, for a successful career in this industry. Between a Masters in biotechnology and a specialised course in genetics or seed technology, which one will be better for me? If I pursue a Masters degree, do I need any additional qualifications as well? And what kind of compensation can I expect?
To be frank, while a Masters degree is good, if you are really serious about an R&D career in biotech, what will truly enhance your prospects is a PhD. And between genetics and seed technology, while the latter will limit you to the agri-field, genetics will leave the field open for pharma-oriented biotech companies as well as agri-oriented ones. Your choice will depend on where you feel you have more aptitude and interest. Regarding your query on compensation, while at junior levels the compensation in research is not very high, specialised research does fetch very good money.
---
Answers to your career concerns are contributed by Tarun Sheth (Senior Consultant) and Shilpa Sheth (Managing Partner, US practice) of HR firm, Shilputsi Consultants. Write to Help,Tarun! c/o Business Today, Videocon Tower, Fifth Floor, E-1, Jhandewalan Extn., New Delhi-110055.
---
The Summer Of '69
Pros and cons of hitching your summers' employer.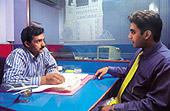 The summers firm: It's familiar, but is that so good?
For B-school students who fancy the comfort of familiarity, it's logical to join the company at which they did summer training. "A summers familiarises you with the culture, work environment and values of the company. You work as an employee and get to know the organisation in totality," reasons Kaushik Burman, Placement Secretary, Faculty of Management Studies (FMS), Delhi. "Plus you get a fix on the compensation."
But as Dr. Ajeetav Naik of FMS says, summer stints are not exactly jobs, "but part of the academic curriculum to provide an alive industry-interface". The idea is to use real-world experience to figure out if one wants to switch target companies (or even specialisations) before venturing out for good.
For some students, the whole point is to gain diversified experience at the lowest possible career-cost (summers is a 'free sample'). Their strategy? To flip sides. "It's a no-strings-attached inside view of a company," says an ex-student of Jamnalal Bajaj Institute of Management, Mumbai, "and that's of solid value to its rival-so join the other guy."
---
Deviation Dreams
The secret MBA list of dropout role-models.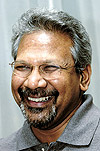 Mani Ratnam: He's the one who got away
If you joined a b-school because you're smart enough, and want to hit big time-not defined by a corporate jet at your disposal-rejoice. You don't need a password for the secret list of MBAs admired on campuses for opting out of business careers. Here it is.
Mani Ratnam: This graduate of Jamnalal Bajaj Institute of Management, Mumbai, would top any list, for having turned filmmaker with a rare passion for true differentiation.
Mallika Sarabhai: Armed with both a PGDM and PhD from IIM, Ahmedabad she went for another kind of mudra, turning Kuchipudi and Bharatnatyam artiste. So dancers can talk economics, after all.
Ingrid Srinath: With a PDDM from IIM, Calcutta and an 11-year ad stint (at Grey and Lowe), she joined cry, to fulfil her dream "of serving the underprivileged", in the words of Gaurav Juneja, student at IIM, Lucknow.
Harsha Bhogle: The IIM, Ahmedabad alum cricket commentator's name comes straight to the mind of Rahul Gupta, student of FMS, Delhi. For aligning his brains with his real field of interest.
Mini Mathur: With an MBA from IMT, Ghaziabad, she used her head to capitalise on her looks and spunk as well, opting for veejaying on MTV. She hosts 'Bombay Blush' on BBC in England.