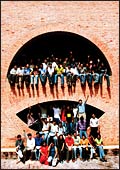 1 INDIAN INSTITUTE OF MANAGEMENT


Ahmedabad


Class of 2005: Ranked #1, IIM-A lumni head companies such as ICICI Bank and HLL
It's a great time to be an MBA. The Dowry Index puts an MBA from a good school (Harvard, say, or Indian Institute of Management, Ahmedabad) right on top, in the Rs 50 lakh to Rs 1 crore bracket along with bureaucrats. A progressive magazine such as the one in your hands does not subscribe to the concept of dowry (indeed, it is staunchly against it); still, it is hard to ignore the perfect market dynamics of a system where the dowry is a direct function of background, educational qualifications, earning power (doctors settled in the US, for instance, command more than those based elsewhere), even the company where the groom is employed.
Other statistics, and anecdotal evidence, would seem to suggest that a post-graduate diploma in business management (PGDBM, as the IIMs insist on calling IT) or MBA is indeed worth its weight in gold. According to coolavenues.com, an online resource centre and community for MBAs and MBA-wannabes, a student of the Indian School of Business' class of 2004, received an offer of an annual salary of Rs 20.55 lakh, the highest domestic salary offered on any B-school campus in the country, and significantly higher than the Rs 16.5 lakh (again the highest) that a student of the same school's class of 2003 received. And at the Indian Institute of Management, Ahmedabad (the country's #1 school, according to this survey), average salaries for the class of 2004 were, at Rs 7.08 lakh, 14 per cent higher than those for the class of 2003.
THE TOP TEN

2004
RANK

2003
RANK

SCHOOL

BRAND EQUITY SCORE (/10)

1

1

Indian Institute of Management, Ahmedabad

6.75

2

2

Indian Institute of Management, Bangalore

2.91

3

3

Indian Institute of Management, Calcutta

1.96

4

4

XLRI, Jamshedpur

1.5

5

6

Symbiosis, Pune

1.38

6

8

Faculty of Management Studies, Delhi

1.35

7

5

Indian Institute of Management, Lucknow

1.2

8

7

Jamnalal Bajaj Institute of Management Studies, Mumbai

1.16

9

11

Indian Institute of Management, Indore

0.98

10

25

ICFAI Business School, Hyderabad

0.93

In a competitive market (and the B-schools market is a competitive one in India),
MONOPOLY BRANDS: boast brand equity scores between 4 and 6,
WINNING BRANDS: between 3 and 4, DISTINCT (OR EXCELLENT BRANDS): between 2 and 3,
UNDIFFERENTIATED BRANDS: between 1 and 2, and
MEDIOCRE BRANDS: less than 1.
Circa 2004, two of India's 12 largest companies in terms of market capitalisation, ICICI Bank and HLL are headed by MBAs (or PGDBMs), both from IIM-A. Everything indicates that the slim odds of 1:100 of an individual gaining admission to any of the six IIMs, are more than offset by the gains that accrue.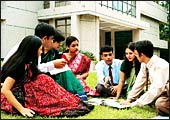 4 XLRI


Jamshedpur


Perennial favourite: This is one of a handful of B-schoolss that recruiters have consistently flocked to over the years
If it's a great time to be an MBA it's an even better time to be a B-school. India has around 1,700 B-schools and almost all of them are successes from the point of view of profitability although the quality of output of almost 90 per cent of them is suspect. However, thanks to the demand for warm bodies in sectors such as retail banking, telecom, organised retail, insurance, financial services, information technology, and it-enabled services, almost all mbas find jobs. Which is as it should be; only, most companies are reveling in the luxury of hiring a mediocre MBA for a job that can very well be done by an above-average graduate. This fuels the demand for MBAs, and consequently, B-schools, and the qualification runs the risk of going the same way as another three-letter-magic-degree of the late 1980s and early 1990s, MCA (Master of Computer Applications).
THE RECRUITER'S TOP 10

2004
RANK

2003
RANK

SCHOOL

BRAND EQUITY SCORE (/10)

1

1

IIM-A

5.40

2

4

XLRI, Jamshedpur

2.55

3

2

IIM-B

2.37

4

3

Symbiosis, Pune

2.01

5

NR

Tiss, Mumbai

1.70

6

11

IIM-C

1.63

7

5

IMT, Ghaziabad

1.28

8

27

ICFAI Business School Hyderabad

1.05

9

17

JBIMS, Mumbai

0.96

10

9

FMS, Delhi

0.95

NR: Not Ranked (last year)

THE WANNABE MBA'S TOP 10

2004
RANK

2003
RANK

SCHOOL

BRAND EQUITY SCORE (/10)

1

1

IIM-A

7.16

2

2

IIM-B

3.40

3

3

IIM-C

2.24

4

8

FMS, Delhi

1.91

5

7

IIM-L

1.69

6

6

Symbiosis, Pune

1.53

7

4

JBIMS, Mumbai

1.47

8

25

ICFAI Business School Hyderabad

1.42

9

19

S P Jain Institute of of Management, Mumbai

1.32

10

10

IIM-I

1.28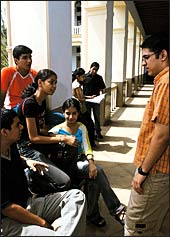 11 LOYOLA INSTITUTE OF BUSINESS ADMINISTRATIONI


Chennai


Dark horse: Though it does't figure among the top 10, LIBA is still rated highly by most MBA students
The findings of the BT-ACNielsen ORG-MARG survey, the only one-although this magazine pioneered B-school surveys in India, today, there are some seven different rankings published by various newspapers and magazines, each following a different methodology-to use brand equity, as measured by ACNielsen ORG-MARG's Winning Brands technique (see How We Did It on page 106), to arrive at a list of the top 30 B-schools in the country, bear this out. The survey measures Brand Equity Index (BEI) as a score out of a maximum of 10. Brands with scores between four and six are 'monopoly' brands; those with scores between three and four are 'distinct' brands; those with scores between one and two are 'undifferentiated' brands, and those with scores less than one are 'mediocre' brands. Ergo, in the top 10 (see The Top Ten), there is one monopoly brand, IIM-A, one distinct brand, IIM-B (it was a winning brand last year), six undifferentiated brands, and two mediocre brands.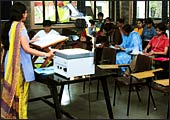 12 TISS


Mumbai


Class apart: Another big favourite with recruiters
Does this mean there are fewer than 10 good business schools in India? Actually, that would seem to be the case. And a dipstick poll of a few recruiters should be adequate to capture the universe: the four original IIMs (Indore and Kozhikode are yet to get there), FMS, Delhi, XLRI, Jamshedpur, JBIMs and S.P. Jain in Mumbai and ISB (especially for those companies looking for lateral hires-MBAs with a few years of work experience behind them).
B-school entrepreneurs-the breed is growing in India, and is arguably larger than that of it-enabled services entrepreneurs-however, can take heart from the fact that recruiters prefer schools that differentiate themselves. The high recruiter ranking of XLRI and the Tata Institute of Social Sciences (see The Recruiter's Top Ten) stands testimony to that.
MBA STUDENTS' TOP 10

2004
RANK

2003
RANK

SCHOOL

BRAND EQUITY SCORE (/10)

1

1

IIM-A

7.19

2

2

IIM-B

2.80

3

3

IIM-C

2.30

4

5

FMS, Delhi

1.87

5

14

Loyola Institute of Bus. Admn., Chennai

1.81

6

4

IIM-L

1.43

7

6

XLRI, Jamshedpur

1.26

8

NR

Indian Institute of Foreign Trade, Delhi

1.19

9

9

SPJIMR, Mumbai

1.00

10

7

Symbiosis, Pune

0.95

NR: Not Ranked (last year)

YOUNG EXECUTIVES' TOP 10

2004
RANK

2003
RANK

SCHOOL

BRAND EQUITY SCORE (/10)

1

1

IIM-A

6.70

2

2

IIM-B

2.91

3

3

IIM-C

2.07

4

10

Symbiosis, Pune

1.51

5

4

XLRI, Jamshedpur

1.50

6

NR

TISS, Mumbai

1.15

7

7

FMS, Delhi

1.12

8

5

JBIMS, Mumbai

1.07

9

6

IIM-L

0.94

10

25

IIPM, Mumbai

0.93

NR: Not Ranked (last year)
Most companies recruit from the other schools too, but that's more to make up the numbers (no, no one is going to admit to as politically incorrect a thing as this) than anything else. Yes, every B-school in the BT-ACNielsen ORG-MARG list probably has one, even two, students who are good enough to be in IIM-A, B, or C but recruiters prefer all the old haunts because their chances of finding extraordinary talent there are so much higher. Then, there's the thing about schools such as IIM-A actually bettering an individual's skills, not through some alchemy of pedagogy, but by simply ensuring that the admission process is rigorous enough to admit only the best; constant interaction with some of the sharpest minds to come out of graduate programmes in Indian universities can't help but better one's one abilities.
FUNCTIONAL HEADS' TOP 10

2004
RANK

2003
RANK

SCHOOL

BRAND EQUITY SCORE (/10)

1

1

IIM-A

7.03

2

2

IIM-B

3.06

3

8

JBIMS, Mumbai

1.60

4

4

IIM-C

1.50

5

6

IIM-L

1.14

6

5

XLRI, Jamshedpur

1.12

7

10

Symbiosis, Pune

0.99

8

13

IIM, Indore

0.99

9

20

ICFAI Business School, Hyderabad

0.95

10

23

FMS, Delhi

0.88

Functional heads are individuals heading functions such as marketing, planning, or finance
That's a real Catch-22 situation. A B-school can claim it is one of the country's best when the finest graduate talent heads for it. Only, the finest graduate talent prefers to be educated at the better B-schools. To create a great B-school, then requires out of the box thinking, the same kind that went into the making of the Indian School of Business, Hyderabad. The ingredients: the best faculty from the best B-schools in the world; and the promise of a one-year MBA targeted at professionals who couldn't afford to spend two years studying. This could explain why some schools (especially a few that will remain unnamed that operate in Delhi and Mumbai) remain distinctly B-grade despite burning money like it were going out of fashion. Money, it would seem, cannot just not buy love, it cannot help make a great B-school.
A MARKET ECONOMY

The flow of MBA-talent to companies mirrors the emergence (and demise) of 'hot' sectors.
On B-school campuses in India and elsewhere, there's an almost unanimous opinion that it is high finance and management consulting that make the world go around. That could explain why the best of the batch in most B-schools prefers to sign on with a consulting firm, preferably McKinsey or BCG or Booz Allen Hamilton, or with an investment bank that holds forth the promise of a posting on Wall Street, London, even the Singapore office (the local office is a last resort). Things weren't always this way (and they are changing as you read this).

Every year, research firm ACNielsen ORG-MARG conducts its Campus Track survey across 30 B-school campuses in India (the sample is drawn from the graduating batch in each case). The 2004 survey (see Management Consulting-The Most Preferred Option...) shows that management consulting is the career preferred by most students, and that isn't altogether surprising. Consulting firms pay top salaries and as Arthi Rajesh, the head of HR at consulting firm Boston Consulting Group, points out, "A consulting career offers diversity, growth and responsibility at a young age, without a dull moment ever." "Consulting is an opportunity for any young employee to be exposed to management thinking and start making an impact early," adds Sonal Agarwal, Senior Director, Accord Group, a headhunting firm.

Still, the point-in-time findings of this year's Campus Track are not as interesting as a four-year analysis. In 2001, IT was the #1 career choice; in 2002, consulting and fast moving consumer goods shared the honours; in 2003, it was FMCGs; and in 2004, it is consulting. However, the findings of the 2004 edition of the survey seem to indicate that the gap between the sectors is narrowing. In effect, rather than rush into a career in a particular discipline lemming-like, students are making a conscious decision of what they'd like to do, and what best suits their abilities. The balanced findings of Campus Track 2004 also indicate that, circa 2004, there isn't a single 'hot' sector. IT, for instance, is back in vogue; "Overseas opportunities, definite visibility, and better money are some factors drawing management guys to IT once again," explains T. Hari, Head of HR at Satyam Computers. And the FMCG sector never really went out of fashion. "The meaningful nature and quality of work, and a touch of stability, makes this a preferred option," says K. Pandia Rajan, Managing Director, Ma Foi. Well, neither companies, nor students have reason to complain about this trend.