WPP's Martin Sorrell, WPP India's Ranjan Kapur and Grey's Nirvik Singh (L to R): Winds of change
Just when you thought the $6.76-billion Sir Martin Sorrell-controlled WPP couldn't get any bigger in India-or perhaps didn't need to-it went ahead and acquired Grey Global. By outbidding Hellman & Friedman, a US private equity firm, and French ad group Havas, WPP, with its $1.52-billion acquisition, will have an even more dominating footprint in the Rs 8,600-crore Indian industry.
Or will it? As Nirvik Singh, Grey Global Group's Chairman for South Asia, sees it, his Indian operations won't quite be an addition to WPP's marquee agencies in the country-JWT, O&M, Group M, Rediffusion DY&R, Contract, Everest, Bates, Equus Red Cell and RMG David, as yet. "Operationally there will be no change at all and I will continue to report to Grey's Chairman and CEO Edward Meyer as before," says Singh.
Yet, it's unlikely that it's going to be business as usual for Grey India. For starters, Grey India has already switched on to the no-poaching clause effective within WPP group agencies in India. "That effectively rules out almost half the market for hiring new talent for us," says Ashutosh Khanna, Chief Operating Officer, Grey Worldwide India. What this means is that competing agency networks in the stables of IPG (Lowe, McCann Erickson, FCB Ulka and Enterprise Nexus), Omnicom (Mudra Communications, RK Swamy BBDO and TBWA Anthem) and Publicis will become the only hunting ground for the 300-employee strong Grey, which has been growing very aggressively over the past five years, and is still hungry for more people. And whilst reporting structures at Grey would remain very much the same for the next two years-till the time Meyer remains in the saddle at Grey Global-going forward the hitherto-stand alone agency will have little choice but to exist as a part of the WPP matrix in India.
"Well, that should not be a problem, given Grey India's higher gross margins compared to JWT or Contract," says a senior Grey executive. "But yes, it is slightly lower than Ogilvy & Mather India, which has a higher share of non-advertising business in outdoors, public relations and the like." How Sorrell chooses to benchmark Grey globally and in India, therefore, remains an open issue for Grey.
WPP, with its $1.52 billion acquisition, will have a dominating footprint in the Indian industry
"WPP believes in the policy of compete and cooperate. So while companies in its fold reap benefits from synergies and economies of scale especially in areas like procurement, individual autonomy is maintained," says Ranjan Kapur, Country Head of WPP India. Whilst Grey officials point to Sorrell's intent for keeping Mediacom's (Grey's media outfit) identity intact, it is also a fact that WPP wants Mediacom to explore opportunities to leverage Group M's media buying scale. How this balance is spelled out by Sorrell will determine Mediacom's future, though not immediately, but surely once the takeover formalities are consummated, most likely in the first half next year.
The brightest jewel in the Grey crown, internationally, is Procter & Gamble, a client of more than 40 years, and which contributes over 10 per cent to Grey's topline. But in India, Grey holds just around 5 per cent of P&G advertising business, with just two brands in Pantene and Pringle, with other global roster agencies such as Saatchi & Saatchi taking care of more bigger brands (in India) in Tide, Ariel and Head & Shoulders. Why, even the media business of P&G India is with Madison Communications, and not Mediacom.
Reporting structures at Grey would remain the same for the next two years, but going forward the agency will have little choice but to exist as a part of the WPP matrix in India
But with reports that Sorrell had taken the blessings of P&G for going after Grey, he would surely like the consolidation logic to stay, or play out in markets where it hasn't. So as and when other bigger P&G brands internationally aligned to Grey, such as Ivory and Hugo Boss, enter India, the Indian agency is bound to net them. And buying synergies of Group M that Mediacom is bound to leverage sooner or later, will make the case for P&G to rethink on its media business.
The Grey Worldwide India of today is reckoned by some to have clearly lost the creative edge of late-founder Ravi Gupta's Trikaya of the 1970s and 1980s or Trikaya Grey of late 1990s. "Grey is no longer the front-runner it once was and being part of an international group known to be strict taskmasters may actually be a blessing," says a marketing manager with a leading FMCG company. Roughly 95 per cent of Grey's Indian business has been won via hard-nosed pitching, and hasn't walked in through international alignments. Consolidation into new parent WPP could provide Grey India with the best of both worlds.
-By Shailesh Dobhal and Abir Pal
---
SECOND
Billion Dollar Target?
GECIS is up for sale. But does the $400-million entity deserve the valuation being bandied about?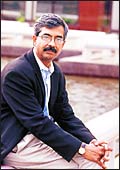 GECIS' Pramod Bhasin: Over-priced?
Few Indian businesses are worth a billion dollars. Even fewer of them have been up for sale. And even fewer still have attracted so many takers. The latest lot to throw their hat into the ring in the proposed sale of GE Capital International Services (GECIS), GE's BPO arm in India, is a consortium of prominent private equity investors. That's of course in addition to the curiosity the $400-million (Rs 1,840-crore) entity, valued at over $1 billion (Rs 4,600 crore), has reportedly generated within other industry players like Convergys, Hewlett Packard, Wipro, Infosys, TCS, and HCL Technologies, among others. Advisor to the sell-off Citigroup won't be complaining.
Well placed sources say GE is trying to conclude this deal before December 2004. If every company with an interest in the BPO industry is vying for GECIS, there's good reason for that: The biggest amongst those is the company's huge ground-level infrastructure of over 13,000 people located in four Indian cities, carrying out a range of 450 processes for 30 businesses in the US, Europe, Japan and Australia. GECIS' other global facilities are located in China, Mexico and Hungary, but India accounts for three-fourths of GECIS' total revenues. "We are seeing a healthy interest from both companies and private equity investors and I would say we are in an enviable position with double-digit growth right now," says David Jensen, Spokesperson for GECIS.
The rationale for strategic buyers is fairly straightforward: The GECIS acquisition would provide a solid ongoing client with established on ground infrastructure
If the valuation of the last big BPO deal-IBM's acquisition of Daksh, which was valued at 2.5 times revenues-is a benchmark, then GECIS should be valued in the $1.1 billion region. There is however a major difference between the two deals. While Daksh was a third-party BPO company with multiple clients and a strong sales and marketing presence, GECIS as a captive BPO has been focussed purely on GE businesses and is worth picking up purely for its ground-level infrastructure. "The business is definitely overvalued under the circumstances and the biggest issue is one of continuity; the valuation is pegged on continuing GE business," says one investment banker. Jensen, however, clarifies that GE does have external clients in diverse areas like banking, transportation, oil and gas, and retail, but isn't willing to name them. But he will tell you that a "majority of the revenues was generated through GE business".
The rationale for strategic buyers (players already in the business) is fairly straightforward: The GECIS acquisition would provide a solid ongoing client with established on-ground infrastructure. It's even more interesting from the private equity investor viewpoint where GECIS could present itself as an opportunity to buy a captive BPO and turn it into a full-fledged third-party play with multiple clients-the model followed by Warburg after its purchase of WNS, the British Airways subsidiary that is now a Warburg Pincus-owned company with multiple clients and revenues of $97 million, the highest in the third-party BPO business. GECIS clearly is an attractive target, but the question most bidders are wrestling with is: Is it worth a billion dollars?
-Priya Srinivasan
---
No Balls, Mr Ambassadors
Should telecom operators dump the flannelled fools after the team's recent dismal showing?
Brand ambassadors: Shape up or you'll be shipped out
Using star cricketers to sell your brand is not the freshest idea in the advertising and marketing world-not particularly when your team's become a favourite whipping boy and is unable to reach the last four in tournament that boasts only six teams of some substance. But as Atul Sobti, Executive Director, Hero Honda Motors says: "Cricketers sell, so why tamper with the formula."
There has to be some truth in that inanity. For, despite the underperformance (and non-appearance too) of these icons, Indian telecom companies for their part have embraced these losing cricketers with unabashed delight. How the ambassadors have fared is easy to figure out (remember the third loss in a row to Pakistan last fortnight in the ICC Champions Trophy-ouch), but what's surprising is that there's actually a co-relation between the mascot's high-jinks and brand performance. Consider:
Airtel-Sachin Tendulkar: No, Airtel doesn't need shock therapy or more power to its elbow. Airtel renewed its contract with Tendulkar in mid-2003, after he had enjoyed a successful World Cup. However, Tendulkar's prominence in the team began to wane around the same time, and not surprisingly Airtel also saw its prominence fade as Reliance took over the mantle as the number one cell operator in the country.
Hutch-Rahul Dravid: Hutch started using Dravid around the 2003 Cricket World Cup to promote their value-added services. Just as the Bangalorean batsman has managed to prop up the team with his consistent performances, Hutch has consistently delivered better value-added services to consumers.
Reliance India Mobile-Virendra Sehwag: Sehwag ki Maa became a rallying cry across the country when rim launched its services in 2003. Just like the batsman, the service had an explosive start, and overhauled Airtel as the number one cellular service in double quick time. However, it seems that rim dumped Sehwag some time ago, just before he forgot how to bat. rim, on the other hand, is still adding subscribers at frantic pace. Talk about timing (rim's not Sehwag's).
Tata Indicom-Saurav Ganguly and Irfan Pathan: Ganguly is more Tata (staid, hands-off involvement, past retirement age, etc.), and Pathan is more Indicom (the new kid on the block). A safe strategy, but the Tatas need to dump one of them soon. It can't of course be Pathan.
-Kushan Mitra