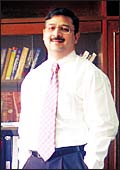 Sanjiv Lamba, MD, BOC India: Successful sans the MBA tag

Sanjiv Lamba boasts the kind of resume any MBA would die for; only, he isn't an MBA. At 39, Lamba is the managing director of BOC India. He started off as a junior exec, "doing all the things no one else wanted to, including photocopying documents and fetching coffee for the bosses", as he once mentioned to this magazine; three-and-a-half years later, he earned a two-year stint with the parent, impressed people there sufficiently to have his stay extended by a further two years, and returned to India in 1997, when he was just 32, as General Manager (Finance). In late 2001, after he had turned around the fortunes of the company, he was named CEO (he was then 36, and the average age of employees was 43). "I emphatically disagree with the view that an MBA is sine qua non for running a company or indeed, for rising up the corporate ladder," he says. "What matters most is the ability to envision and execute; here, experiential learning provides the single most important input in a successful manager's repertoire." The man is right, of course, but circa 2004, even he would find it difficult to replicate his success-without an MBA, that is.

It isn't that business has changed enough in Lamba's years at BOC-he is a lifer, and has spent 15 years at the company-to make an MBA qualification indispensable, even at the entry level. It is just that the market has changed dramatically since the time Lamba signed on with BOC. Today, no one stops with a mere graduate degree. Those with a bachelors degree in arts, science, or commerce, proceed to a masters degree, either in their own discipline, or in management; and those with a bachelors degree in engineering, opt for a Master of Science degree in the US or an MBA from an Indian or US B-school. At one level, this phenomenon has resulted in the mushrooming of business schools. At another, it means it isn't really worth its while for a company to recruit from undergraduate campuses; there may be some undergraduates good enough to merit admission to B-schools who choose to work instead, but their numbers are insignificant. In effect, to get ahead and land a job with a blue-chip company, an individual needs to possess an MBA.
R. SURESH


MANAGING DIRECTOR/STANTON CHASE

ATUL VOHRA


MANAGING

PARTNER/TRANSEARCH

SONAL AGRAWAL


SENIOR DIRECTOR/ACCORD GROUP
Does an MBA help?
YES
YES
YES
If you were hiring for a senior position, and all other things being more or less equal, would you hire an MBA or a non-MBA?
If we were looking for candidates for a CEO, or any other senior position, if we have to choose between an MBA and a non-MBA, the MBA would win hands down
The MBA may score a few points extra but experience, track record and results are definitely more important than the degree per se
If the two candidates are the same in all other aspects, the MBA
Just ask Ravinder Zutshi, Director, Samsung India. The man is a science graduate (from the University of Delhi) and while he has himself not suffered from having not gone to a B-school, he believes the times make it imperative to do so. "The current dynamics of business do not allow growth without being an MBA, and there is no time for any internal (training) initiative on the company's part." That is an opinion seconded by B.V.R. Subbu, President, Hyundai Motor India, and another non-MBA (he holds a masters degree in economics from Delhi's Jawaharlal Nehru University). So, what is it that makes a stint in a B-school crucial? "In addition to developing general management, analytical, and strategic thinking skills, business schools also help in developing attitudinal skills," says Rajiv Kaul, Managing Director, Microsoft India, and an alumnus of XLRI, Jamshedpur. "B-schools not only teach you resilience, but also help you learn to cope with tremendous pressure."
That could explain why Satish Reddy, MD and COO of Dr. Reddy's Laboratories, wished he had an MBA when he took charge in the mid-1990s. At the time, his qualifications in medicinal chemistry and chemical engineering seemed just right for the MD of a company that was largely in the bulk drugs business, but as the company grew and reached a point where it could aspire to be a global discovery-driven pharma major, Reddy, the son of founder Anji Reddy, realised that he was lacking "a structured pattern of thinking that comes with formal education in management and the analysis of various case studies". "I had to do a lot of self-learning," he says.
SANTOSH DESAI


PRESIDENT/MCCANN ERICKSON INDIA
PGDBM, IIM-A

RAJEEV KARWAL


CEO/ELECTROLUX KELVINATOR
MBA, IMT, GHAZIABAD

ALOK KEJRIWAL


CEO/CONTESTS2WIN.COM
NON-MBA
DOES AN MBA HELP?
YES
YES
Yes and No. While it provides a window to the best management practices the world over, it drastically curbs entrepreneurship
IS NOT HAVING AN MBA A HANDICAP?
Not quite. It is just one way of learning that distills and packages expertise by developing minds to a certain extent
Yes, if you want to be an organisation man
No. It is your attitude to learning that really makes a difference
DOES GOING TO AN IIM HELP?
Yes. Not only does your career come with an insurance policy, the on and off interaction with quality minds makes one operate at very high levels
No. If you are from a lesser school, you try that much harder
Not relevant
MBA, Yes, But Does The School Matter
The school matters. "Recruiters go to premier B-schools with a view to find a certain calibre of students as the admission procedure ensures strict quality control," explains Sonal Agarwal, Senior Director, Accord Group. Ergo, the B-school an individual attends has a role to play in the first job he or she lands. Pradeep Gidwani, the managing director of Fosters India, is convinced that the "good school advantage" counts in the initial stages of one's career. "The B-school can be a deciding factor, but this is valid only for the first job or so, not beyond that." That's not something R. Subramanian, the managing director of Subhiksha Trading Services, India's largest chain of discount stores, is likely to agree with. Subramanian is a gold medalist from that most hallowed of Indian B-schools, the Indian Institute of Management, Ahmedabad (he was nicknamed thalaivar, leader in Tamil for his sheer excellence in academics) and while he concedes that an MBA from a good B-school is critical from the first-job perspective, he insists that its power lasts long after that. "Inside the organisation, it influences what kind of esteem you are held in and what kind of opportunities come your way," he says. "An IIM diploma can carry weight all through life, but graduating from the eighth ranked B-school may not be very different from graduating from the 40th ranked one beyond the first job."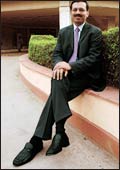 SANJIV GOENKA
Vice Chairman/ RPG Group
"Since the peer group in good schools is highly motivated, competitive and skilled, one gets used to operating in an environment that separates the wheat from the chaff"
Subramanian has a point, especially in the context of the mushrooming of B-schools in the country. "Most have no clue what they are doing," says Subroto Bagchi, coo, MindTree Consulting (he is a political science graduate). "This trend of trivialisation of the degree is very dangerous." Still, the IIM-logic clashes with the experience of recruiters such as Y.V. Verma, the head of hr at consumer products major LG India. Verma, an MBA from University Business School, Chandigarh, prefers to recruit from Tier II and Tier III schools whose students, he claims, are more willing to learn and get their hands dirty on the frontline. "They have the right attitude and are far more humble than their counterparts from the IIMs who walk in with a know-it-all attitude," he says.
That may be the case, but there's no denying the advantages that come with graduating from a top-notch B-school. "Since the peer group in such places is highly motivated, competitive and skilled, one gets used to operating in an environment that separates the wheat from the chaff," says Sanjiv Goenka, Vice Chairman of the RPG Group, and a commerce graduate from Kolkata's St. Xavier's himself. "The two years that students spend on campus also breeds trust and camaraderie and this can be leveraged later in life." Goenka is speaking of the old boy network, and although Santosh Desai, an alumnus of IIM-A, and President, McCann Erickson India, dismisses "the bond" as something that does not "translate into something material; you just end up discussing cricket", it does help to open doors, and help the cause of business. Last word: if you are opting for the life of a salaryman, an MBA is required, and you might as well get one from one of the better B-schools. It matters. A lot.