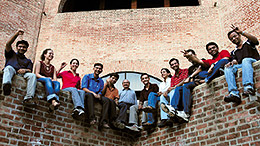 1 INDIAN INSTITUTE OF MANAGEMENT


Ahmedabad


UNDISPUTED #1: The class of 2005 with director Bakul Dholakia (centre, standing). Nearly 20 per cent of the previous batch now works overseas
Trrnng!! The rude buzz of a Nokia mobile phone rips through the wind-swept tranquility of Louis Kahn Plaza, where this writer is sitting with Akshay Sahni, a second year management student. Sahni, a lanky 23-year-old, has been filling this writer in on what life on IIM, Ahmedabad's sprawling 63-acre campus in Vastrapur, Ahmedabad, is like. A few short conversation bursts later Sahni hangs up, and breaks into a wide grin. He has just received an offer from Merrill Lynch, Hong Kong, the company he interned with during the summer. "This is exactly what I wanted," he gushes.
Wishes come true easily, when you are from IIM-A. It continues to be the country's most sought after B-school; its Brand Equity, as measured by ACNielsen's Winning Brands model, has increased, one of the five schools in the BT-ACNielsen ORG-MARG listing of 30 that can make this claim. "I think, in everything we do here, the range, depth, intensity of involvement are much higher," says Bakul Dholakia, the school's ruddy-faced director who has (much to his dismay) become a public figure of sorts after his stand-off against former Union HRD Minister Murli Manohar Joshi over the issue of the institute's autonomy. Books, journals and periodicals are neatly stacked in ceiling-to-floor wooden racks in Dholakia's office, as the man sets out to explain the recipe that helps the school produce winning managers over the last 40-odd years. "Of course, it helps that only the best and brightest find their way in."
Of the 140,000-odd students who apply every year for its fabled post-graduate programme (PGP) only 250-odd make the cut, in a selection process that The Economist terms the toughest B-school exam in the world. Given the institute's emphasis on quantitative aptitude, most new entrants flaunt stellar academic records often in engineering. Once in, students are put through a rigorous and punishing academic schedule that has even these high-flyers blanching. To paraphrase an alumni, "Getting in might be tough, but getting out is tougher." For two years, the 205 boys (and 45 girls) live the life of quantitative monks; classes in the mornings, group discussions and team work in the afternoon, individual study sessions late into the night preparing for the next day's classes. The first year is by far the most rigorous and challenging, a boot camp of sorts where attitudes are first broken and then reshaped, where students are trained and tested in compulsory subjects like accounting, economics, human resources and operational management. As one second-year student puts it, "You may only have two classes a day but remember that for every hour of class, at least three hours of preparatory work are a must."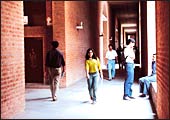 The A-experience: For most IIM-A students, the first year at the school is the toughest
At the heart of the A-experience is a case study-based teaching methodology, first made famous by Harvard Business School. "I think it enables students to imagine what real life will be like even before they step out," says Sameer K. Barua, Professor and Chairman of the PGP programme. "It facilitates integration across functions, which provides a holistic perspective." And in the process, aided in no small measure by the fact that anyone presenting the case stands to be cross-examined by an audience of the highest order of intellect, it makes people think. That is a view Mohan Raj Gupta whole-heartedly shares. Clad in jeans, sneakers and totally at home in Café Tanstaafl, the school's canteen, Gupta looks even younger than his 23 years. "Standing in front of a class of 70 bright peers and holding your own does wonders for your confidence." That confidence has already paid off handsomely for the IIT, Delhi, engineer in the form of an offer from a bulge-bracket investment firm based in London.
The Quest For Knowledge
Pankaj Chandra's office tucked away in a corner of the red-brick campus, looks like a typical academic's den: journals, books and research papers are strewn all over, a Samsung monitor flickers in one nook, and on the wall a Japanese Kanji print sways in the afternoon breeze. Chandra, a post-graduate from Wharton and former professor at McGill University, returned to India in 1994 and today heads the Fellow (or Doctoral) programme at IIM-A. Bespectacled, and with a neatly trimmed moustache, Chandra takes pains to emphasise the importance of cutting edge research. "Amongst B-schools what separates the men from the boys is the ability to generate knowledge."
IIM-A IS FAR AHEAD OF THE COMPETITION


BRAND EQUITY INDEX (OUT OF 10)

OVERALL

RECRUITER
(HR HEAD)

FUNCTIONAL
HEAD

WANNABE
MBA

YOUNG
EXEC

MBA
STUDENTS

IIM-A

6.75

5.40

7.03

7.16

6.70

7.19

IIM-B

2.91

2.37

3.06

3.40

2.91

2.80

IIM-C

1.96

1.63

1.50

2.24

2.07

2.30

XLRI

1.5

2.55

1.12

1.04

1.50

1.26

SYMBIOSIS

1.38

2.01

0.99

1.53

1.51

0.95
So, be it offering courses in supply chain management (at a time when Indian industry hadn't even heard of it) or financial engineering or being the first to invite Mumbai's logistics-savvy dabbawallas into the classroom, IIM-A has always placed a lot of emphasis on original research and genuine scholarship. And since most faculty members routinely undertake consulting assignments from companies, real-world learnings make their way into the class-room. "Where else would you find 75 full-time faculty with currently active CVs?," asks Dholakia.
Part of the school's uniqueness is that students are encouraged to be a part of the institute's administration. With the exception of admissions (excluded for obvious reasons!), students have representation on all committees from placements to media to finance to technology; they also organise highly-acclaimed intra- and inter-college festivals such as Chaos and Confluence. These not only prepare them to manage real life situations, it also showcases their ingenuity. For instance, a group of students has developed a process to simplify the selection of electives each student opts for in the second year of the course. Called Course Bidding, it involves allotting currency to students on the basis of their grades; students use this currency (not cash) to bid for the courses they want. The most popular course, is naturally the most expensive. "You learn right away that everything has a price and with limited resources all you can do is prioritise and forgo the others," one of the system developers fills in.

THE LOYALTY FACTOR


The bond of loyalty amongst the alumni, which includes people like Mphasis Chairman Jerry Rao, has powered brand IIM-A
Interestingly, it is an esoterically-titled course Explorations in Roles and Identity that's one of the most sought after. Conducted by Dean Indira Parikh, it delves into philosophical themes like Who am I? What is the meaning of life? And What should I do with my life? For six days and nights, students are taken to a nearby village where they live in tents and mud huts. Discussions-often conducted under a tree-start at nine in the morning and often continue past the witching hour. Apart from exploring issues like gender, family, marriage, relationships, students also have to watch a movie or read a book in their mother tongue, then write a detailed critique on it. "The responses are unbelievable," chuckles the sprightly-at-61 Parikh, who joined the institute way back in 1971. "Life stories unhesitatingly come gushing out; and some pen 100-page autobiographies many of which I still retain."
The Old Boy Club
Be it in bucolic surroundings or the 18-student dormitories, bonding amongst the students is very strong and lasting. Even today alumni-many are CEOs-that visit their alma mater like to spend time in their old dormitories, even treat the occupants to lunch. Apocrypha has it that HLL Chairman M.S. "Vindi" Banga's nickname is a leftover from his days in dormitory 17. Then there's the quirky "Wac-Run". WAC (Written Analysis and Communication) is a first-year communications paper. Something, a student confides snidely-"exclusively tailored towards writing research reports for consultancies." Varsity folklore abounds about now famous faces that have been photographed clutching printed sheets and running to make the Saturday 4 p.m. deadline.
The alumni continue to play a very important role in the success of IIM-A and in making it the brand it is. The school's alumni list reads like a who's who of Indian and international business. There's Ashok Alexander, a McKinsey vet who heads the Bill and Melinda Gates Foundation in India, K.V. Kamath of ICICI Bank, Ivan Menezes of Diageo, Jerry Rao of Mphasis BFL and Kishore Chaukar of Tata Industries, to name just a few. And loyalty runs high. "I was doing my summer placement with P&G Singapore," recollects second-year student Rupma Lubhaya, "and once word got around that I was from IIM-A, old students came forward to help and soon there was a bunch of us."
Recruiters too just can't seem to get enough of these ready-to-perform achievers. "They are competitive, leadership-oriented and strong on concept with a hands-on mindset," says Radhakrishnan Menon, Director (HR), Cadbury India, of students of IIM-A.
R. Suresh, MD, Stanton Chase India has helped place many IIM-A graduates in senior management positions. "Core intellect, outstanding numerical and analytical skills along with the enormous confidence that comes from the successful completion of the programme makes them one of the most sought breed," he admits.
The school's reputation as a global institution has grown with the years. "Students here are definitely a lot more driven and competitive," confesses Anja Schermer, a 23-year-old student from Copenhagen Business School, one of the 40 international B-schools with which IIM-A has regular exchange programes. International companies have also been making a bee-line for Ahmedabad. Earlier this year 20 per cent of the batch of 2004 was placed overseas, reflecting an increase in the number of foreign offers from 39 in 2003 to 45 in 2004. "We've already had enquiries from international companies that are coming to India for the first time and want to recruit exclusively from IIM-A," says Shashank Khare, a member of the school's recruitment cell. How's that for brand power?