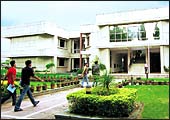 4 IXAVIER LABOUR RELATIONS INSTITUTE (XLRI)


JAMSHEDPUR


At XLRI, the students are taught that it is possible to serve the nation, the employer and the environment without compromising on principles
It's well past midnight, but the tempo shows no sign of flagging. About 250-odd youngsters are jiving the night away to the beat of foot stamping music in the largish hall. Others are hanging around the makeshift bar and in small clusters along the edge of the dance floor. Males outnumber females by at least three to one, but no one seems to care.
Welcome to the Wet Night at Xavier Labour Relations Institute (XLRI), Jamshedpur, the once-a-fortnight social at the institute's Enright Hall when students chill out, would-be managers put on their dancing shoes and the party animal in everyone comes out in the open. The organisation committee is called, rather curiously, the Old Monks' Association, possibly after a popular brand of rum. No one is quite sure of the name's origin and no one is particularly bothered about this gap in the collective knowledge base of XLers-as students are called-so long as the drinks keep flowing and the good times carry on till 6 am in the morning.
But if you thought life at XLRI was one long party, then perish the thought. It's not. "We work seven days a week, often up to 18-20 hours a day," says Sujan Gowda, a second-year student of business management at the institute, "and this (the Wet Night) is one of our few sources of recreation."
This seemingly indefatigable energy of his students never ceases to amaze Father N. Casimir Raj, the director of XLRI. An early riser and a compulsive morning walker, Raj often sees lights burning at various windows of the three students' hostels on the campus when he's out on his constitutional. "Initially I thought they were early risers, but soon learnt that they'd been working through the night," he says.
Xtra Initiatives

XLRI, like most other institutes, encourages students to take up extra-curricular activities. Following are some of the initiatives in which XLers are involved.
Sigma:

This club interacts with the social sector and does consultancy work for NGOs. It recently did a project on school dropouts for Don Bosco Self Employment Research Institute (DB Seri). Students conducted a survey in Liluah, near Kolkata, to identify feasible trades that these dropouts could gainfully engage in.

Socio-Economic & Education Development Society (SEEDS): This group works with women's self-help groups in Jharkhand. It is currently evaluating the cooperative structure in the state and helping NGOs to formulate marketing strategies that will help them market their products more effectively. Besides helping underprivileged women and making a difference to their lives, seeds members gain first-hand knowledge and experience in rural marketing, which is considered the Holy Grail of the Great Indian Retail Dream.

Marketing Association of XLRI (MAXI): This students' club carries out market-related activities at the institute. Typically, start-up entrepreneurs, with sound technical knowledge, approach the club to help them formulate a B-plan.
So when do they catch up on sleep? "When we get the time," explains Gaurav Kathotia, another second year business management student and a member of the XLRI External Linkages Committee. "It could be between classes, at lunchtime, in the evening when everyone's playing basketball or, in extreme cases, not at all."
The course is tough enough: seven subjects, with three hours of classes per week per subject. If that sounds simple, sample this: "Each contact hour (hour spent in class) will require two hours of private work," says Raj. That alone adds up to 63 hours of study a week. Add to this the project work, community service and student body duties that every student has to compulsorily undertake and you are looking at something like an 80-90 hour work week for XLers.
So what's the big deal? This is pretty much the routine at all good B-schools. What is it that makes XLRI different? Bijou Kurien, coo of Titan Industries and a member of XLRI's Class of 81, is very clear about this. "One of the attractions of XLRI was the size of the batch, which in those days was 40 per class in each year. The opportunity to learn, question and discover would be much greater with the smaller numbers."
Ravi Mehrotra, CEO of Franklin Templeton Investments and an alumnus from the Class of 85, concurs. "One of XLRI's clear advantages as a business school is its relatively small batch size. In the batch of 1983-85, for example, there were less that 30 students; this fostered close interaction, discussion and debate both in and out of the classroom. Most importantly, small batch sizes led to a more personalised environment," he says.
Kurien points to another crucial difference: "The institute was set up and run by Jesuit fathers and my perception was that such an institute would adhere to a high value system."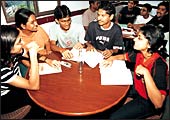 Besides these three, there are several other committees and clubs that allow students to foster and harness their creative and social skills.
"We lay great stress on accountability, transparency and democracy," says Raj. "We teach students that it is possible to serve the nation, the employer and the environment without compromising on principles."
This emphasis on value education is simultaneously a top-down and bottom-up process. Faculty and seniors impart the spirit to freshers and address their concerns. Father V.C. George conducts a full-fledged course in ethics, concentrating on ethical dilemmas that companies and managers face. "We analyse and dissect real-life situations and case studies. The subject is all the more interesting because there are no clear, straight answers to several of these dilemmas," says Harshvardhan Singh, secretary of the XLRI Placement Committee. "Besides, we even have a Bodhi tree, so called because of its unofficial status as a hangout joint where dispersal and dissemination of knowledge from seniors to juniors and from peer to peer takes place," adds Gowda. Incidentally, the XLRI music band is also called the Bodhi Tree.
The entire faculty, who live within the 40-acre campus, is also available 24x7 to guide students. "If someone needs to consult a teacher at midnight, he or she can do it without fear," informs Casimir Raj.
XL-ENCE IN FACTS AND FIGURES
NAME:

Xavier Labour Relations Institute (XLRI)

ESTABLISHED: 1949 (by the Society of Jesus)

LOCATION: Jamshedpur, Jharkhand

COURSES OFFERED: Post-Graduate Diploma in Business Management (two batches of 60 students each); Post-Graduate Diploma in Personnel Management & Industrial Relations (one batch of 60 students); and several part-time and/or custom-designed courses for companies and institutions.

NUMBER OF STUDENTS: 360

FACULTY: 43 full-time professors and 18 part-time (visiting) lecturers.

FACULTY-STUDENT RATIO: 1:6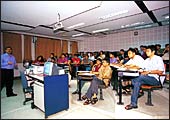 FACILITIES AND INFRASTRUCTURE: 40-acre campus; every room/student connected to the internet through 2Mbps optic fibre leased line; LAN with 2 Gbps fibre optic backbone; three dedicated ISDN lines for video conferencing, placements and lectures; library with over 54,000 books, 13,000 periodicals and 12,000 project reports and dissertations.
This assimilation between teachers and students on the one hand and within the student community on the other, fosters camaraderie, team spirit and man management skills that no text book can impart. "Our approach to management studies is focused on making students more people-oriented," says the director, adding: "About 85 per cent of a manager's time is spent dealing with people, motivating them and carrying them along as a team; only 15 per cent of his time is spent on technical matters."
The bonding between students takes place primarily at Dadu's and Bishuda's, the two snack bars and food joints within the campus. "Generations of XLers owe a debt of gratitude to Dadu and Bishuda for all the help and support they've provided in times of stress," says Kathotia.
But to come back to the campus itself, life really begins at 9 pm. From then to 4.30-5 am is the only unbroken stretch of time that students get to catch up with their studies, project groups get to meet, plan and work, and everyone has the time to download stuff from the internet. And when it's finally lights out at the hostels, it's almost time to get ready for another day of competition, stress and camaraderie.
But does this stress on ethics and people pay off in the real world? "I think XLRI delivers contemporary business education, designed for the Indian business environment, tempered with strong ethical values. As an institute, it believed that values and principles drive individual behaviour and a strong foundation in ethical values create desirable behaviour. The relevance of this philosophy is now amply borne out by irresponsible corporate behaviour in India and abroad," says Titan's Kurien, summing up, in a nutshell, the key difference between XLRI and many of its peers.