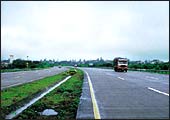 Highways project: Speed-breakers to development
Atal Bihari Vajpayee's days as pm may be forgotten but it's difficult to overlook his pet project of linking the country's corners through four-/six-lane highways. The highways venture may not exactly be at the top of the new government's must-do list, but there's little doubt that such connectivity is critical if India is to achieve 8 per cent economic growth.
A recent study by Gurgaon-based Four-S Services, a research and investor relations firm, reveals that nearly Rs 2,10,350 crore is required to improve the quality of the 1,213,660 km of roads-80 per cent of total paved roads-to realise the goal of an 8 per cent GDP growth by 2007. These include the 356-km road connectivity plan (estimated cost Rs 4,000 crore), 5,846 km of the Golden Quadrilateral and 7,300 km of North-South, East-West corridor (estimated cost Rs 65,000 crore) and 10,000 km of the Pradhan Mantri Bharat Joro Pariyojana (estimated cost Rs 40,000 crore).
The major constraints, according to the report, is the limited opening up of the highways and expressways-just 17 per cent- to the private sector. Other problems include wrong traffic-flow projections, which have made many projects unviable and overbidding by small players. But the biggest obstacle in private sector participation has been land acquisition and environmental clearances. Progress has been sluggish because of other reasons too. ''Permits and licensing bottlenecks, politicisation of programmes, multiple and overlapping agencies and frequent changes in contract design are the other problems,'' adds Mitra.
Some of the solutions, according to Four-S: An independent regulatory authority to protect the interests of both public and private parties; and integrated contracts, which could involve construction, operation and maintenance over long concession periods.
Welcoming long-term insurance and pension funds into the roads sector or opening a direct line of credit from the Reserve Bank of India could also go a long way in meeting current asset-liability mismatches. Vajpayee might have approved.
---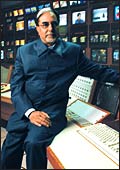 Zee TV's Subhash Chandra: Playing for high stakes
At the time of going to print, the Bombay High Court, hearing ESPN-Star Sports' (ESS) petition challenging the Board of Control for Cricket in India's (BCCI) decision to award the $308-million (Rs 1,380-crore) four-year live-telecast rights to international cricket matches to be played in India from October 2004 to Zee Telefilms (Zee), had observed that neither Zee nor ESS qualified to bag the BCCI rights since neither owned 'production facilities', a prerequisite of the BCCI tender.
Clearly, what has added a new dimension to this case is SAB Television's move in the court to allow an intervention application, arguing on matters of law. Industry analysts wonder aloud whether SAB is just a proxy for Zee, arguing against a foreign media group, with swadeshi stalwart S. Gurumurthy throwing in his lot with Zee Chairman Subhash Chandra. India might have flopped at the ICC Champions Trophy, but that obviously doesn't change anything in this high-stakes ball game.
---
What is spend management? No, it does not involve tightening your belt buckle and stopping spending. As David McCormick, President, Ariba, explains: 'Spend Management' is more about plugging the holes that leak out money from your company.
"Most companies streamline their processes and enhance productivity when they look at cutting costs, but if they just manage the way they spend their money-everything from acquiring materials to transportation-the cost savings can be immense," McCormick says. It is here that he feels that Ariba comes into play.
An actual example that McCormick gives is that of financial services major American Express, which shaved off over $500 million of its $5 billion-plus spending budget by using Ariba solutions. "Even if a company manages to save 5-10 per cent, it is an incredible amount of money," he says.
Spend Management is still so nascent that Ariba bought out its only competitor, Freemarkets. At the Bangalore centre, McCormick "plans to increase the number of developers from 80 to about 300; as more companies wish to cut costs they should look at spend management more seriously". And spend on it, of course.
---
Classes Of His Own
If you thought only big business patriarchs and fat-cat investment bankers do M&As, this one's for you.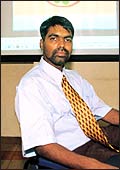 CL's R. Satya Narayanan: In M&A mode
It's not only big business that merges and amalgamates. The Delhi-based Career Launcher (CL), a leading MBA entrance tests coaching company with 30,000 students on its roll, has made nine acquisitions in the last four years for a total value of Rs 8.5 crore. ''Business media has no clue about what is happening in this industry,'' whines R. Satya Narayanan, Chairman, CL, an IIM-Bangalore grad who made his first acquisition, of Mumbai's largest MBA entrance tests coaching company, KITS, for Rs 2.3 crore.
Last month alone, CL made two acquisitions-Bangalore's Law School Tutorials for Rs 50 lakh and Mumbai's Lohana Test Series for Rs 35 lakh. Its big ticket acquisition was in February when it lapped up Mumbai's Arun Roy Classes (four out of five IIT-JEE aspirants in Mumbai go to this institute) for Rs 5 crore. "The acquisition of arc has given us a big lead in the IIT-JEE space in Mumbai region," says Narayanan. His plan is to become a Rs 400-crore company by 2009 (from Rs 42 crore projected for 2004-05), in an industry that's currently valued between Rs 600 crore and Rs 800 crore (the organised part). To get that 10-fold growth in five years, CL will obviously take the route it knows best-the inorganic one.
---
Affirmative Banking
YES Bank is differentiating itself by focussing on ''Emerging India''.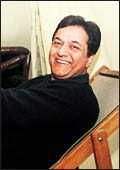 Rana Kapoor: Banking on being different
Even as the Indian banking sector gears up for a period of consolidation, yet another private "new generation" bank has flagged off operations. YES Bank, promoted by senior banking professionals Ashok Kapur and Rana Kapoor along with Rabo Bank International, has chosen to focus on corporate and wholesale banking customers. Products on offer include corporate banking, investment banking, treasury services, wealth management and private banking, amongst others.
If Kapoor, MD and CEO, has his way, YES will be different. He plans to induct experts in various lines of business who will understand the commercial activities of clients. "This will ensure that we talk the language of the clients," adds Kapoor.
Another strategy is to take charge of the full supply chain of the industries it will focus on; the bank has already shortlisted 15 knowledge-based industries like food and agriculture, biotechnology and infrastructure, where India enjoys a long-term global advantage. "These are the emerging India and we want to grow with them," says Kapoor. Once these activities stabilise, YES Bank's next thrust area will be retail. Meantime, keep track of those IPO forms: Kapoor is planning a public issue "within a year".