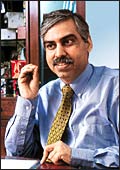 Sunil Munjal, MD, Hero Honda: Treading the middle path
The press note 18-a policy that denies foreign companies automatic approval for new projects if they have a JV/technology transfer agreement in India-has always evoked strong reactions ever since its introduction on December 14, 1998. Whilst the division between the pro-changers and no-changers has always been clear, of late there seems to be some meeting ground. Says Sunil Munjal, MD, Hero Group: "Press Note 18 should continue, but it must be modified so that the interests of both the domestic and foreign players are protected." Last fortnight, reports indicated that the PMO was almost ready to consign Press Note 18 to history.
Munjal's argument for its continuation is simple. "Infrastructure issues are far more important in attracting foreign investments." After all, fulfilling the obligations of Press Note 18 simply means getting a "no-objection certificate" from the Indian partner and nothing more.
But many analysts remain convinced about the restrictive power of this note since it does not treat foreign players on an equal footing. It also allows the government to intervene in matters that are in the domain of the contracts, and hence should be settled between the two parties in the court of law.
The note, according to many analysts, becomes a weapon in the hands of Indian partners for extracting greater exit value or challenge termination, which may otherwise be legally and contractually valid. It also enables the Indian partner despite not having a "non-exclusive arrangement" to refuse an "NOC'', in which case there is very little that the foreign partner can do, except take recourse to the courts on specific issues. As Vivek Mehra, Partner in the consulting firm PricewaterhouseCoopers, point outs: "If the parties had agreed to an exclusive agreement then it should be respected and left to the commercial understanding of the parties.''
But the no-changers too have their own justifications. "Suppose Honda were to walk away from Hero overnight and stop the supply of technology while creating a 100 per cent subsidiary of Honda, what would happen to the shareholders of the Hero-Honda brand? What would happen to the loans from financial institutions like IDBI, IFCI and ICICI?" he asks.
After all, both of them have worked together to develop the brand and one partner cannot just leave the other in the lurch. So the needs and interests of shareholders and promoters should be considered. That's food for thought for the PMO.
---
Parmar Takes On Dhoot
The raider wants respect, not quick bucks.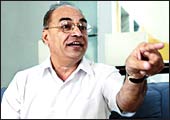 Ashok Kumar Parmar: Springing a surprise
Parmar's clearly done his research when buying into the company. He acknowledges that "the shares are one of the lowest priced in the industry"-only three months ago, Videocon Appliances was hovering around par levels-that the company has a high book value (Rs 73), and a low promoter's holding (the Dhoots control 36.7 per cent). But you have to wonder whether the man's serious when he says he's bought into Videocon "to secure my children's future"-two of his three sons have studied at IIM-Bangalore.
So how far will Parmar go with Videocon? The stock price has more than doubled in the past couple of months, and even if Parmar doesn't get that board seat, he-along with many small investors-would have made a neat killing. That's one way of unlocking value, Mr Dhoot.
---
Starting Up Isn't Easy
Doing business in India is a pain. Nepal or Bhutan make more sense, reckons the World Bank.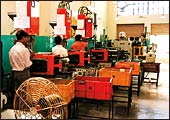 It's official now: Starting a business in India is akin to asking for a headache
Doing business in India continues to be an extremely difficult proposition,'' contends Simeon Djankov, Manager, Monitoring Analysis and Public Unit at the World Bank. Djankov should know. After all, as the author of the recent World Bank study on Doing Business In 2005, he has studied in minute detail the regulatory cost of doing business in as many as 145 countries. The parameters, which among others include entry regulations (cost of starting a business), employment regulations (hiring and firing of workers), property regulations (registering and transfer of property), and bankruptcy regulation (closing of banks), clearly indicate that the business of doing business is still a costly affair.
Take the issue of starting a business, for instance, both in terms of the time required and the cost involved. While it needs just five days to start a business in the US and just two in Australia, in India it takes as many as 89 days. What really hurts is that even in neighbours Pakistan, Nepal and Bangladesh, it takes just 24, 21 and 35 days respectively to start up. The reasons for such delay, as Djankov points out, are simply too many rules and regulations, and too much paperwork.
Starting a business in India is also a costly affair. On an average it would cost an entrepreneur nearly half his total income (or 49.5 per cent of the gross national income per capita), which is 100 times more when compared to setting up a business in the US. Again poorer cousins Bhutan, Pakistan and Sri Lanka are better off.
Even running a business in India can be expensive. Firing costs, calculated in terms of the notice period that has to be given to a worker, are on the higher side. Firms in India have to give an average notice of 79 weeks, compared to eight weeks in the US and virtually no time in New Zealand. While China may be lagging behind India in terms of giving termination notice-90 days-that does not provide a true picture, says Djankov. "There are a number of other work contracts available in China, which require little or no termination notice,'' he adds.
But where India lags behind most countries is in the time needed to register property and in the actual cost of registration. In both cases, costs are extremely prohibitive and not for the faint-hearted. For instance, while it takes only one day to register property in Norway, 49 days in Pakistan and 44 in Bhutan, it takes 67 days to register property in India. And the registration costs too are huge-13.9 per cent of the total value of the property. It is only 5 per cent in the US, 3.1 per cent in China, 4.2 per cent in Pakistan and 1 per cent in Bhutan. Even in other regulatory issues such as the time required to go through insolvency (10.3 years), and contract enforcement (425 days), India clearly remains a laggard.
So what should India do to put things in order? "India desperately needs to bring in administrative reforms,'' contends Djankov. In simple terms it means bringing in a more flexible labour policy, reform the painfully-slow judiciary and drastically cut down red-tapism, to allow much-needed foreign direct investment to flow in. Yeah, right.
---
Offshore Assurance
Insurance outsourcing will be worth close to $800 million by 2007.
If outsourcing is today's sunrise industry, it's close to high noon for the banking, financial services and insurance (BFSI) vertical, which generated revenues of $1.1 billion (Rs 5,060 crore) in 2003. Break that up further and you have a flourishing insurance segment, which accounted for $367 million (Rs 1,688 crore) last year of the BFSI sector. And that figure is expected to grow to $790 million (Rs 3,634 crore) by 2007, according to an insurance outsourcing report put out by Pune-based research and business intelligence firm, ValueNotes Database. Unsurprisingly, 63 per cent of those revenues are courtesy business from the US.
If all these numbers appear mammoth, remember they're just a fraction of the global market for global insurance outsourcing, which was worth all of $6.8 billion (Rs 31,280 crore) in 2003. In just the US-which accounts for 63 per cent of the Indian insurance outsourcing pie-there are some 2,700 companies selling insurance. The good news for India and other offshore destinations is that these companies' shrinking margins and higher claims disbursement coupled with increasing competition leaves them with little choice but to look at outsourcing and, more importantly, offshoring to improve efficiencies. ValueNotes estimates that offshoring to countries like India or Philippines can yield savings from 10 per cent to 33 per cent or more depending on the number of processes outsourced.
Unsurprisingly then, a number of global insurance majors have redirected chunks of their business to Indian shores. The UK-based Cox Insurance Holdings, for instance, has handed out a $246 million (Rs 1131.6 crore), 10-year contract to CGI Europe, which will execute the project out of facilities in India and Canada. Another UK insurance major Aviva has annual contracts worth $50 million (Rs 230 crore) with Indian outsourcing firms WNS, EXL and 24 by 7. Then, global outsourcing firm CSC has bagged a $700 million (Rs 3,220 crore), 10-year contract from Swiss Re Life & Health, which will be executed out of centres across the world including India.
Meantime yet another UK insurance giant, Prudential, set up a captive unit in India last year. Other insurance companies that have outsourced to India either through captives or third party players over the past year are AXA Sun Life, Cornhill Direct and Metlife and Australia Insurance Group. India it seems is assured of a fair chunk of the offshore insurance pie.