Back in 1993, Flextronics was a $93-million company, living on the fringes of a budding electronic manufacturing services (EMS) industry, a trade jargon for outsourced hardware manufacturing (for branded consumer electronics and telecom companies). In the 10 years since, the Singapore-based company has grown into a $14.5-billion leader in the EMS industry, with presence in 32 countries. Much of the credit for that goes to one man, Michael Marks, who joined Flextronics in 1991 and became its CEO in 1994. In India recently to tie up a couple of acquisitions (Hughes Software Systems and Chennai-based FutureSoft), the Harvard B-school graduate Marks spoke to BT's R. Sridharan on why hardware manufacture is not Flextronics' focus in India, and what he intends to do about the notoriously low profits in the business. Excerpts:
In a span of less than four months, Flextronics has announced its second acquisition in India, and neither has anything to do with hardware manufacture. Where does India figure in your global scheme of things?
We expect that India will be, by far, the major competency centre for software design around products. We are adding domain expertise around product design. So HSS is primarily telecommunications infrastructure, and with FutureSoft, it's on a data communications networking side. And that's really where the best expertise is here in India. We do a lot of stuff ourselves in cell phones, printers, imaging products and so on but there's not much skill set around that in India.
Few expected Flextronics to walk away with Hughes, but you outbid the others. Have you overpaid?
We certainly paid a lot of money, but I don't think we overpaid, otherwise we wouldn't have bought it. You can't really judge the value of the deal until you see what we do with it. We have really big plans for Hughes. We have a big infrastructure business and we believe we can grow the company (Hughes) faster and derive greater value for our entire company than what Hughes would on its own. So that's the judgement we made, and, in all seriousness, we won't be able to tell whether we got a fair value for a while yet. Winning by bidding is not winning. We have valued the company based on the overall value it adds, and Hughes is an outstanding opportunity for us.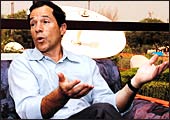 "Winning by bidding is not winning. We have valued Hughes based on the overall value it adds to Flextronics"
Are you looking at any more acquisitions in India?
Yes and no. Certainly nothing major. We did Hughes because of their telecom domain expertise, we did FutureSoft because of their data communication domain expertise. If we can find other companies that have expertise that we need, we'll look at them. But we've got our hands full right now.
A lot of hardware contract manufacturers seem to be pretty bullish on India. But Flextronics doesn't seem to share their enthusiasm.
We are unlike OEMs (original equipment manufacturer). OEMs can decide what they want to do and where. We just have to follow our customers, and demand from customers for manufacturing in India is going up, but it is not really booming. So we have a factory here with about 400 people and it's pretty full. It will do about $40 million this year from $8 million last year. So that's nice growth. We have some other business, which means it will do between $60 million and $100 million next year. For us, even that's not a big number, but it's fine. If it continues to grow, we'll expand here, but we don't really get to decide. Right now we are primarily serving the local market, which is growing. But India is not an export market. All the materials have to be brought in from China and other places. So that's going to keep some lid on the market. We are cautiously optimistic.
Back in 1993, Flextronics was a $93-million company, and you are a $14.5- billion company today...
We'll be $17-billion this year...
...So clearly Flextronics not just has a monstrous appetite for acquisitions, but also the ability to stomach them. How do you do it?
We actually have a fairly simple strategy. We don't have any M&A department. Acquisitions are done by the operating people, who build their businesses. And when we find pieces that fit, we go get them. We do that aggressively. But it's not that complicated, the way it works in our company, because we only do things that fit into the strategy that we've all agreed on.
But isn't it ironic that despite your $17 billion in sales, your profits are abysmal?
Now, wait a minute, who said (that)? We are going to make $100 million this quarter, that's not abysmal.
...$100 million on $4 billion isn't abysmal?
Yeah, but that's the business...this is not software services. Volume manufacturing is a 3-per cent-profit business. We are earning about 22 per cent return on capital in that business, and that's all you get. That doesn't make it a bad business, it's different. But if we had a design component and some of the other things that we are doing now...those are much higher-margin activities. But they need to be (there).
There is a recent research report that says the bigger the EMS the harder it is for it to make money. And in fact, the ones that have made money over the last 10 years are the smaller ones. So does it make sense to chase volumes?
I think that's complete nonsense. Small companies can turn around a lot of money, but there's no small company making $100 million this quarter. I don't disagree with the concept that small companies have higher margins. That's a fact. But big companies have much more volumes. We are going to make $400 million after taxes this year. So would I rather be making $15 million running a little company with higher margins? No, I wouldn't. I think $400 million is good. In the last 10 years, Flextronics has had a 26-per cent compounded return to shareholders. So that makes us No. 30 in the world. I don't know about Solectron (a rival). Solectron has had terrible numbers, under-performed Nasdaq, and all that kind of stuff.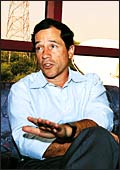 "Three years ago we didn't have any design engineers in the company. Today, we have more than 8,000"
What about flexibility? The report says big companies are loath to give up big customers and hence don't innovate.
That's complete hogwash. When I started off as a $93-million-dollar company, we were manufacturing in Asia. Today, we manufacture in 30 countries, and we just acquired two companies in India to add to our design services business, we have added components, we have done vertical integration, which is doing fantastically well, and we have just added a power supply business that's off to a rocket start. Our gross margins have gone up two years in a row, and they are going up every single quarter. If you average the whole industry, you are going to get a bad answer. Let's take PCs. PCs is a bad industry, unless you are Dell. And EMS is a bad industry unless you are Flextronics.
Isn't a hardware company getting into design a bit like a bulk drug manufacturer trying to do basic research?
Yes, sort of. It's clearly a different activity. Three years ago we didn't have any design engineers in the company. Today we have more than 8,000. Why it's not that different is because it (design engineering) is not basic research. Our customers, exactly the same customers, are outsourcing design to companies like Hughes AMD FutureSoft. But design is naturally connected to manufacturing. Actually when you separate it, you don't get the lowest cost.
But won't that increase your business risk?
No question. There is a lot of risk, but that's the way it is. The manufacturing business is low-risk...you tell me what to do and I'll do it for you, material cost plus 2 or 3 per cent. The design business has a lot more risk, but it's not like designing a product from scratch. Essentially, customers come and say 'this is what I want you to design for me; how much are you going to charge me?'. We are basically designing commodity products that exist. We are designing cell phones, every cell phone guy comes to us and says, 'I want a phone with a dual band, a colour screen, with this kind of a keypad, how much are you going to charge?'. It's important design, but it's not like we are the OEM and wondering what product to come up with next.
You don't want to be like BenQ, which grew from being an EMS to a branded player?
No, we don't want to do that. In fact, BenQ is a customer of ours. It's not an unreasonable thing to think about doing, because some companies do do that. Most of the Japanese (consumer electronics companies) started out as ODMs (original design manufacturer), building TVs and radios for big American companies 30 or 40 years ago. But we have no plans of doing that because then you have to compete with your customers and change your whole business strategy. We are actually going the other way by offering a broader array of services to the same OEM customers.
I asked that question because I read somewhere that BenQ has bagged an order from Nokia to design a high-end handset, where BenQ's profit margins are three times that of its regular handsets. Obviously, it's a very lucrative example to follow...
Honestly, I am not sure whether that's a true story. I actually saw that announcement, but I am...it would be beyond my imagination that Nokia would strike a long-term deal with BenQ.
Why do you say that?
Because BenQ is competing with them. And OEMs don't want us to do that. The Taiwanese guys occasionally say things that are true. But I don't know whether this is true or not.
You are being nasty...
No, no, no, it's true. OK, things that are not necessarily true get reported often times. But I would be absolutely shocked if Nokia planned on having any kind of long-term deal with BenQ because they are competing with them. But then you know the world changes, and I could be wrong. I am wrong a lot (of times).