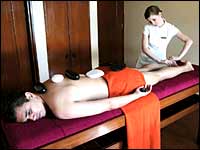 Expat massage: Ananda Spa even brings in expat masseurs from time to time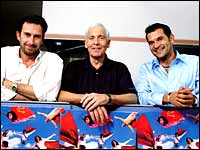 Time to smile: Spicejet CEO Mark Winders (centre) flanked by two senior executives
Quick, what's common to the director of the country's most-celebrated Spa, Ananda in the Himalayas, the chief executive of just-launched budget airline SpiceJet and a consultant at Tata's new retail venture? Nothing apparently, but for the fact that all three positions are manned by expatriates.
What's new, you may say, for as long as one can remember chefs at most big hotels and chief executives at Indian subsidiaries of a lot of multinational companies were and continue to be expats? Well, in a way you could call it the second expat coming. As India Inc. goes global, enters new lines of businesses, or faces competition from global biggies right at its doorstep, it is scrambling for talent not available domestically. And that's making Indian companies, across industries as varied as hospitality, retail, telecom, mining, aviation and infrastructure turn to expats for not just senior but even middle-level management positions.
Take low-cost airlines. Both Kingfisher Air and SpiceJet had to get their head honchos from overseas, simply because there was no one in India who had experience managing a low-cost carrier. SpiceJet's CEO, Mark Winders, had developed the Canadian low-cost airline Canjet. And Kingfisher's President and coo, Alex Wilcox, is a low-cost airline veteran and was part of the senior team that launched the US low-cost carrier, JetBlue, almost five years ago.
Nor is Winders an exception in his firm, for SpiceJet's head office in Gurgaon is peopled with over half-a-dozen expats at senior and mid management positions. This includes CFO Gary Osborne, Executive VP (Engineering) Roger Page, Cabin In-charge David Platas and Chief Engineer Sargey Filatov.
"Expats are the flavour of the day," says R. Suresh, Country Manager of executive search company Stanton Chase India. Over the last one year, Stanton Chase has head-hunted around 10 expats to lead big Indian companies.
Global Ambition, Global Talent
Expats are being brought in to fill the crucial experience gap between Indian and global managers. The Aditya Birla Group, for instance, brought in Kim Freeman, a Canadian expatriate, as its coo for overlooking mining operations of Hindalco in April this year. Freeman comes with 30 years of experience from Falkonbridge, a Canada-based non-ferrous mining group. The group also brought in Barry Marshall, a global metal industry veteran from Hunter Douglas group of companies, as head of risk management and business development.
Demand for expat managers is only expected to rise as more closed sectors open up to private players
Helping the Tata Group in its global play is Alan Rosling, Executive Director, Tata Sons and member of the Group Corporate Centre. Rosling has served as special advisor to former British Prime Minister John Major in his policy unit, has been the strategy development director at United Distillers, and chief executive of Piersons, a division of Courtaulds Textiles. At another Tata company, Tata Teleservices, Greg Young was brought on board from Telstra Corporation as Head, Network and Value Added Services in December 2004.
In the services sector, where the demand for expat mangers is greatest, it is not just the hospitality industry that is hiring expats with a vengeance, but even firms in the organised retail and telecom businesses. "There are (still) a few skills in the retail industry where there is a deficiency of Indian talent," says Arvind Singhal, Chairman, KSA Technopak India. Buying, supply-chain management and visual merchandising are a few skill sets in organised retail where Indian talent is either scarce or inadequate. So, in these areas, many retail companies are sourcing functional heads, essentially mid-level management positions, from outside the country. Star India Bazaar, a hypermarket run by Trent (Tata's retail company) has an expat consultant from French retail major, Carrefour.
Value For Money
The best part is that today, hiring an expat is no longer an expensive proposition. "Salaries of Indian executives have (also) gone up significantly," feels Stanton Chase's Suresh. And sometimes, it makes more sense to hire an expat, who would cost just a shade more than an Indian manager, for the international perspective that he/she brings to the job. And it seems to be working both ways, what with expat managers finding shifting base to India not just less problematic now, but even more rewarding given the experience of working in a fast-growing emerging market like India.
Even while industries like spas and organised retail work furiously to get the skill sets transferred fast to India, it looks like this is just the beginning. Demand for expat managers is only expected to rise, as hitherto closed sectors open up for private businesses. "Private players who are getting into managing airports would require expatriates in a big way," says Nirupama V.G., Associate Director, Team Lease Services, a placement firm. A client of Team Lease is worried about managing an airport and maintaining international standards. In India, there is no expertise available in running a world-class airport. So much so, that this unnamed client of Team Lease is also open to sourcing blue-collar workers, such as security personnel, from overseas to reach higher standards of operations. Now that would truly be reverse-outsourcing!
---
SPOTLIGHT
Broadcast Consultants

Media Extensions' Rao: TV channel specialist
Bored with your job in television production, sales or content? Fancy breaking out on your own as an entrepreneur? Consider becoming a broadcast consultant. With over 100 television channels slated for launch, someone out there surely needs to hand-hold them through the regulatory fine print, hiring of satellites, contracting of bandwidth, teleports, sourcing production and post production equipment, and hiring people to put channels on air. "DTH alone is opening the possibility of over 1,000 specialised channels," says U.S. Rao of Radius Media Extensions, a New Delhi-based broadcast consultant. Though the work is tough, the 0.5-1 per cent takings of the total project cost more than makes up for often tough and critical deadlines typical of the sector..
---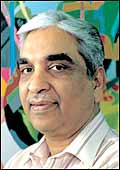 I am a 29-year-old science graduate working for the last 18 months as a deputy manager in a public sector bank. I wish to further my career by pursuing a course in MS (Finance) and, eventually get a Chartered Financial Analyst (CFA) degree from ICFAI, Hyderabad. Please advise whether these options would help me secure my career, or some other qualifications are essential. Also, should I change my job?
As far as changing your job goes, with your background and work experience, you should not have a problem in getting a job in any of the good private sector or multinational banks. A CFA degree or a degree in finance will definitely boost your job prospects in the banking and financial sectors. You could also opt for an MBA programme, specially from one of the top-rung b-schools. An MBA degree is in great demand nowadays and you could sit for cat this year. You could also check out the ICFAI's combined MBA/CFA programme.
I am a third-year BCom student, awaiting my final results. I want to start my own business and have several good business ideas. I am confident that, if implemented, my business ideas will be a success. However, coming from a middle-class family, I do not have the financial resources to start on my own. Should I abandon my dreams and take up a job?
Always dare to dream but don't become "only a dreamer". If your ideas are good, finances will not be hard to get. Venture capitalists will not only back you with finances but will also help you in setting up the infrastructure. Your ideas should, however, not only be good but also practical and commercial. You need to have a revenue model or a method by which your idea, when put into action, can produce profits. You will therefore need to do some homework-first shortlist one or two good ideas. Then prepare a proposal on what resources be will required and how the product/service will be marketed. Then approach a venture capital firm and discuss the project with them. I would also advise you to take up a job after your degree. Any project takes time to implement and there is many a slip between the cup and the lip. By taking up a job, you will gain experience and also get an insight into how a company is run.
I am a 31-year-old electrical engineer, working as a lecturer in a private engineering college for over five years. The salary is low and the avenues for professional growth are few even if I go for further studies. Keeping this in view, I have decided to switch careers and move to the insurance field. I have registered with the Actuarial Society of India and am preparing for my exams. Although it will take about two years to make the switch, please advise me what else I can do to gain knowledge in this field.
Since you are already preparing for exams, I would advise you to apply for a job in the insurance sector. Since you have no prior experience, you will get taken in at a junior position. It will, however, help you gain a practical understanding of the industry. You could also assist an insurance agent and work with him/her on a part-time basis. This will work to your advantage as you will not have to leave your present job while you are preparing for the exams.
I am an engineering graduate (mechanical) and wish to pursue an MBA programme, preferably from one of the IIMs. What should my future course of action be? Should I appear for CAT this year? If you suggest that I get some experience first, what kind of job should I take up? Because of family constraints, I could not take up a job after completing my B.Tech in April 2004. Could that work against me?
If you are keen on doing an MBA, I would recommend that you appear for cat this year. There is no need to wait for a few years since you are not doing anything at the moment. In case you are not able to get admission this year, then I would suggest you take up a job and apply again next year. As to your question of whether your doing nothing since April 2004 will have a negative impact, I would say that it could to a minor extent, unless you have a very good explanation for it. In any case, it will not play a big role in the admission process. Whether you take up a job or do post-graduation, both will help you in the long run. While a job will give you experience, further studies will bring you up-to-date in your field of study, especially since you have not been doing anything for year now.
---
Answers to your career concerns are contributed by Tarun Sheth (Senior Consultant) and Shilpa Sheth (Managing Partner, US practice) of HR firm, Shilputsi Consultants. Write to Help,Tarun! c/o Business Today, Videocon Tower, Fifth Floor, E-1, Jhandewalan Extn., New Delhi-110055..
---
Eyes Wide Open
Stock options are back, but should you be lulled?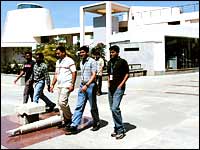 We're back: Stock options have made a tentative return
The days of it companies doling out generous employee stock options to all comers are clearly over. But stock options are nonetheless making something of a comeback due to the resurgence in the stock market. So, companies such as Infosys and Wipro are giving a select group of employees restricted stock units at nominal rates. Others like Mphasis have offered stock options to meritorious employees and still others are experimenting with stock appreciation rights, where the employee gets the incentive of stock appreciation and not the stock itself. The moot question is: Should you be lulled into it either as a retention tool or an incentive to join a new company?
"Stock can't be used to bridge a salary gap and need not be just for white-hot privately-held companies to make up for deficient salaries," says Ravi Ramu, Chief Financial Officer, Mphasis. While stock options may be a tempting bait to join a product or start-up technology company, especially at the pre-IPO stage, remember well that the humongous value jumps witnessed by it stocks in the past is, well, a thing of the past.
---
A Few Good Men
HR for good money and quick career growth? Sure.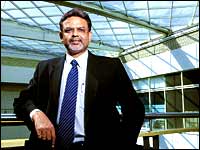 Heidrick & Struggles' Das Mahapatra: Hunting for HR heads
Often thought of as unglamorous, human resource (HR) professionals, it seems, never had it so good. There is a dearth of hr professionals across corporate India, and the good ones are being headhunted with a vengeance. Job site Naukri.com has reported an over 40 per cent jump in hr job listings in the past 12 months. And executive search firm Heidrick & Struggles International estimates that at least 200 searches for hr heads from the country's top 50 employers is currently underway.
Little wonder, salaries for hr professionals have gone through the roof. "Today, hr heads for even mid-sized companies are being offered Rs 30-40 lakh a year compared to half that amount a couple of years ago," says Arun Shankar Das Mahapatra, Managing Partner (India), Heidrick & Struggles International. Even then finding the right talent is difficult. "That's why young guys don't have to wait for ages to become hr heads now," says Mohit Mohan of Gilbert Tweed. What's best is that hr's role is evolving from being a mere staffing function to being a strategic business partner, much like marketing or finance. Any takers?