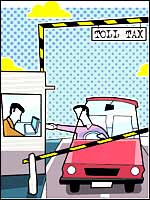 First, it was the mobile telephony market, then, it was fm radio. Now it is the turn of 3G (for third-generation) telephony, the next step in wireless telephony that will facilitate high-speed data transfers. In each, the government has gone into a should-we-shouldn't-we routine at the time of opening up the sector to private players; the result, in the case of mobile telephony and fm radio was a mess; and the result, in the case of 3G is a mess in the making. Thus, we have various departments of the government, namely Department of Telecommunications (DOT), Ministry of Finance (MoF) and telecom regulator Telecom Regulatory Authority of India (TRAI), heading for an ugly confrontation over whether or not to charge entry fee for 3G services.
European governments collected a whopping $125-billion (Rs 5,50,000 crore) by auctioning 3G licences four years ago, with the UK alone collecting $35 billion (Rs 1,54,000 crore), so why give away a scarce resource such as radio waves for free, argues the pro-licence fee lobby. After all, it is the Tata Group, an interested player in the telecom, that has mooted the idea of a Rs 1,500-crore entry fee; that would result in a Rs 9,000-crore booty for the exchequer, assuming the Big Five telcos (BSNL, Bharti, Hutch, Reliance, Idea) also cough up the amount. That will at least offset the opportunity loss from not being able to carry forward the disinvestment policy.
Charging a big entry fee or auction-driven licences will make 3G services unviable for operators, much like it did for several European ones that overbid and this, in turn, will make the service unaffordable for consumers, says the anti-licence fee lobby. The high licence fee is just a means of creating an artificial entry barrier, it claims. Allowing free entry, says the pro-lobby, will mean everyone makes a rush for 3G licences; no one ends up with enough market share to justify the high investments 3G networks require; and everyone-bankers, telcos, consumers-suffers.
Both points of view have their merits, and in any competitive market it's a healthy sign that you have differing shades of opinion within the industry and not a cartelisation of opinions.
The not-so-happy note here is that the government doesn't seem to have learned anything from its past experience. Not that this magazine is in favour of, or against an entry fee for 3G services. However, it must be said that Rs 1,500 crore looks like an arbitrary figure; the right number is purely dependent on market needs and economic realities. What is depressing, though, is that the learning curve, as far as policy making is concerned, seems non-existent.
Way back in the mid 1990s, cellular telephony was introduced in India and very quickly the unviable licence fee model had to be scrapped in favour of revenue-share in 1999 (it must be said that it was the folly of bidders that was largely responsible for the initial over-bids). Ditto with the first round of fm radio licensing in 2000. The cellular experience, after migration to revenue share, has been startling even for the government, which from its own admission has realised more money than it would have if it had insisted on sticking to the licence fee regime, as the unfettered industry has boomed.
The government's need to raise resources is well appreciated, as is the fact that a booming industry like telecom, with over 100 million subscribers (200-250 million by end-2007) will be a target for possible revenues for any government. It is sad, though, to see the government abdicating its primary responsibility of market-making and instead get into petty politicking, playing market players against each other, when the need is to provide a clear thought-out policy roadmap that balances both its medium-to-long term revenue needs with the needs of the sector.
The experience of 3G auctions the world over has been mixed at best, with European operators still smarting from a painful start; overcapacity rules and profits seem decades away. Whatever the government decides in the end (to either hand over 3G frequencies free or at a fee), it should do so in a transparent manner, learning from its past experience and keeping the interests of the consumer uppermost in mind.