It's china versus the rest of the world. The country's relentless export growth over the last decade, when exports rose from $121 billion (Rs 3,75,100 crore at the then exchange rate) in 1994 to a whopping $593.4 billion (Rs 26,70,300 crore) in 2004, and its stubborn refusal to do anything about its currency yuan's artificial exchange rate (it has been pegged at about 8.28 to a us dollar for the last 10 years) have brought rival economies together to push Beijing into allowing at least a partial float of the yuan. The latest warning came from the US, which has threatened fresh across-the-board taxes of 27.5 per cent on Chinese exports to the us unless Beijing revalues the yuan in the next six months.
Will China relent? Unlikely. This is the second time that the US has threatened China with tariff barriers. It made similar noises in September 2003 that Beijing simply ignored. But then, things have only gotten worse since for China's trading partners. The US, for example, has a trade deficit of $175 billion (Rs 7,70,000 crore) with China. Not only is it a quarter of America's total trade deficit, but also an unsustainable figure. Moreover, the US this time around has the full support of the European Union and other countries in its demand for revaluation of the yuan. Says Surjit Bhalla, a leading Delhi-based economist: "It has now become a prestige issue for the us after failing to get its way for two years through all legitimate means. Moreover, they have the total support of the European Union and Japan." That the yuan's peg to the dollar has heavily loaded the dice in favour of China is not in doubt. In the last decade, as dozens of global currencies appreciated between 15 per cent and 40 per cent against the greenback (the Indian rupee too has become dearer by 12 per cent in the last two years alone), the yuan continued to remain artificially weak. That, in effect, has turbo-charged the Chinese export engine. One example: China's apparel exports, which soared 545 per cent last year to $245.93 billion (Rs 11,06,685 crore). With quotas gone starting this year, the surge has only become more pronounced. China's textile exports during January-April 2005 jumped 19 per cent to $22.4 billion over the same period last year. Says S.P. Oswal, Chairman, Vardhaman Group, a leading textile exporter: "A revaluation of the yuan will only remove the unfair competitive advantage that China has over all other countries."
Just how much will a stronger yuan help exporters from other low-cost countries like India? Let's first consider some numbers coming out of China. According to its National Bureau of Statistics, a 3 to 5 per cent appreciation of the yuan would lead to a 10 per cent drop in Chinese exports-that's about $59 billion (Rs 2,60,920 crore). Therefore, in a range of sectors-from footwear to leather goods to electrical machinery and equipment-other exporters could increase their share. The benefits would be greater if the US actually lived up to its threat of duty restrictions on Chinese exports. "In fact, with less price competition from China, Indian exports may be able to fetch better profits," says O.P. Garg, President of exporters' association FIEO.
That said, it would be nigh impossible for India or any other low-cost country to catch up with China-let alone knock it off its top perch. China's lead is simply too wide. China exports around $97 billion (Rs 4,26,800 crore) worth of textiles, compared to India's measly $6 billion (Rs 26,400 crore). In footwear, China has a 67 per cent share of the US market versus India's 2.5 per cent. Its footwear exports to the US at $8 billion (Rs 35,200 crore) are 10 times India's.
That apart, China has a huge advantage over India in terms of manufacturing capacities and the quality of infrastructure and bureaucracy. So, even if the us and its friends manage to force China into letting the yuan float, the gains for other exporting countries will at best be marginal. Of course, it remains to be seen if China is willing to offer that elbow room to start with.
-Ashish Gupta
---
SECOND
To Pay Or Not To Pay?
Should telecom companies have to pay for 3G spectrum?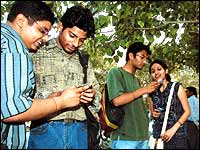 3G services: They'll have to wait
Blame it on Ratan Tata, the venerable chairman of the Tata Group. It was he who set the cat among the pigeons by suggesting recently that telecom companies in India should pay (in his estimate, Rs 1,500 crore plus revenue share) for the spectrum they would need to offer 3G services, which promise to bring high-speed data and video to mobile phones. Tata's suggestion was in response to the industry regulator TRAI's recommendations that 3G spectrum be made available on a revenue-share basis, free of initial cost. While by suggesting an entry free Tata may have upset others in the industry (for once, the GSM and CDMA lobbies were united in expressing their dismay), he has a point. Spectrum is a scarce resource in any country, especially India. More than 60 per cent of the total spectrum is hogged by the defence forces, leaving very little for civilian use. Besides, 3G has unfortunately been a golden goose for governments elsewhere in the world. The major European countries alone made in excess of $125 billion (Rs 5,50,000 crore at the then exchange rate) when they auctioned 3G licences in the early 2000s (see The 3G Gold Mine). The question now is, should the Indian government make a killing on the 3G spectrum too?
At the heart of the question lies the very viability of 3G services. Take Europe, for example. Prohibitively high 3G licence fees almost killed the industry. Within a year of the auctions, there were 80,000 job cuts in the industry; market value of the major telcos fell by an estimated $600 billion (Rs 28,20,000 crore at the then exchange rate) by the middle of 2001; and some operators even returned their licences, and wrote off their losses. It's only now, five years after the auctions, that 3G services are taking off, as operators see average revenue per user (ARPU) stabilising and feel the need to offer data services to grow revenues.
In India, similar fees can deal a body blow to an industry that's managed to become one of the fastest growing in the world simply because of low tariffs. No doubt, operators like Bharti Tele-Ventures have managed to report bumper profits, but its primary markets are in urban India. To move into semi-urban and rural markets, it will have to raise fresh capital, mainly via debt. To service the debt, it will have to increase its rates, thereby hurting demand. The story isn't any different for the other players, with their low net worths and regional presence. Says Kanwalinder Singh, President, Qualcomm India & saarc: "India must strike a balance between meeting its growth objectives and a fair way of charging the licence." Adds a PriceWaterhouseCoopers telecom analyst: "Any kind of entry fee is bound to be passed on to customers."
Because telecom has been one of India's happiest stories, the government is loath to do anything that will affect its growth. Indeed, three days after TRAI came out with its recommendations, the Union Minister for Telecommunications & it, Dayanidhi Maran, told Business Today (see "Highly-priced Spectrum Will Hurt Consumers" on page 22): "We have to be a little careful on this (the Tata suggestion). We don't want a licence Raj." So, a European model can be ruled out as can the Russian model, where the 3G spectrum is offered free to operators willing to invest in the networks.
A revenue-share model, therefore, seems to make a lot more sense. It's not only easy on the operators, but also ensures a steady revenue stream for the government, since the typical licence has a life of between 15 years and 20 years. In a country where telecom penetration is still a pathetic 91.3 per 1,000 people, there's a lot of ground the industry needs to cover. More importantly, in a country with one of the worst infrastructure sectors, telecom is a shining exception. Let's keep it that way.
---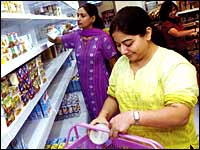 24x7: The convenience of shopping, any time
FDI or no FDI, experimenting in Retail India is moving apace. The newest store on the block is a 7-Eleven clone from Samir Modi, scion of the K.K. Modi family. Christened 24x7, the store plans to offer round-the-clock convenience to shoppers. It will offer everything from dal chawal (rice and lentils) in a box to cut fruits and vegetables to courier facility and film processing. "It's about adding value in the lives of people whose days are getting longer," says Modi. It will cost Modi, whose family owns Godfrey Phillips, Rs 1 crore a pop, since most of the store equipment is being imported. The first 24x7, which boasts of an owl as its logo, will open in Delhi on June 3. By year-end, Modi plans to have 10 stores between Delhi and Mumbai, and 300 by the end of 2010.
---
Q&A
"Highly-priced Spectrum Will Hurt Consumers"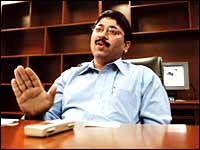 "Spectrum is a scarce asset. I don't want it to be landed on somebody's lap"
Three days after the telecom regulator, TRAI, came out with its recommendations on, among other things, spectrum allocations, Union Minister for Telecom & it, Dayanidhi Maran, spoke to BT's Kumarkaushalam on the spectrum controversy, Reliance Infocomm, and his future plans, which include creating a subscriber base of 250 million by 2007, extensive broadband connectivity, and an Indian-language browser. Excerpts:
What do you think of Ratan Tata's suggestion that telcos pay an entry fee (Rs 1,500 crore) for 3G spectrum?
I got a sneak preview of Ratan Tata's letter from the newspapers. It came in the newspapers before it came to me (laughs). We have to be a little careful with this. I don't want a licence Raj. And the very idea of India as a success story is its low cost of tariff. Highly priced spectrum will result in an increased cost for consumers. Why should the consumer pay so much? You cannot have a monopolistic approach.
Endorsing DoT's stand, Trai has suggested technology-neutrality in spectrum allocation. What do you think?
I am not the deciding factor on that, the WPC (the Wireless Planning Commission) is. We've set up certain terms of references that TRAI needed to follow. TRAI's recommendations will be taken into consideration based on our terms of references. And we will come out with a policy that is technology-neutral, and which is within the world standards. Spectrum is a scarce national asset. I don't want this resource to be landed on somebody's lap.
How long will it take you to approve these recommendations (on spectrum)?
We are going to have discussions with the players. Their feedback is important. I want to ensure that my department takes correct decisions.
Would you like to comment on (TRAI chief) Pradip Baijal's report card?
I don't want to. Each one of us is here to do a job.
Are you happy with the status of institutionalised processes and infrastructure that have been framed to support your 2007 targets?
I'm very upset with the international bandwidth prices. Broadband is expensive in India because of the cartelisation of international gateways. We've repeatedly recommended to TRAI to work on it, but the regulator has not been able to do anything on it efficiently till this moment.
Issues governing Reliance Infocomm continue to loom large over the telecom landscape. Earlier you carried out the threat of licence...
(Interrupts) Me? Not me. I'll never do it. I never threaten anyone (laughs)... I'm afraid of ...
Okay, you let Reliance off the hook after telling them to pay a fine of Rs 150 crore for international call tampering.
That's because of a norm. I think the Reliance issue is settled. They paid the fine.
But they can still challenge this (TDSAT judgement) in the Supreme Court.
They are free to do it. India is a democracy. The case is over as far as I am concerned. I've other important things to do.
As the industry looks headed for a consolidation, we are seeing a spurt in predatory and hostile bids. Do you think such a scenario is good for the health of the industry?
No one can stop it. That's part of (free market) capitalism.
---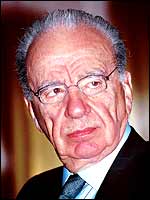 Star's Rupert Murdoch: Mr Deep Pockets
With the government giving Tata-Star and Sun TV direct-to-home (DTH) ventures clearance last month, a bloody battle for television subscribers is about to break out. At present there are less than two million DTH subscribers, with the state-owned Doordarshan accounting for 75 per cent of them and Zee TV's Dish TV, the rest. However, Media Partners Asia, a Hong Kong-based consultancy, projects that the DTH market will grow to seven million by 2010. Inevitably, DTH's growth will come at the cost of the 45-million cable & satellite TV market. What will be the decisive factors in the DTH battle? Price and content. Already, in anticipation of competition that should come end of this year, Dish TV has slashed entry price by half to Rs 3,990 and is offering 75 channels without any monthly fee (its complete bouquet of 120 channels is available for an additional Rs 1,000 a month). Big cable TV distributors such as InCablenet, Siti Cable and Hathway are digitising their metro networks in response to the DTH threat. Indeed, nearly 17 million cable households are already receiving DTH quality signal. "The fight will be between digital cable and DTH as both address a common market," notes Ashok Mansukhani of the Hindujas' InCablenet. Let the battles begin.
---
Clogged Cable
Is there room for another 100 channels?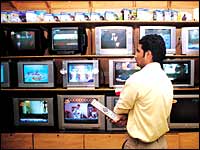 Problem of plenty: The viewer is going to be spoilt for choice
Try and digest this: there are already 265 or so television channels on air in India and, according to a new report by investment bank J.P. Morgan, another 100 could get added over the next three years. Is there room enough for all? "In a boom time like this, new players will naturally come in," rationalises SandeepViz, President of media buying agency Optimum Media Solutions (OMS). Advertising on television, currently at Rs 4,700-crore, is growing at a healthy annual clip of 15 per cent. What's also heartening is that the often-ignored business of TV distribution, where revenues are estimated at Rs 6,000 crore, will only get a boost with the advent of four new players in direct-to-home (DTH) television and, sooner or later, of conditional access systems (CAS) for cable TV.
Still, 400 channels seems like a crazy number. "Only 10 per cent of those will survive, but then like in any industry, a lot of them will want to have a go at it," points out OMS' Viz. It is a no-brainer that channels from cross-media and cross-platform conglomerates will survive. For the rest, the trick will be to be a niche player, in terms of both geography and content. That alone will generate consumer pull and ensure currency with advertisers in an already clogged cable TV market, where (fortunately) just a third of the 45 million subscribers are digitally connected to receive around 200 channels, and that too with a set-top box. A direct fallout of the channel explosion is the practice of a huge "carriage fee" that most new channels, like Jagran's Channel 7 and Disney's two kids channels, have had to cough up to cable operators to be available on prime band. "But DTH is now opening up a fantastic platform for niche channels, those who don't want to be on mass cable distribution, but would rather build their business slowly as DTH proliferates," says L.V. Krishnan, Head of tam. With two more DTH players, Software Technology Park and Essel Shyam, awaiting government clearance (proposals from the Tata-Star combine and Sun TV have already been cleared), only time will tell how many (channels) is too many.
-Shailesh Dobhal