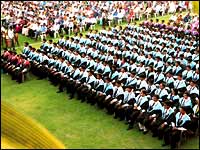 Sitting pretty: IIM, Ahmedabad students at the 2004 convocation ceremony
INDIAN INSTITUTE OF MANAGEMENT, AHMEDABAD
FOUNDED: 1961
FIRST FULL-TIME DIRECTOR:
Ravi J. Mathai
FOUNDER: Dr Vikram Sarabhai
CURRENT DIRECTOR: Bakul Dholakia
CURRENT CHAIRMAN:
N. R. Narayana Murthy
NO. OF GRADUATED BATCHES: 43
Philip Kotler once said: "don't sell the steak; sell the sizzle." the Indian Institute of Management, Ahmedabad (IIM-A) treats this dictum with all the seriousness it deserves. Ask five people the question: What makes IIM-A special? Chances are you'll get only one answer: the case method of study. But everyone will qualify that with his own take on the matter.
Narendra K. Ambwani, President & Managing Director, Johnson & Johnson India, who passed out of the institute in 1972, is very clear about it. "This method stresses on translating theory into practice. And there's a lot to learn from fellow students with prior work experience." Adds Pankaj Baliga, Vice President, Tata Consultancy Services, who graduated from IIM-A in 1971: "The course is structured in a manner that forces you to think. Mere reading and study are not enough. You have to come up with solutions for given problems. And when you discuss everybody else's solutions at the end of the session, you absorb many different thought processes and emerge richer from the exercise."
Everyone BT spoke to agreed on this. "The course comes packaged with two years of high voltage management fundas," says Vinayak Chatterjee, Chairman of Feedback Ventures and an alumnus from the Class of 1981. "Huge companies are bought and sold (or often liquidated) in charged case study discussions only to be restrategised and resurrected in the next session. Freshly discovered jargon is joyously yelled across from dorm to dorm. And eager beavers sweat it out together under nerve-wracking pressure to get the right grades," he adds.
GLOBAL HR MAGNET
Bakul Dholakia, director of IIM-A, prides himself on the fact that his institute produces "truly global managers". And recruiters at leading global companies seem to agree with his assessment. This year itself, as many as 71 IIM-A grads were picked up by foreign companies for their global ops. Deutsche Bank, Merrill Lynch, Morgan Stanley and others are regulars at the campus (see list below). And the roster keeps growing every year. Says Vikram Bhalla, Principal, Boston Consulting Group, who handles recruitments for the group: "The curriculum and training at the institute, and the depth and quality of the talent pool ensures that you get young managers who are as good as, and often better than, those from the best institutes across the world." Bhalla adds that since the Ivy League colleges have been around much longer, the alumni network and their reach is greater, "but it's just a matter of time before IIM-A gets there".
FOREIGN PLACEMENTS

2003

2004

2005

IIM-A

36

21

71

IIM-B

18

27

42

IIM-C

10

23

59

Source: Coolavenues.com
The cases discussed are all "live" ones; that means they deal with real problems faced by real companies. "Our faculty members interact regularly with the corporate world to develop these case studies," informs Bakul Dholakia, Director of the institute. Typically, two-and sometimes, three-faculty members get together to develop these cases. The time taken can vary between one and two months. "We ensure that our cases keep pace with the times and deal with contemporary issues. We've recently developed cases dealing with mergers and acquisitions. We developed cases on derivatives and futures and options when these instruments were first introduced in India. Before that, we focussed on supply chain management. Whenever there is a new development in the real world, we develop a new course to cover it," he says, adding: "Our faculty is the single-largest source of teaching material in India."
NEW FOREIGN RECRUITERS
AT IIM-A IN 2005
Al Ghanim: Kuwait-based business conglomerate
Archeus Capital: New York-based hedge fund
Bain & Co.: One of the top global consulting firms
Barclays Capital: I-banking arm of Barclays Plc
Booz Allen Hamilton: One of the top global consulting firms
Deloitte: IT consulting major
General Motors Shanghai: One of the top global auto companies
Marakon Associates: International consulting major
Singapore Airlines: Well-known airline service
Old favourites Deutsche Bank, Goldman Sachs, HSBC, Lehman Brothers, Merrill Lynch, Morgan Stanley, AT Kearney, BCG and McKinsey also recruited from IIM-A in 2005
It's little wonder then that ex-students are still in awe of the teachers who once taught them here. "Anything said about the quality of faculty at iim-a would be an understatement. They are 'Gods' in their chosen field, be it finance, hr, organisational behaviour, etc. They would often point out things the entire class had missed," says P. Balaji, Vice President, Marketing & Technical Solutions, Ericsson, who graduated from here in 1990.
Gunit Chadha, Managing Director & CEO of Deutsche Bank India, who belongs to the Class of 1984, adds another dimension to the discussion. "To build a reputation and maintain it consistently over decades is not easy," he says, adding, "the autonomy IIM-A enjoys is probably one reason for it. Besides, the place offers exposure to a diverse environment, not just in terms of learning but also in terms of the people one meets."
FAMOUS ALUMNI

K.V. KAMATH


MD & CEO/ICICI BANK
CLASS OF 1971


Pioneered ICICI's retail thrust and transformed a project finance company into a retail lending giant

M.S. BANGA


CHAIRMAN/HLL
CLASS OF 1977
First MBA to head HLL. Spearheaded the
company's power brands strategy in India
CASE IN POINT

IIM-A's Dholakia: Leading the pack

IIM-A is not just the Harvard of India; it's the Harvard of Asia," says Bakul Dholakia, the Director of the institute. "Our students analyse over 300 live cases drawn from Indian, Asian, European and American industry in the first year and over 200 smaller cases in the second year. Nowhere (he repeats this word thrice to emphasise his point) else in the world do you get this kind of depth and breadth. This is what allows us to develop managers who can fit into any culture anywhere in the world."
So much so that some former students even get passing thoughts of returning there. S. Ramasundar, Executive Vice President (Finance), Ranbaxy, and an alumnus from the Class of 1976 is one such. "I would love to go back and teach there if only to keep myself fresh and mentally agile," he says.
That, many ex-students admit, could be the only way they could get back into their alma mater. Deutsche Bank's Chadha, for one, is certain he wouldn't get admission were he to try again today. "IIM-A is probably the toughest place in the world to get into (apart from the IITs)," he says. Only the very best gain admission here. And the cream invariably rises to the top.
That brings us back to the example of the steak, if you'll pardon the mixed culinary metaphor. Sums up Feedback's Chatterjee: "IIM-A does a great steak. So do many other B-schools. But IIM-A undoubtedly does the best sizzle."