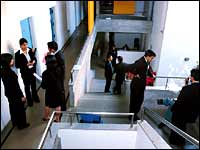 The hunt is on: IIM-B students prepare for placement
When Ganesh Murugiyan entered what was then IIT BHU, chances are, he wouldn't have seen himself going on to be an investment banker. Which is what Murugiyan, in his early 30s, who boasts a post-graduate diploma in business management (PGDBM) from the Indian Institute of Management, Calcutta, is. It is also unlikely that he would have ever seen himself becoming a celebrity brand endorser, which is what Murugiyan saw himself become when his firm went wooing talent at his alma mater.
The idea came from Vijayalakshmi Srinivasan, the head of hr at DSP Merrill Lynch. Her presentation was replete with information-the profile of the firm, the roles, responsibilities and challenges on offer-but it lacked that little bit of intangible magic that separates a commodity from a brand. And so, she decided to include profiles of some of the school's alumni that were on the fast track at the firm (for good measure, she also made sure the visiting team had an alumnus, Ravi Bala, who had graduated in 2004 from the school to act as a point of contact). Which is how Murugiyan became a celebrity endorser.
THE MOST IMPORTANT FACTORS-RECRUITERS




Recruiters believe success of placement is sign of a school's standing.

PARAMETER

PROPORTION OF WANNABE MBAS THAT CONSIDERS THIS MOST IMPORTANT

Reputation

17

Success of Placement

26

Teaching Methodology

9

Quality of Placement

20

Infrastructure

6

Specialisation

5

Faculty

11

Admission Eligibility

6

All figures in per cent
Elaborate? Not really, says Pratik Kumar, Corporate Vice President, hr, Wipro. "It is not a starry-eyed crowd that can be impressed with data," he says, referring to the graduating batch at B-schools. "The appeal has to be more specific and individualistic." Kumar should know. This year, Wipro hired 140 people from 15 B-schools to fuel its it- and it services-fuelled growth engine (the company's revenues grew by 39.2 per cent in 2004-05; net profit by 63.4 per cent). Nita Law, Head, hr, Standard Chartered Bank agrees with Kumar. "Interaction with B-schools is no longer during the PPT alone; the engagement is throughout the year and a lot more elaborate." And Srinivasan should know. Her firm may have hired just eight people from four campuses (three IIMs and Indian School of Business, Hyderabad) but that low number is a function of the industry itself. Like consulting firms, I-banks hire only a few people from B-school campuses (they rarely hire elsewhere) every year; these jobs are among the most desired.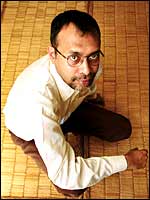 Bhaskar Das
Vice President/HR/Cognizant Technologies
Went to eight B-schools, IIM Ahmedabad, IIM Bangalore, IIM Calcutta, IIM Lucknow, Indian School of Business, XLRI, Great Lakes (Chennai) and Asian School of Management, Manila; made 100 offers, of which 70 were accepted; Das will continue to focus aggresively on hiring as Cognizant is growing rapidly and moving into offering its IT services in more areas(read: verticals)
With the Indian economic engine purring along nicely, and companies on overdrive (results for a sample of 1,528 companies shows that revenues increased 19.37 per cent in 2004-05, and net profit, 28.74 per cent), there is a growing demand for MBAs (the term, loosely used across India Inc., encompasses post graduates in economics from prestigious schools such as Delhi School of Economics, PGDBMs from the IIMs, and other such).
Yet, visiting the right schools, and that done, hiring the right students from the school is something, part-science, part-art, over which heads of hr such as Kumar, Law and Srinivasan lose a lot of sleep. For instance, what made Bhaskar Das, Vice President, hr, Cognizant Technologies, a rapidly growing American it services firm built around the India advantage, target Chennai-based Great Lakes? After all, the other seven schools the firm hired from were IIM Ahmedabad, IIM Bangalore, IIM Calcutta, IIM Lucknow, Indian School of Business, XLRI, and Asian School of Management, Manila.
The Right Schools And The Right People
Some schools-the IIMs, Faculty of Management Studies, Delhi, XLRI, Jamshedpur, and Jamnalal Bajaj Institute of Management Studies in Mumbai-pick themselves. They boast a vintage of between 35 and 56 years (which would mean the first batch to graduate from the schools is now in leadership positions in organisations in India, even elsewhere). However, recent years have seen the emergence of a large number of B-schools. According to Sanjay Chaudhary, Chief Operating Officer, IMS, an MBA preparatory training institute, in the two years between 2002 and 2004, some 200 new B-schools were founded. Recruiters address this challenge by evaluating the school on the basis of its infrastructure (physical as well as intellectual) or the quality of the admission process.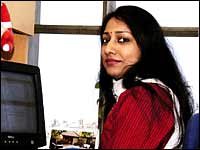 Vijayalakshmi Srinivasan
Head/HR/DSP Merrill Lynch
Went to IIM Ahmedabad, IIM Bangalore, IIM Calcutta and ISB; hired 6 investment bankers from the IIMs and two MBAs for sales and marketing functions in the asset management side from ISB; Srinivasan believes that grades are important; it takes something to be in the top 20 per cent of a class, she says
Cognizant recruited from Great Lakes, says Das, because "it helps in experimenting and including fresh (schools)". It doesn't hurt that the school was founded by Bala V. Balachandran, a professor at Kellogg School of Management, and a man recognised all over the world for his work on costing and accounting.
Not every school, however, is founded by an individual of such stature or catalysed by a consulting firm (the way McKinsey did Indian School of Business). "We hired from Institute of Financial Managment and Research (IFMR), Chennai, for the first time this year," says Ramkumar, GM (HR), ICICI Bank. "We went there because it is important to get fresh ideas." Then, there are listings of B-schools such as the one this magazine puts out. "We just look at the top 15 schools in BT's list and go there," says a recruiter at one of India's largest it services firms.
Schools chosen, recruiters get on to the task of picking from the extraordinary display of talent on hand. "Most companies," says Ranjan Das, Professor, Strategic & International Management, IIM Calcutta, "look for well-trained graduates who understand the big picture, specialise and can be of value from Day 1." Grades (actually grad point averages) do matter but most recruiters believe that the stringent entry norms into India's best B-schools (like the IIMs, XLRI and FMS) ensures that there is little that separates the toppers from, say, the mid-rankers. Which could explain why almost all of them use grades, analytical ability and knowledge of the subject as basic filters, proceeding to pick candidates on the basis of what suits their organisations best.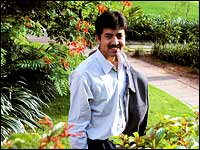 Pratik Kumar
Corporate Vice President/HR/Wipro
Went to the top 15 B-schools and recruited close to 140 people; Kumar continues to maintain a fair balance of fresh graduates and those with prior experience; he insists the first are easy to mould and latter get on the job sooner
Hindustan Lever Limited (HLL), for instance, looks for "passion". "We hire leaders," says Ajay Kumar, Managment Development Manager, HLL. "Their vision, delivery and commitment to growth are the most important criteria for selection." Asian Paints looks for the ability to think "out of the box". "It is important that fresh employees make an impact on the company," says Vivek Patwardhan, Vice President, hr, Asian Paints. "They shouldn't just fall in line." HSBC, according to Joel Farnworth, Head, HR, HSBC India, "explores their extra-curricular interest and a proven record of leadership". And Citigroup India, looks for "execution capability and the ability to influence", according to Pradeep Mukherjee, Country Human Resources Director, Citigroup India.
Each company looks for something that it believes will make a difference to its prospects. it services firms, for instance, look for MBAs who can combine a broad understanding of it (they need not know how to code) with "the right consulting and client facing skills", says Cognizant's Das.
Still, despite everything they do right, recruiters may find that the kind of people they want are already taken.
What Happens If You Can't Get The Right People
Like Infosys Technologies did in 2003 at Indian Institute of Management, Ahmedabad. By the time the firm got its turn at the talent available, most had been taken. Rather than pick from the remains of the batch, the company chose to walk out. That shouldn't surprise anyone who knows the dynamics of the campus-placement market.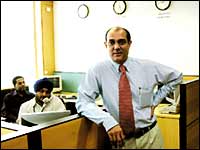 Pradeep Mukerjee
Country Human Resources Director/Citigroup India
Went to over 40 B-schools and recruited close to 260 MBAs across Citigroup organisations; Mukherjee's department is very busy during campus-season; they have to find people for the group's multiple businesses in India; like Citi, we are told, they rarely sleep
At most good B-schools, demand outstrips supply. These schools, recruiters agree, produce just the kind of managers they need. "A pragmatic change in syllabus (at most schools) has made it more in sync with industry," says Pawan Bhatia, Head, hr, Pepsi India. "Corporates are (thus) keen to tap the talent available." Some schools try and make things better by imposing constraints on students (at IIM, Ahmedabad, for instance, the maximum number of offers a student can receive is two). Still, at the better B-schools, all slots on Day 0 (the first day of the placement season) are occupied by consulting firms and I-banks. "Students perceive the investment banking job as a better utilisation of talent and also value the (opportunities for) interaction with their counterparts from international business schools (that such jobs promise)," says Bakul Dholakia, Director, IIM, Ahmedabad.
One fallout of this is the very invention of the term Day 0; thought up by IIM, Ahmedabad in 1997, this was effectively a way to tell Day 1 companies that they were no longer the most preferred on campus without having to relegate them to the Day 2 classification (whether a company is Day 0, or Day 1, or 2 is decided by the students). Another is that companies in areas other than investment banking and consulting have had to think out of the box. For instance, HLL and Pepsi focus on the phenomenon of the local operations increasingly becoming integrated with the global one, and the possibility of a global career. When it comes to getting the best management talent around, there are no full stops.