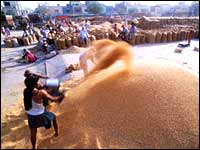 Piling it up: Multiple state-level taxes end up hurting the poor farmers
Did you know that oil seeds in Gujarat, raw cashew nuts in Kerala, or cotton from Maharashtra can be exported, but not sold outside their own state in India? Bizarre, but true (the restrictions stem from the Essential Commodities Act of 1995). That's just one example of how India, despite talking of globalisation, isn't one market even domestically. Says Subir Gokarn, Chief Economist at rating agency CRISIL: "Instead of signing free trade agreements (FTAs) with foreign countries, the government should probably sign FTAs with the states in India." Compounding such restrictions, which sprang in the scarcity days of post-Independence, are the various fiscal barriers erected by the states. "The imposition of sales tax, central sales tax (CST) and octroi/entry tax with the sole intention of raising greater revenue has put paid to any hope for a common market as well as (hopes of)... economic efficiency and resource allocation," says a recent paper prepared by NCAER for the World Bank. For instance, the imposition of a 4 per cent CST on every inter-state sale has helped exporting states gain at the expense of the consuming states. "It has also forced manufacturers to open stock depots and warehouses in various states to sell their products and thus camouflage inter-state sales as consignment/stock transfer," adds the report.
Similarly, octroi-imposed on entry of goods into a local area for consumption-has also been a big impediment to the formation of a common Indian market.
The imposition of a value-added tax (VAT) on April 1, 2005, has gone a long way in demolishing the tariff barriers. But to really make the tax system neutral for domestic trade and move towards a free market regime, there is also a need to do away with CST as well as octroi-the remaining elements of cascading and economic distortions in domestic trade. Until then, exporting raw cashews to Dubai may be easier than shipping them to Delhi.
---
GLAM
In Planet Hollywood's Orbit
Want to eat the chicken crunch that Demi Moore prefers, or check out the banana strudel as made by Arnold Schwarzenegger's mother? Just wait until the middle of next year, when you'll find both the items and more on Planet Hollywood's menu at its first Indian restaurant in Mumbai. Yes, the "eatertainment" chain, originally promoted by Hollywood stars such as Bruce Willis and Sylvester Stallone, is being brought to India by Arch Millennium Corp., whose promoter Atul Bisaria is said to be the chain's biggest franchisee in the us. Bisaria plans to open five Planet Hollywoods in India (including Mumbai, Delhi, Bangalore and either of the city pairs of Chennai and Hyderabad or Goa and Kolkata) by 2010. Planned investment: $15 million (Rs 66 crore). Planet Hollywood has been a disaster in the US. Let's see if the Indian Hollywood fans think any differently of it.
---
Rush Hour 3
Automotive companies scramble to add capacities.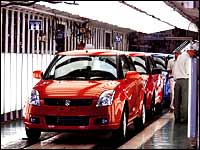 Suzuki Swift: Can Maruti roll out enough of 'em?
The Suzuki Swift may be the hottest car on the road today, but Maruti Udyog is keeping its fingers crossed. No, not because it's worried about the sleek hatchback not meeting its numbers. Rather, the fear is just the opposite: That the demand will exceed Maruti's estimations and its production lines, already running to full capacity, will not be able to match up. Incredible as it may sound, running out of capacity is fear Number One in Motown. "We are already working three shifts, and capacity is being enhanced from 30,000 to 50,000 later this year," says Neeraj Garg, AGM (Marketing) at Honda Siel Motors, whose cab-forward City is still doing brisk business 18 months into its launch. Both Hyundai and Maruti are setting up new plants to boost production capacities, while Toyota is talking of a new one up north.
It's the same story in two-wheelers. Motorcycles giant Hero Honda admits that the demand for some of their mobikes like Splendor and Passion is so heavy that they have built up a backlog of orders, resulting in a week's waiting period in certain markets. It's planning to set up a third plant with a capacity of at least a million bikes a year. Bajaj, TVs and Honda Motorcycle & Scooter India (HMSI) are all pumping up production.
Why are the automakers in overdrive? Blame it on booming demand. Last year, the demand for cars surged 17.6 per cent, and assuming the market grows only at 15 per cent over the next three years, the segment should be 1.6 million units-big by 2008. Add to that another half-a-million in exports, and you begin to understand the rush. In two-wheelers too, the demand could surpass the 10-million mark well before the anticipated deadline of 2010. Says Yukihiro Aoshima, MD, HMSI: "Indian two-wheeler sales are going to continue to grow; it will become a larger market than China." But with every round of capacity expansion comes the risk of a slump and the consequent price war. China has already been through one in the recent past, and all it would take in India is a dip in consumer confidence. Says Jagdish Khattar, MD, Maruti Udyog: "I wonder if carmakers want to repeat China's mistake." But in a booming market, complacency can be a big strategic mistake.
---
The market for personal computers (PCs) jumped 29 per cent in 2004-05 over the previous year. According to research agency IDC, 3.6 million PCs (both commercial and consumer) were sold, compared to 2.70 million in 2003-04. HCL Infosystems led the desktop market last year with shipments of more than 475,000 units of which 133,212 were consumer PCs (see above). HP (despite its troubles back in California) topped the notebook pc market, shipping in excess of 75,000 units. Significantly, in the consumer desktop market, the share of unbranded PCs has come down from 81 per cent in 2003 to 60.5 per cent in 2004. As per the industry estimate, the pc market could expand by 30 per cent this year. The share of grey market PCs is expected to drop further. Make way for the branded PCs, gentlemen.
---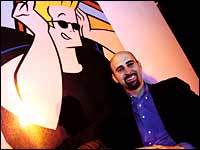 As the senior vice president of cartoon Network Enterprises (CNE), John Friend is responsible for growing parent CNE's merchandise business. On a recent visit to India, Friend explained to BT's Shailesh Dobhal why the country excites him.
On defining CNE's business: Depending on how ambitious you want to be, you can call it either the in-life or on-shelf business. CNE is the real-world manifestation of the Cartoon Network brand and its individual (show) brands.
On how the parent company views CNE: We sit very nicely in the middle. CNE is about both building brands and building business. The success in either one helps build more sustainable business in the other.
On the merchandising strategy for India: We're not in the business of logo slapping. We are in the business of brand building. Initially, we're starting here with a focussed group of just seven licencees. We create the property, we are responsible for understanding what makes a TV show into a brand and we provide the creative material. We don't know about manufacturing, we're not a distribution company and we depend on our partners (franchisees) to provide those factors to the business.
---
Bangalore's New Hotels
At last, more rooms for the harried city visitor.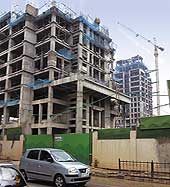 Visiting Bangalore: Wait till this comes up
Want a room in one of Bangalore's star hotels? Better make the booking at least 30 days in advance. Still can't find one; try persuading Infosys, which was forced to build a 500-room hotel-like facility to overcome the crunch, to let you have one. Also, don't expect to get any early-bird concessions. There's nothing like that in a city where room rates at a five-star hotel are upwards of Rs 8,000-10,000-not too far from the $500-600 (Rs 22,000-26,100) you pay for a comparable room in New York. Finally, there's some good news coming the way of Bangalore's harried visitor. Over the next two-to-three years, 3,500 rooms will get added to the existing 1,800 in the five- and four-star categories. International players like Marriott, Shangri-La, Hilton and Carlson, which didn't have a presence in the city, are making a beeline. Says Chander Baljee, Managing Director of the Royal Orchid Group of hotels: "It was inevitable given the boom (in traffic)."
Baljee himself is looking at raising Rs 100 crore through a public issue to fund his expansion plans within and outside Bangalore. The other chains have tied up with big real-estate players like Adarsh (the partner is Shangri-La Hotels and Resorts,) Prestige Group (with Radisson and Hilton for different properties), Purvankara, Sobha and Brigade Group, while some private builders are planning independent hotels. All told, an estimated Rs 4,500-6,000 crore will get invested in building new rooms and hotels in the city. Will the new capacity lead to a glut? Not at all, says a leading builder: "Given the kind of potential that Bangalore has, there is enough of both business and ordinary tourists coming in. We can't have enough room for everybody." Visitors to the city couldn't agree more.