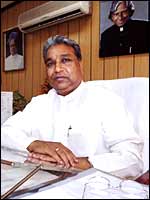 "How can the government intervene (in the Ambani war)? It is a family issue"
After having been a mere bystander in the ongoing Reliance wrangle, the government finally directed the Registrar of Companies (roc) last month to probe into the charges levelled against Reliance Industries by its Vice Chairman & MD and Rajya Sabha mp, Anil Ambani. Days before the roc was supposed to submit its so-called report, BT's Swati Prasad spoke to Company Affairs Minister, P.C. Gupta, on the controversy. Excerpts:
Komal Anand, Company Affairs secretary, recently told the media that the Registrar of Companies would issue a notice to the Reliance Group by the month-end. So is RoC sending a notice to Reliance?
No, we are not issuing any notice to Reliance. Notices are not issued just like that. Anil Ambani has met me three times. He told me that certain financial information and disclosures were missing in Reliance. We checked with the roc of Ahmedabad and Mumbai. We found no basis to his allegations. We have told him that he can pay the fee and inspect the files himself.
When did you last receive a complaint from Anil Ambani?
He approached us two weeks back with a fresh complaint.
What is the latest issue he has raised?
I have not seen his latest complaint myself. It was addressed to the Secretary.
What's your view on the tussle between the two brothers?
The Reliance Group contributes 3.5 to 4 per cent of the GDP through its turnover. So many investors are involved. This sort of fight does not help anybody. It is detrimental to the interests of the shareholders and the country at large. Reliance has the largest number of small investors. Some people have put their entire savings into Reliance. The brothers should resolve the issue amongst themselves. It is in the interest of the two brothers, the country and the shareholders of Reliance to resolve this fight.
If the fight between the brothers is so detrimental, will you or any other representative of the government intervene or play peacemaker?
How can the government intervene? It is a family issue. I meet Anil Ambani because he is my colleague in Parliament and a friend.
Have you met Mukesh Ambani also over the issue?
Yes. He has also come to me over the same issue.
---
DEAL
The Taj Checks In At The Pierre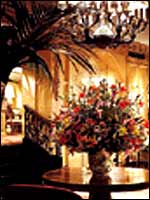 The Pierre: Enjoy Indian hospitality in the US
On June 9, the top brass from the Indian Hotels will meet up with the cooperative board that owns the properties that house the luxurious Pierre hotel in mid-town Manhattan, New York, to ink the final elements of a $45-million (Rs 198-crore), 30-year lease that will return the Tatas to New York (they exited the city's Lexington Hotel a few years ago). If all goes well, from July 1, 2005, the Indian tri-colour will fly atop the entrance, replacing the Canadian flag put up by their predecessor, Four Seasons. "It is a landmark transaction for us," preens R.K. Krishnakumar, Chairman, Indian Hotels, who spearheaded the bid.
---
The BT 50 Index
News of disinvestment perks up market sentiments.
As expected, the central government's pro-reform noises (the BHEL divestment is just one among that) after the Budget session pushed the market to higher levels. The bt 50 has moved up by 5.71 points (2.30 per cent). The onset of the monsoon (though delayed) in the Andaman & Nicobar Islands also helped the rural-focussed FMCG sector (BT FMCG moved up by 3.74 per cent). But high oil prices, which climbed back to $52 or Rs 2,288 per barrel, are still threatening the present rally.
Our flagship free float methodology-based index-BT 50-has completed two years now. The free float methodology has several advantages: first, it considers only the value of stocks freely available in the market (after excluding the part held by promoters and other strategic investors) and the weightage assigned to individual shares is more representative than the market capitalisation-based methodology; second, it takes care of the perpetual selection dilemma regarding closely-held companies. For instance, the inclusion of these companies may distort the index based on total market capitalisation methodology, but dropping them altogether may reduce its representative character. The free float methodology facilitates inclusion of large closely-held companies but assigns them a lesser weightage. After the success of our broad market free float index (that the Sensex subsequently decided to adopt this is testimony to the efficacy of the free float method), we decided to launch sector indices using the same method. While the general index captures the overall movements (covering several sectors), sector indices capture the movements in individual sectors. All these indices have a common base period (January 1, 2002). The weightages are reassigned every quarter after companies declare their ownership details. The base value of all BT indices is 100.
---
CORPORATE
Electrolux's Coming Chill
Is Swedish appliance major Electrolux exiting India?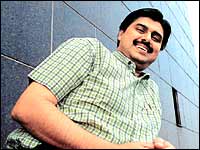 EKL's Karwal: Fate of both the firm and Karwal hangs in limbo
It's the most curious case of corporate restructuring in recent times. The market is abuzz with rumours that Swedish white goods major AB Electrolux (ABE) is selling its loss-making Indian subsidiary, Electrolux Kelvinator India (EKL), and exiting India. But everyone involved seems to be in a denial mode. Says Anders Edholm, Vice President, Communications, at the Stockholm-based ABE: "Electrolux is not exiting India." He adds in the same breath: "But we need to continue reviewing the business in terms of restructuring efforts, strategic options, etc." Whatever that means.
The grapevine says Videocon Appliances is just days away from signing a deal to take over EKL's three factories in India. (This, at the time this magazine goes to print). The pact, negotiated by Ambit Finance, reportedly includes a licensing deal whereby Videocon will sell Electrolux-branded appliances in India. But Videocon Group Chairman Venugopal Dhoot denies this. "So far, they (ABE) have not approached us," he says. Other names, like the Dubai-based Jumbo Electronics and Godrej Appliances were also floating around.
Meanwhile, EKL seems to be on the path to recovery. Losses have declined from Rs 226.31 crore in 2003 to Rs 117.75 crore in 2004 to a mere Rs 14.56 crore in January-March 2005. The company seems well on its way to break even by next year. Sales are also up. So, what really prompted this radical decision to sell out when things are looking brighter?
Last year, ABE itself went through a restructuring whereby it decided to hive off its small, but highly-profitable, outdoor business into a separate company. Following this, pressure started mounting on its bigger indoor appliances business-which has net margins of 2 per cent compared to double-digit margins in the outdoor business-to quickly show results. In the new order of things at ABE, the still loss-making EKL suddenly became an orphan, says a market source.
ABE even reportedly explored a management buy-out option for EKL earlier this year (ABE refused to comment on it). Nothing came of it. Rajeev Karwal, Managing Director of EKL, was reportedly offered a position within ABE elsewhere, but he turned it down. As BT goes to press, the fate of EKL, as well as Karwal, remains unknown. Given the buoyant state of the consumer markets in India, the exit of a big global player like Electrolux, if it does come about, will indeed be a pity.
---
POW-WOW
The Fight For Swaraj Mazda
The battle for Swaraj Mazda seems to be drawing to a close, with parent Punjab Tractors Ltd (PTL) deciding to offload 15 per cent of its stake to minority shareholder Sumitomo Corporation. According to sources, Sumitomo is said to have matched private equity investor Actis' recent open offer of Rs 400 per share. Actis had acquired a stake in PTL in July 2003 and, subsequently, got an 8 per cent stake in LCV manufacturer, Swaraj Mazda. It had been opposing Sumitomo's move to increase its stake. At Rs 400 a share, Sumitomo's additional 15 per cent stake will cost Rs 62.92 crore. It will be interesting to see what Actis does with its shares in Swaraj Mazda.
---
Q&A
"There Is No Division At Sahara"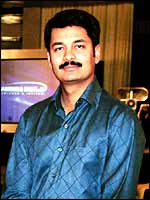 Sushanto Roy, the elder son of Subrata Roy, 57, breaks his silence and speaks to BT's Kumarkaushalam on reports of his father's ill health and succession planning at the Sahara business empire. Excerpts:
Is there any substance to the rumours regarding your father's ill health?
He has had high blood pressure earlier too. One (major) scare was 10-12 years ago, and the recent one six months ago. This time, he is trying to find a permanent solution. He is just relaxing. He is waiting for a few more weeks-say, three weeks-to resume his normal life. But it will not be as erratic as it used to be. It will be much more regimented. He has worked like crazy for the past 20 years. He's fatigued because of his erratic schedules in the past. I think he has now understood that he needs to take it easy.
What's his daily schedule like now?
Dad gets up at 7.30-8.00 a.m., practises yoga for around an hour, and then takes a 30-45-minute stroll within our Sahara Shahar (the family home). But in the middle of all this, he spends three-to-four hours giving strategic direction to our businesses, and meeting with the top eight or 10 group executives. I suppose he's also getting his Hindi book (Shanti Sukh Santooshti) translated.

Is the succession plan in place?
There is no formal division between me (30) and my younger brother Seemanto (28). The focus of the group-and dad's-is on the township projects (to build 8.5 lakh houses in 217 cities in 10 years with a sale value of Rs 1,75,000 crore). And for the last 18 months, I have been involved in this. Media and entertainment business is with professionals; para-banking is under director O.P. Srivastava and dad, while Seemanto has shown interest in aviation recently, besides managing Amby Valley for the last 18 months. All I can say at this time is that talk of a succession plan is just speculation because of his health.
---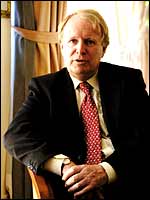 Allergan's Pyott: No creases
You-and yesterday's eye candy-know it as Botox, but to most folks at the $2.05-billion or Rs 9,020-crore American speciality pharmaceuticals major, Allergan, Botulinum toxin type A would sound as familiar. But, contrary to Page 3-driven perception, Botox isn't only about ironing out facial creases and other telltale signs of impermanence. Way back in the 1960s, this toxin was investigated not for its cosmetic properties but for its ability to realign cross eyes! However, it was only in the early 2000s that Allergan was able to take the cosmetic benefits of Botox to market, and today the cosmetic variety accounts for roughly 40 per cent of Botox's $705-million(Rs 3,102-crore) sales. Allergan now plans to formally market Botox in India. "The market for Botox is very underdeveloped here, and we see great potential for the cosmetic variety. After all, the desire to look good is universal, be it in Hollywood or in Bollywood," points out David E.I. Pyott, Chairman, President and CEO of Allergan. That's good news for those looking to tuck in those lines and folds.