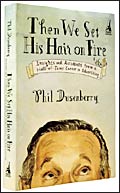 THEN WE SET HIS HAIR ON FIRE
Phil Dusenberry
Penguin Portfolio
PP: 290
Price: Rs 425
Then we set his hair on fire is not an academician's guide on what works and what doesn't in advertising. Coming from the pen of an ad veteran, the book is essentially a practitioner's handbook on where the winning ideas come from. The book is largely a personal memoir where the author, Phil Dusenberry, who started his career in 1962 as a copywriter in BBDO and finally rose to be its Chairman and CEO of North America, takes a walk through the 40 years spent in the agency and the profession. So is it all about the pitches Dusenberry won and the taglines he created? No. The book also talks about good and bad advertising but in an informal and unfussy way. Lessons on rights and wrongs come in, but they come in quite casually as he talks about his experiences with clients, colleagues and projects. And that is what makes the book quite readable.
Dusenberry, who is credited with some of the most celebrated ad slogans for companies like GE (We Bring Good Things To Life; endured from 1979 to 2003), Visa (It's Everywhere You Want To Be) and Gillette (The Best A Man Can Get), starts with challenging the premise that ideas are paramount in creative business. His argument is that it is not ideas, but insights that are more important. Ideas, he says, can inspire a great commercial but "a good insight can fuel a thousand ideas, a thousand commercials". He builds his case by sharing experiences with GE, Visa, FedEx, Pepsi and Ronald Reagan.
Dusenberry maintains that a scientific approach in going about the business is a prerequisite, but one's own intuitions are more helpful. And sometimes, even unintended consequences yield unexpected results. According to him, the simple linear matrix of research, analysis, insight, strategy and execution, followed by most agencies, doesn't work. "... because you can't predict when you'll capture lightning in a bottle and even if you do, you can't guarantee that the client will be smart enough to recognise the lightning when he sees it".
To elucidate this, he narrates an accident that occurred during the shooting of a TV commercial for Pepsi featuring Michael Jackson. Jackson's hair caught fire on the sets (and that's where the book draws its title from). Pepsi executives were worried that it would lead to negative publicity, but on the contrary the accident became the most covered event on TV and in press and Pepsi got coverage worth $13 million for no cost.
If not for some extremely insightful lessons on advertising, it makes a good reading for such incidents and accidents that Dusenberry recounts through the book.
---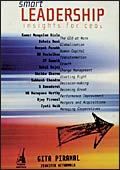 INSIGHTS FOR CEOS
Gita Piramal with Jennifer
Netarwala
Penguin Portfolio
PP: 207
Price: Rs 325
SMART LEADERSHIP
CEO autobiographies usually end up being best-sellers in the publishing business. Know why? Because just about every executive wants to know the secret sauce that makes a successful CEO. So, be it Jack Welch's Straight from the Gut, or Louis Gerstner's Who Says Elephants Can't Dance?, such books debut to a ready audience. In India, we don't have too many CEO autobiographies or biographies (those of M.S. Oberoi and H.P. Nanda are the only two top of mind), so Gita Piramal's Smart Leadership is an effort to fill a large void. The good part about her book, though, is that it doesn't feature just one CEO but a dozen, including heavyweights like Kumar Mangalam Birla, Rahul Bajaj, N.R. Narayana Murthy, Deepak Parekh and S. Ramadorai. The topics range from globalisation and human capital to change management and greatness. In her introduction to the book, Piramal says that two questions have always bothered her: "What makes leaders special, and why are there so few world-class companies in India?". Smart Leadership at least partly answers those questions.