There's a new theme doing the rounds of Bombay House, the headquarters of the Rs 80,000-crore Tata Group, India's best-known business house. The strange thing is, the theme has nothing to do with the three largest companies in the group, truck and car maker Tata Motors, Tata Steel and it major Tata Consultancy Services. Nor does it have anything to do with companies such as Indian Hotels (it runs the Taj Group of luxury hotels and resorts), Tata Tea (which owns the Tetley brand), or Tata Teleservices. It doesn't even concern Trent, the group's foray in the area of organised retail, the next big thing in terms of opportunities in India, according to most analysts.
Mid-six is the term that has been coined to articulate this theme and it is based on a simple premise. A group with 90 companies-that's how many make up the Tata Group-will have some very large and very valuable (from the point of view of market capitalisation) ones, some other high-profile ones, but it will also have some companies that are low profile, consistent in terms of performance and that have what it takes to grow into large corporations over time.
"The entrepreneurial instinct is not restricted to just a couple of people in the group," says R. Gopalakrishnan, Executive Director, Tata Sons, explaining the philosophy of the Mid-six theme. There's more than just that philosophy behind the logic of creating the Mid-six; there is the cold hard rationale of numbers. Over the last four years, the three biggies in the Tata Group have grown by a multiple of two. The corresponding number for the Mid-six-the list comprises Tata Chemicals, Rallis, Voltas, Tata Metaliks, Titan and Tata Elxsi-is 1.6. The group believes that this number could be higher in the coming years, which explains all the talk doing the rounds about the Mid-six.

"The entrepreneurial instinct is not restricted to just a couple of people in the group"


R. Gopalakrishnan
Executive Director/ Tata Sons

"In retrospect, one of the decisive things was to get into international markets where we are now doing very well"


Bijou Kurien
COO (Watches)/Titan
The Second Wave
If there is a common thread that runs through the six companies, other than the fact that their size would put them in Tier-II, if all companies in the group were to be arrayed thus, it is the fact that almost all of them have global aspirations. That's only in keeping with the Tata Group's larger global strategy. From Tata Motors to Tata Steel to Tata Tea, almost every large company in the group believes that it has what it takes to compete in the global market. "If you ask me where my market is, I will just say that we are present in just 35 per cent of the global tea market," says Percy Siganporia, Managing Director, Tata Tea, reflecting that philosophy. Tata Tea signalled its desire to go global with the 2000-acquisition of the Tetley brand; Tata Steel acquired the steel business of Singapore's Nat Steel in 2004; and Tata Motors bought Daewoo's truck business in 2004. Even smaller companies in the Tata Group have followed suit. Earlier this year, Tata Interactive Systems (not part of the Mid-six, and a smaller company in the group), an early mover in the e-learning space, acquired two companies, Switzerland-based Tertia Edusoft AG and Germany's Tertia Edusoft GMBH. "We will grow by 30-35 per cent over the next few years," says Sanjaya Sharma, CEO, Tata Interactive, "and this could touch 40 per cent with inorganic growth." The overseas emphasis makes sense because, as Sharma points out, "only a small proportion" of the company's revenues "comes from India".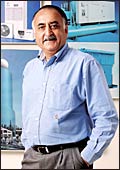 "Dubai was the most challenging market. In the process we have moved to other neighbouring countries"
Ashok Soni

Managing Director/Voltas
The Mid-six have embarked on a similar journey now. Tata Chemicals has announced that it will buy a 60 per cent-plus stake in the UK-based Brunner Mond for $508 million (Rs 2,286 crore). This will make the company the third largest producer of soda ash in the world and give it a toehold in the European market. And this is the company's second acquisition; in 2005, it acquired a 33 per cent stake in Morocco-based IMACID (the company owns rock phosphate mines and this deal will assure Tata Chemicals a steady supply of phosphoric acid). Rallis India is looking to deepen its presence in the overseas markets it is already in and explore newer markets. The thing about going global is that it costs money (apart from the fact that the company doing so needs to be globally competitive), but the Mid-six are sure they can handle that. "Going overseas is not inexpensive," admits V.S. Sohoni, Managing Director, Rallis India, "and we will have to ensure that our growth rates here are faster compared to what we register in domestic markets." To Ashok Soni, Voltas' Managing Director, going overseas is a key part of his company's agenda, though he explains that while Voltas is alright on the competitiveness factor, adherence to timelines is most critical. "For instance, Dubai was the most challenging market, though we have managed to do well now. In the process, we have moved to other neighbouring countries," he states. Even then, competing in the global market is an entirely different ball game. Titan Industries, for instance, has held its own, in the face of competition from global biggies on the one hand, and cheap Chinese rip-offs on the other. It has also parlayed its design skills into a range of accessories. However, it hasn't exactly been a cakewalk for the company in overseas markets. Titan Industries' Chief Operating Officer (Watches) Bijou Kurien admits that the foray into the international markets was not easy to start with, though there were learnings along the way. "In retrospect, one of the decisive things was to get into the international markets where we are now doing very well," he explains.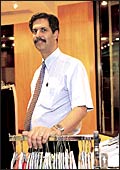 Trent's Noel Tata: Heir apparent
TRAINING GROUND
In a group replete with low-profile CEOs, Noel Tata must surely rank as the most low profile of them all. Which is ironical because he runs Trent, the group's retail business, which is widely seen as a possible next big thing. Tata was appointed on the boards of Voltas and Titan (two of the Mid-six companies) in 2003. There has been some degree of unanimity among analysts and the media (and almost everyone except those associated with the Tata Group) that the man is being groomed for bigger things. Tata, whose father-in-law Shapoorji Pallonji Mistry is the single largest shareholder in Tata Sons, did not respond to BT's request for an interview.
Mid-six To Super-six
Most of the Mid-six companies have had to reinvent themselves to turn profitable or grow or both. "The Rs 107-crore loss we made in 2002-03 changed the way we looked at our business," admits Sohoni. And they are part of a group that, as Gopalakrishnan puts it, while not putting down a one-size-fits-all "strategy for all our mid-sized companies" has "created an ecology where it is important for an organisation to grow and renew (itself)".
Do the Mid-six companies have the potential to grow into companies such as Tata Steel and Tata Motors? That may take some doing, but some of them do seem to have what it takes to become large, profitable entities. According to Ambareesh Baliga, Vice President, Karvy Stock Broking, Voltas is a good story since the capital goods sector is on the growth path. "Besides, the company has an international focus and a good order book position. The next 24 months will be good for the company," he opines. But what of the Mid-six at large? "From the Mid-six that have been identified, Titan clearly stands out. It has managed to move on from being a watch manufacturer and has now got into jewellery. The company is in a position to capitalise on its retail set-up," points out R. Sreesankar, Head of Research, IL&Fs Investsmart. Tata Chemicals, he adds, will gain from its presence in the float glass segment since it will benefit from the boom in sectors like automobiles. It just may be a good idea to keep an eye on these six. Coincidentally, Noel Tata, who could one day inherit the reins of the Tata Group from half-brother Ratan Tata, is on the board of two of the companies, Titan and Voltas. That's interesting.