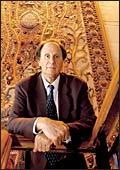 In 1983, when David Bonderman joined Texas billionaire Robert M. Bass as his investment advisor, he was a partner in the Washington D.C.-based law firm Arnold & Porter and the only investing experience he had was in real estate. But evidently Bass, founding member of the Oak Hill family of investment funds and who now manages another investment firm called Keystone Inc., had an eye for talent. After 10 successful years at Bass group, Bonderman teamed up with James Coulter and William Price to set up his own private equity firm, Texas Pacific Group. Today, TPG and its affiliates-including its Asian arm, Newbridge Capital-manage more than $20 billion (Rs 90,000 crore) in funds. Their portfolio of about 60 companies includes firms like J. Crew, Burger King, Ryanair, and Seagate Technologies, with combined revenues of $65 billion (Rs 2,92,500 crore) and headcount of 550,000 people in more than 120 countries. In India, TPG invests through Newbridge, which recently invested $100 million (Rs 450 crore) in the Chennai-based Shriram Holdings. Earlier, Newbridge along with Temasek, had invested more than Rs 600 crore in the Hyderabad-based Matrix Laboratories. In India recently and accompanied by Richard Blum of Blum Capital Partners, the low-profile Bonderman, 63, spoke with BT's R. Sridharan about his business and himself. Excerpts:
According to some estimates, a staggering $47 billion (Rs 2,11,500 crore) was raised last year in private equity funds for Asia, and half of that is expected to go to China and India. Isn't that too much money?
I've heard that number too, but I don't think it is accurate. There's no denying that there is a lot of interest in the region, but the number seems vastly inflated.

What in your estimate is a more accurate number?
I am not sure I know the answer to that question. If you include strategic investments in Asia-which I don't, because it tends to include companies investing in plants and materials-I have a high number. But my sense is only $80 billion (Rs 3,60,000 crore) was raised worldwide last year in private equity, and clearly not more than half of it could be for Asia-it's not possible. If you look at the deals that were done, 50 per cent of the deals were in the US, 25-30 per cent in Europe, and about 15 per cent in Asia.
But if you look at the top three funds, including yours, that closed last year, they alone raised about $4.5 billion (Rs 20,250 crore)...
Yeah, that's right.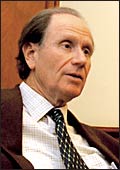 "India has a lot of advantages. People are smart and hardworking, but the infrastructure is quite lousy"
...So, even if the estimates are off by a few billion dollars, that's still a lot of money chasing the region.
You get that question everywhere and not just about Asia. Clearly, there's a lot of money, but if you think about private equity, it's really a very small piece of the overall investment pie. There are now about 130 firms that have a billion dollars and more in fund worldwide-that's $300 billion (Rs 1,350,000 crore) in funds. That's roughly the market cap of Microsoft. So if you think of private equity, it's a relatively insignificant number compared to the overall size of the markets.
Last year was when the big guns of private equity, including Blackstone and Carlyle, came into India. But they haven't managed to do any big deals. Even Newbridge, which has been here longer than Blackstone or Carlyle, hasn't done too many deals. Obviously, the market isn't ripe for the $100-million deals you guys like doing.
If you think about the Indian market in particular, there are differences from many other places. First of all, the Indian government seems to be in two minds as to whether it wants to encourage foreign investment or not. You have industries like retail, where foreign investment isn't permitted (Editor's note: This interview took place before the government allowed 51 per cent FDI in the case of single-brand retailers) and industries like banking, where it is permitted but only up to 10 per cent (Editor's note: In public sector banks). If you go to almost any other country in the world, they don't have those restrictions. That does keep down the size of deals. The other thing is that since most of the Indian groups are family-controlled, there isn't really the same opportunity to do full buyouts that you might see elsewhere. As a result, you are going to see more investments like what we did in Matrix (Laboratories) or some other guys (Warburg Pincus) did in Bharti (Tele-Ventures), where you take a piece of the company. But that does keep the size of the investment small. But this market is very new, and very mature. So, I think that will change over time.
In the interim, what's your strategy going to be? Would TPG be interested in funding global acquisitions by Indian companies? Perhaps, partner with family-controlled groups to help them acquire companies larger than themselves?
I think that's one of the things that private equity people in general do well-and certainly we do. If you look at the deal we did with Lenovo in China, it was exactly the kind of deal you are talking about. (Editor's note: Last year, Lenovo raised $350 million or Rs 1,575 crore in private equity from TPG, General Atlantic and Newbridge Capital to partly fund its purchase of IBM's pc business.)
Does Newbridge or TPG have any such deals in the pipeline in India?
I would expect so...obviously I am not going to comment on what they might be. But yes, there would be deals like that.

You raised $1.5 billion for Asia, and obviously the fund will invest in India too. What sectors are you looking at?
We always look at a number of sectors, and it varies from time to time and place to place, because the strengths of different economies are very different. If we are investing in China, for example, we would probably invest in something quite different than in India. India has a lot of advantages, but some handicaps. There's a lot of smart, hard-working English-speaking people, which is why you see the growth of knowledge business here. But the infrastructure is actually quite lousy. You go to China, it's somewhat the other way round. They have very good infrastructure, but English is a second, third or fourth language. While they are smart and work hard, it is not the same cultural affinity. So, the result is in China lots of investment by people like ourselves is in hard goods...things that can be shipped, computers, what have you...which take advantage of the infrastructure. Come to India, most of the very successful businesses are things that can be exported by using intellectual capital...over the phone system or the satellite system.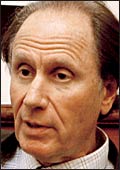 "Most of the Indian groups are family-controlled. So, there isn't really the opportunity to do full buyouts"
With so much money coming into India, every PE firm is scrambling to staff up and valuations are going up. Do you see funds making the kind of returns their investors expect?
It's certainly the case that valuations have gone up. It's certainly the case that it's not a huge market, and we haven't seen tons of deals being done by foreign private equity firms. As the market matures, we'll see more opportunities. It's going to be a small market for a while. The advantage that big funds like TPG, Carlyle and Blackstone have is that we don't have to invest in India. We are available to invest in India, we think India is doing well and it's a place we'd like to invest in, but if there are not opportunities or if we think the pricing is wrong, we'll invest in China, Japan or Indonesia.
You hired Vivek Paul (from Wipro) last year. What's his brief?
Vivek, who joined us as a senior partner, has three briefs simultaneously. First of all, he's a partner in TPG Ventures, our venture capital firm, and he has co-lead responsibilities for originating most kinds of consumer-oriented venture capital (deals). Second thing is that he certainly knows his way around here and is a respected figure in India, and accordingly, we would hope and expect that he would spend some of his time working with companies in India, investments in India, along with his colleagues and others. Third, as former CEO of Wipro, he knows a lot about running businesses, and particularly about outsourcing. So, we would expect him to spend some of his brief in places that are not India at all, but which need the business strengths he's got from his previous experience.
How active do you expect the big firms like yours, Blackstone and Carlyle to be in India?
Well, it's early days in India. If India continues to have its economy perform well, and if the government pursues reforms and the infrastructure gets better, I think there will be lots of enthusiasm (about India). India is the flavour of the month at the moment, but it will not be the flavour of the month at all times.
Why does the private equity industry need to be so secretive?
I wouldn't say we are very secretive, but these are private firms, and look around in India at any of the private firms...they are in the papers, but they don't publish their accounts in newspapers. This is just another private business.
But it's a fact that you don't win too many friends in this business. If you look at what happened at Gate Gourmet (workers at this London-based catering company struck work over poor pay) or Portland General Electric (where TPG had to back off following public outcry over the deal mechanics)...all have been public battles for you.
Well, that happens occasionally, wouldn't say all (the time). We have investments in some 60 firms, and probably three of them have been in public eye, and usually for local political reasons. Most of those turn out fine. If you get in the political eye, you obviously have to deal with that, and which I think by and large is not something private equity firms do particularly well. Public firms are more used to that; they are in the public eye every day, they've got pr departments and private equity firms don't.
But do some people resent the fact that you guys make so much money? You yourself are said to have thrown a $10-million (Rs 45-crore) bash in Las Vegas on your 60th birthday in 2002.
First of all, you've got the facts all wrong. There was no such $10-million bash, but...
...Well, the figure gets quoted all over...
Don't believe what you read in the press all the time. Anyway, on a business level, most of what we do goes to the people who invest with us, like pension funds. So, the way the business model works is that 80 per cent of the profits go back to those who funded us. We should be proud of that. And obviously, people in our business who have done well have done well.
Richard Blum:
Himalayan Adventurer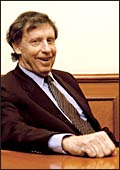 Moving mountains: Blum's foundation has built schools in Tibet and Nepal

Texas pacific group invests in Asia and India through Newbridge Capital, a joint venture between David Bonderman and Blum Capital Partners' Richard Blum. The two first met 20 years ago, when Bonderman was working with Robert Bass, but didn't set up Newbridge until 1994. Over the past 11 years, Newbridge has invested more than $2 billion (Rs 9,000 crore) in companies in Asia, including Japan Telecom, Korea First Bank, Lenovo, Matrix Laboratories, Raffles Hotel and Shenzhen Development Bank. But that's not the reason why Blum is a unique private equity investor. Rather, it's his deep interest in and commitment to the Himalayan region that sets him apart from other investors in Asia.

Blum, whose wife Dianne Feinstein is a Senator from California, first visited Asia as a backpacking student almost 50 years ago. He travelled from Bangkok to Kathmandu, where he hired a porter and walked all over Nepal for more than a month, "never saw another foreigner, fell in love with the people, and have been going back ever since". Blum has been coming back for both fun and serious work. An avid trekker and mountaineer, Blum led an expedition in 1981 to scale the Mt. Everest. Thanks to his popularity in Beijing, the Chinese government had allowed him access to the forbidden and more treacherous side of the mountain: its eastern face. Blum never managed to get to the top of the formidable mountain, but he managed to scale a peak adjacent to the Everest at 23,000 feet. "Since our expedition, nobody has led an expedition on the eastern face of the Everest," says Blum, 70.

The man is still a keen trekker (in May this year he plans to bring friend and former US President Jimmy Carter to "see Nepal and meet some movers and shakers in the region") and makes a trip to Nepal and Tibet "at least once a year", but his preoccupation increasingly is the American Himalayan Foundation. Founded in 1979, the Foundation has invested about $100 million (Rs 450 crore) in the region in projects ranging from healthcare to education to cultural preservation. Besides Carter, Bonderman, Edmund Hillary and Hollywood star Sharon Stone are directors of the foundation. Blum, who is deeply interested in Buddhism, is its Chairman. Most of Blum's projects are located in a remote and dirt-poor part of Tibet called Mustang, but there are plans for "brand new projects in Bhutan", says the man who never wants to be a billionaire. It is said that every time Blum's net worth is close to reaching that mark, he starts giving away money all over again. "Why does one need to be a billionaire? It doesn't mean anything," says Blum, who studied philosophy in Vienna.
On a more personal note, how did a former law professor go on to become a savvy private equity investor?
In my case, it was just an accident. When I got started in this business 25 years ago, there wasn't a (private equity) business. There was a grand total of two firms of any size-KKR (Kohlberg, Kravis & Roberts of the RJR Nabisco LBO fame) and Frostmann & Little in those days-and almost all of what you now consider private equity was much more like the situation you now have in India: most of it was owned by families. So, there was no career path, no such business. It was pure serendipity.
And when you struck out on your own, Continental Airlines was your first big deal.
No doubt. It did work out well, fortunately for us.
You seem to be a very modest and understated man, Mr Bonderman.
I don't know about that, but is that a question?
No, it's a statement.
Ok.
But you are also a man of paradoxes. Even assuming you didn't spend $10 million on your birthday bash, it must have been a nice party; you don't like being driven around in limousines, but fly around in your private jet; you have a 14,000-sq ft home on 900 acres in the middle of Aspen wildlife preserve, and yet you are an active supporter of wildlife. How do you manage these different facets of your personality?
I don't think these are different facets of personality, but different facets of life. I would counsel anybody who is in a position to actually do so to spend some time helping out the climate and fellow citizens. People have different interests, mine happen to be mainly environmental. But other people have other interests. And if you are going to be a well-rounded citizen of the world and contribute to the well-being of your friends and family, you ought to be doing something more than simply running your business.