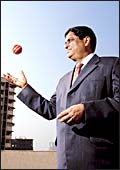 HDFC Bank's Puri: He has kept the ball rolling
In mid-1994, when economic liberalisation, as we know it today, was a gleam in Manmohan Singh's eye, somewhere in the Far East, the Head of Citibank Malaysia made a rather strange decision: Even as his banker buddies laughed at him, he began blueprinting a plan to set up a full-fledged private bank in India, an opportunity that had just opened up in a market dominated by the sheer physical presence and reach of public sector banks and the pinstriped haughtiness of their foreign counterparts. Even more bizarrely, the Citibanker decided to locate his headquarters in a grimy mill in the distinctly downmarket area of Lower Parel in central Mumbai. Having done that, he went about the unenviable task of trying to persuade people to work for him out of the mill. He succeeded in recruiting a snug team, but the rats and cockroaches crawling out at night wouldn't have boosted the confidence of most of the new recruits as they went about blueprinting a strategy for the new bank.
The ex-Citibanker in question is of course Aditya Puri, the bank is HDFC Bank, the location of the headquarters is still Lower Parel, but instead of a dusty mill, it's a spanking new building with a glass façade. And the strategy that was on the drawing board in 1994, has translated into results. And how! If HDFC Bank tops the list of India's Best Banks in this year's BT-KPMG study, it's for a variety of reasons. These range from low deposit costs, to high interest spreads, to a healthy interest margin (despite declining asset yields), to a low level of non-performing assets (NPAs).
WHAT MAKES
HDFC BANK THE BEST
» Deposit costs are amongst the lowest at 3.2 per cent
» Healthy interest margin at 3.9 per cent, despite declining asset yields
» Net NPAs at 0.22 per cent are amongst the lowest in the industry
» One of the highest interest spreads, at 3.20 per cent
» Leading player in third-party distribution like MFs and life policies
» Top three positioning in most major products in target segment
» Enjoys high price-earning multiple in the capital market
So, how did a motley bunch of low-profile bankers go about building from scratch one of India's most respected and best performing banks over the past decade (and somewhere down the line the bank got listed on the New York Stock Exchange in July 2001)? The way Puri saw it way back in the mid-90s, crucial to HDFC Bank's success would be a right mix of talent that would be able to give his bank a much-needed public sector feeling along with the refined customer culture of the foreign banks. You have to remember that when HDFC Bank started up, the state-owned banks ruled the roost in mobilising low-cost deposits, and offering advances to almost the entire corporate sector. What's more, those days the PSU banks had the branch reach, rupee resources and enduring customer relationships (they still do, but today they aren't the only ones); the foreign banks for their part boasted premium products and services. "We decided to have the best of both. We adopted the fund-raising capability of PSU banks and the service culture of foreign banks," says the 56-year-old Puri, sitting in his corner room, which is conspicuous by the absence of a pc (Puri doesn't carry a mobile phone too).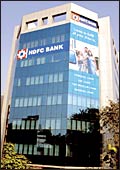 There's rich irony in that detail, when you consider what's really worked in Puri's favour is the dramatic change in the Indian banking landscape since the late 90s. As telcommunications and information technology converged, Indian banks suddenly found themselves at the front door of limitless possibilities. "Suddenly geography and large capital became irrelevant and with outsourcing taking off, banks found a great way to become more efficient," says Puri.
Those opportunities and efficiencies are amply evident in the bank's showing over the past decade. Since inception, HDFC Bank has emerged the country's second largest private sector bank, growing at a breakneck speed of 25-30 per cent annually. It closed fiscal 2005, with revenues of Rs 2,230 crore, net profits of Rs 665 crore and reserves of Rs 4,200 crore. It's maintained that momentum in the first half of the ongoing year, with both topline as well as bottom line growing at 30 per cent. The balance sheet size has touched Rs 67,623 crore as of December 2005, with a total deposit base of Rs 51,195 crore.
The pace of growth may be uniform, but that doesn't mean HDFC Bank has been following the same strategy all along since inception. In fact, initially the game plan was to raise low-cost deposits and deploy them with large triple A-rate corporates. Then the Indian consumer came on the scene. "Corporate lending was a high margin business then, but we slowly moved to other businesses, especially the retail segment," points out Puri. Today, HDFC Bank services over 8 million customers, and operates from 535-odd branches in 228 cities. Some 1,326 ATMs offers anytime, anywhere banking. And net banking as well as mobile banking are available for upwardly mobile customers.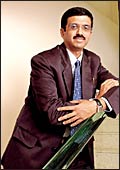 "Our corporate banking segment is growing at over 30 per cent with leadership amongst the private banks in products like cash management, supply chain financing and treasury"
Samir Bhatia

Country Head/
Corporate Banking
In true champion style, HDFC Bank figures amongst the top three in most of the vital product segments, right from auto loans, personal loans and credit cards, to commodities, foreign exchange and cash management. Comparisons with peers is inevitable, and on the interest spread front, for instance, HDFC Bank is right up there with a spread of 3.20 per cent; ICICI Bank has an interest spread of 1.80 per cent. The bank's net NPAs as a percentage of advances, at 0.22 per cent in March 2005, are the lowest in the industry. The capital adequacy ratio is very much in the comfort zone at 12.16 per cent.
It's been a fantastic ride so far for HDFC Bank, and it can only get better, what with the economy growing at over 7 per cent, 64 per cent of the country's GDP being consumption-based and most of those consumers under 30. "Now is the best time for the banks," grins Puri. "If I ask god to give me a better market than this, probably even he would find it difficult." With a chunk of the consumption happening outside the main metros, HDFC Bank is aggressively targeting towns and mini-cities. For instance, close to half of its two-wheeler and car business comes from the non-metros. As Puri sees it, the challenge is not to create a market but to reach it. As he points out, two-thirds of India's population has yet to partake of the good times. Sensing the huge potential, the bank is ready with products for the masses like jewellery loans, loans to shopkeepers, restaurants, warehouses, cold storages and other small establishments in the non-metro areas.
Puri points out that a large portion of India's savings is not coming into the banking system. Much of that chunk of savings is caught up in unproductive areas. "We are providing liquidity against jewellery in semi-urban and rural areas," adds the Chief Executive Officer. Puri also sees plenty of business coming from the agricultural hinterlands, which is why HDFC bank has launched its Kisan Gold Card for crop loans, and has ventured into equipment financing. Farmers are also being targeted for other loans. As Puri, who plans to take the Kisan Gold Card all over India, says: "We are trying to meet his (the farmer's) every need."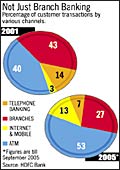 On the distribution side, the bank is tying up with post offices and cooperative banks to sell financial products in the urban and semi-urban areas. HDFC Bank also has plans to flag off a non-banking financial company (NBFC) to sell small-ticket loans upcountry.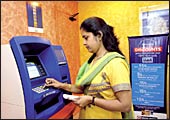 Cash in hand: With 1,326 ATMs, it's definitely anytime, anywhere banking
The focus on retail and the non-metros doesn't mean that corporate banking is getting short shrift at HDFC Bank. As Samir Bhatia, Country Head (Corporate Banking), explains: "Our corporate banking segment is growing at over 30 per cent with leadership amongst the private banks in products like cash management, supply chain financing and treasury." With regard to future growth, Puri isn't too kicked about the inorganic route-"it would be nice, but is not a necessity", is how he puts it-but he has plans to tap the non-resident Indian (NRI) population in international markets like Singapore, Hong Kong and London. The bank has already made its presence felt in the NRI segment in the US, the UK, the Middle East, Africa and the Far East.
Today, with 8 million customers in the bag, a market cap of $5.10 billion or Rs 22,950 crore, and the highest price-earning multiple amongst all Indian banks (34.5), Puri is in a position to put his feet up and relax. But don't expect to catch him doing that. "I'm more than satisfied today. There is nobody in the company with regret. We all worked like mad men. But when you are growing at over 30 per cent compounded there is hardly any time to sit and relax."