It's still a small, albeit high profile, niche within the country's technology space. But it's growing rapidly, at a double digit clip. The global market for mobile content is large-$78 billion (Rs 35,100 crore). And the Indian market, riding on 75.92 million mobile phone (both GSM and CDMA) users and counting, is expected to grow exponentially from its current Rs 400-crore base. Not surprisingly, the sector is throwing up a fair demand for jobs. "The hiring here is not done on a mass scale, but there is, nevertheless, a shortage of qualified people," says Alok Kejriwal, Founder, Mobile2Win, a mobile content company with a presence in China and India, adding that he hires technical talent mostly from institutes and colleges across disciplines like engineering, software and art. "Engineers apart, these companies are always on the lookout for good copywriters, artists, visualisers and marketers," adds Kris Lakshmikanth, CEO, The Headhunters, a Bangalore-based hr consultancy. "Aspirants have to be able to write software or design content that can optimally use (the small) mobile phone display," he adds.
Mobile 365, a Delhi-based short code company, hires people across four broad functions-technology, business, financial and products. A short code company is one that deals with those three- and four-digit numbers that television and FM radio channels ask you to SMS your answers, opinions and votes to. Says Kaustav Ghosh, Country Manager, Mobile 365: "In the technology space, we recruit mostly telecom engineers as a thorough knowledge of the mobile platform is sine qua non. And we prefer technically qualified people for the products function-though this is not absolutely necessary-as it interfaces between the sales people and the technical staff, turning feedback received from the sales force into a product proposal or taking the latter and turning it into a viable business proposition."
This technology space now offers more moolah for qualified people
ActiveMedia Technology, another Delhi-based company, which operates in the mobile marketing and content space, is also in the market for talent. "We need business people who will be able to develop the business; these will mostly be MBAs," says Raj Singh, Executive Director of the company. "On the technical side, we hire people with knowledge of Java and Web-based applications," he adds.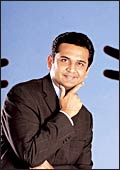 Mobile2Win's Alok Kejriwal and Mobile 365's Kaustav Ghosh (below): In search of technically qualified people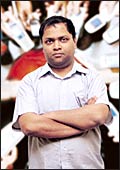 "We also need musicians and audio engineers to create monophonic and polyphonic ringtones, as well as the increasingly popular 'true phonic' versions that allow users to play mp3 files when a call is received," says Rajesh Rao, CEO, Dhruva Interactive, a Bangalore-based gaming and content company.
What's the architecture like at these companies? Mobile2Win, for example, employs studio managers, production heads, animators, designers and sound specialists on the production side. But the most crucial member of it team is the Director, Technology. His job: handling the "middleware" between the consumer, the telecom company and the mobile content company. "His key area of responsibility is 'billing and uptime'," explains Kejriwal. Shorn off all the jargon, this means he has to manage the critical technology that ensures that every single consumer response is accounted for and billed. The hugely popular and mammoth Indian Idol SMS response campaign programme is one example of what this job involves.
The pay scales vary from Rs 15-18 lakh per annum for a studio manager (the senior-most position on the production side of the business), to Rs 10-12 lakh per annum for a production head. A Director Technology gets about Rs 12-15 lakh, but sources say "there are 35-year-olds in the industry who earn upwards of Rs 50 lakh per annum handling billings and supply negotiations". Lower down the ladder, trainee developers draw Rs 8,000-10,000 per month while those at the next couple of levels take home Rs 20,000-45,000 per month.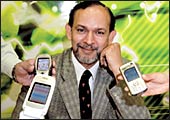 Anurag Awasthi: Tapping creative talent
On the business side, marketing execs are also becoming hot property. Here, the Relationship Director or marketing head, sits at the top of the heap and draws Rs 12-15 lakh per annum. Most such people are recruited from other content-driven businesses like media and entertainment. "The job involves liaising with clients, promoting business, managing sales, managing accounts and similar other functions and needs people with management expertise; and those with MBA degrees best fit the bill," says Ajay Vaishnavi, Vice President & Head, Business Operations, Cellnext Solutions, another mobile content company, that provides vas and application services and wireless solutions to mobile service providers like Idea Cellular, Airtel, Spice, Reliance and SMS-based services to companies like American Express, ICICI Bank, LIC and UTI Bank. Adds Anuraag Awasthi, Head (hr & Quality), Bharti Telesoft, which provides software solutions to telecom companies to enable them to run, among other things, their value-added voicemail and SMS services: "On the business side, we hire people who can look after applications that are up and running. At higher levels, we have product managers. These are very senior people in the industry and their role is to talk to clients, understand their needs, and come up with creative ideas for developing new products. We prefer people from the telecom industry for this function."
The sector's still young enough to be called an emerging one. It still doesn't have the ossified hierarchy of legacy industries or even the more established parts of the tech space. So, if you're young, tech savvy, ambitious and impatient, this might well be your route up the corporate ladder.
---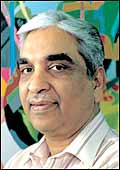 I am a 32-year-old sales person with nine years work experience. Besides a PG degree in commerce, I have worked with various financial sector companies. However, I've started feeling that in order to grow further, I need a professional qualification. I have been advised to pursue a CFP programme as it is recognised internationally, but I am still not sure about it. Please advise.
There is a CFP programme in the US and Canada, which is a recognised one. In India, it is affiliated to the Association of Financial Planners. You could also do a CFA course, which is conducted by ICFAI. But I am wondering about your purpose in doing these courses. The choice of your study would depend on your career goal and you need to think about what you want to do and then do the relevant course.
I am 24-year-old medical representative. As my job requires a lot of travelling, I would prefer to switch to an admin post so that I can pursue a part-time evening course in sales and marketing. Do I need specific skills to be an administrative assistant?
Most firms require a basic college degree. Also, a course in use of computers, especially basic software like MS Office, and use of internet would stand you in good stead. However, in terms of earning potential, a medical rep gets more than an administrative assistant. So, think before you make the change, because switching back to a medical representative's job may not be easy.
I am a 52-year-old civil servant. Post-retirement, I wish to open an NGO for orphans. Although money is not an issue, my lack of experience certainly is. Do I need to take some sort of training or pursue a course? Please advise.
Many institutions offer degrees and courses in social work. At this stage, you can gather information on NGOs, particulary on the laws applicable to charity organisations, tax exemptions, etc. Contact other agencies and learn from their experiences.
---
Answers to your career concerns are contributed by Tarun Sheth (Senior Consultant) and Shilpa Sheth (Managing Partner, US practice) of HR firm, Shilputsi Consultants. Write to Help,Tarun! c/o Business Today, Videocon Tower, Fifth Floor, E-1, Jhandewalan Extn., New Delhi-110055..
---
Rigging Your Career Right
The oil exploration sector is where the moolah is.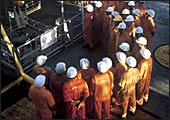 Oil Engineers: Field day for them
Recent discoveries of oil and gas fields in India and increased activity is this space is throwing up massive job opportunities in the sector. Job consultants predict a massive demand for chemical, production, petroleum and mechanical engineers over the next few years. The salaries are very good, too. Engineers with 10-15 years experience are getting Rs 15-20 lakh a year, says K. Gopal, Executive Director, Omam Consulting Group, which is recruiting exploration & production (E&P) engineers on behalf of a large private player. And people with three to six years experience are getting about Rs 8 lakh per year. The recruiters: Reliance, ONGC, Essar, Videocon, Cairns Energy and others.
"But the job is quite challenging, and requires on-site engineers to stay at the exploration or production site continuously for two weeks (followed by two weeks of rest)," says an ONGC spokesperson.
-Kumarkaushalam
---
Riding The Building Boom
Real estate companies can offer great careers.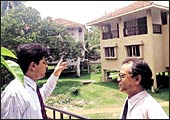 Realty Show: Skills are on demand
Here's another section of people who will bless the real estate boom-professionally qualified job seekers. "Over the last two years, the real estate industry has seriously started hiring professional talent, especially at senior levels," says Ronesh Puri, Managing Director of search firm Executive Access. The larger companies like DLF, Unitech, Bengal Ambuja and Hiranandani, among others, now regularly hire B. Tech and MBA degree holders for senior positions, albeit mostly from second-rung institutes. "This is a welcome change," says Puri. DLF alone hires about 45-50 such people every year. The demand across the country is at least 12-15 times as much.
The salaries are good, too. Fresh MBAs and engineers get annual pay packages of Rs 3-5 lakh; this rises to Rs 8-10 lakh for people with five to 10 years experience and up to Rs 1 crore at the CEO or Director-level.
-Shaleen Agrawal