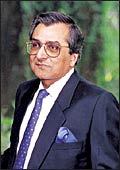 NAME: NAROTTAM SEKHSARIA
AGE: 56
DESIGNATION: Non-executive VC
GROUP: Gujarat Ambuja Cements
The wheel has come a full circle for Narottam Sekhsaria. On January 29, he-along with co-promoters and close relatives, the Neotias-sold a 14.8 per cent stake in Gujarat Ambuja Cements Limited (GACL) to international major Holcim for Rs 2,100 crore. Sekhsaria, till recently Managing Director of the company he founded in 1984, will now be its Non-executive Vice Chairman. And Holcim's stake will rise to about 35 per cent if the expected open offer is fully subscribed. No explanations were forthcoming for this move. But that's typical of the low profile and down to earth Sekhsaria, who comes from a family of cotton traders. Adman and Grey Global Group Chairman (South Asia) and President (South-East Asia) Nirvik Singh, who has known him for long, points out that the man's humility and his constant desire to learn are what distinguishes him from others. "He is extremely approachable and is always willing to listen," he says.
Sekhsaria's management philosophy is simple-empower people across the board and ensure that GACL has the lowest capital cost per tonne of cement. But why has he diluted his stake in his flagship and, for all practical purposes, exited the industry he has lorded over for two decades? The picture is not clear yet. Interestingly, just a couple of days before the deal with Holcim, Sekhsaria was appointed Chairman of acc. And insiders say he is focussing most of his attention these days on the Narottam Sekhsaria Foundation, which runs the Narottam Sekhsaria Scholarship Programme for students looking to pursue their education either in India or abroad. So, is the man who Forbes listed among the 40 richest Indians in 2005 (net worth: $590 million, or Rs 2,655 crore) turning full time to philanthropy? Will he and his family, who still hold a 9 per cent stake in GACL, now turn their focus from managing companies to managing wealth a la the Wallenburgs, the Vanderbilts and the Rockefellers? And does this mark the beginning of a trend among India's super rich? Sekhsaria built his empire from scratch by always being ahead of the curve. Now he has reinvented himself once again. And everyone's wondering why.