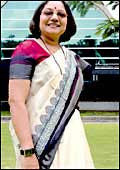 Hema Ravichandar: Strategic HR challenges excite her
They are a new breed of professionals. They've been there, done that, seen it all and then decided to move on. They've been CEOs, Directors, Presidents and Vice Presidents of large companies; many of them have appeared on television and featured in newspaper columns; and most had several years of corporate life ahead of them. But they chose to give it all up and, become consultants and independent directors on the boards of various companies.
Hema Ravichandar was Group Head and Senior Vice President (Human Resources) at Infosys and led the global hr function at the software giant. Her media profile was next only to those of the founders. Yet, she resigned her position in 2005 and started afresh as a strategic hr consultant to a handful of clients. Why? "I first joined Infosys in 1992 as Head of hr when it had just 250 employees. When I transitioned out last year, that number had swelled to 40,000 worldwide. I had a fantastic tenure at Infosys and enjoyed every moment of it; but felt it was time to move on. HR has always been a passion and I wanted to work on strategic hr challenges across industries. And that's what I'm doing today."
The truth is that the corporate high life (unlike that of independent consultants) is actually very stressful
The motivation was different for Gurcharan Das. He had been CEO of P&G India, Vice President of P&G Far East, and Vice President & Managing Director of P&G Worldwide. "But how long can an adult keep thinking of and selling Pampers and Ariel?" he chuckles. "I was 50; had earned enough money; the kids had grown up; and there was no real need for me to carry on holding a regular job. So I quit." That was in 1995. There was another reason for wanting to move on: he had a passion for writing, which he wanted to pursue. Das had already published three plays, one of which had won a prize in the us, another made into a film by the BBC and a third into a Broadway production. What does he do now? "I write full-time and like to call myself a writer," he says, "and also advise companies like Ranbaxy, Berger, Citibank and some others on global corporate strategy." This last, which he calls a part-time occupation, keeps him busy for six to seven days a month, earns him a nice packet-"I charge my clients very high fees," he says-and leaves him with sufficient time to pursue his passion.
| | |
| --- | --- |
| | |
| Gurcharan Das: A full-time writer-cum-part-time advisor | Anal K. Jain: Has greater control over routine and priorities |
All the executives BT spoke to admitted that they opted out of the corporate rat race only after securing their financial future. Says Ravichandar: "Infosys' tremendous scheme of sharing wealth with employees and other stakeholders created a safety net." She's referring to Infosys' stock option scheme.
But does walking away from a high flying corporate job and becoming a consultant or an independent director involve a financial sacrifice? P.P.R. Rao, former Managing Director, Nortel Networks India, former CEO, Wipro Infotech, and another member of this tribe, says there are two parts to the answer. "The rewards are comparable when you consider salary earned to consultancy fees earned. But if you bring stock options and other long-term benefits into the equation, then it's obviously a lot less." Adds Anal K. Jain, former MD of Sun Microsystems South Asia, who now runs his own consultancy firm: "It's a trade-off. You accept the slightly lower income in return for greater control over your routine and priorities."
ALL YOU WANT TO KNOW
WHO

Chairmen, Managing Directors, CEOs, COOs, Presidents and Vice Presidents


WHAT

Independent directors on the boards of various companies and/or consultants on global strategy, mergers and acquisitions (both domestic and global), branding, positioning, fund raising, etc.


WHY

Ennui; an urge to opt out of the corporate rat race; an urge to become one's own master; comfortable financial position


WHEN

Typically, these executives are in the 45-55 age group


HOW MUCH

Depends on the brand equity of the individual. Star executives can earn as much as Rs 1.5-2 lakh a day. The figure at the lower end of the scale is about Rs 25,000 a day


HOW MANY DAYS

Again depends on the individual. But most such executives get about five to 10 days of consulting work a month
And Rao debunks the notion that a consultant's job is any less glamorous than that of a senior corporate executive. "I continue to rub shoulders with Tier I executives and also get to interact with people down the line, right down to the shop floor supervisor. So, this job is neither less glamorous nor less challenging. The only difference is that I now work fewer hours than I used to."
That's one factor driving this trend. The truth is that the so-called glamorous corporate high life is actually very stressful. It involves travel for 10-15 days a month, 12-15 hour working days and often-impossible deadlines. Independent consultants don't have to undergo any of this. "It's not really a very exacting job," admits Das, "we give advice on how to solve a problem or go about a particular issue; that's the easy part. The implementation, which is the difficult part, is done by someone else. A consultant is essentially a mentor who passes on his practical experience as a corporate executive to the next generation of managers."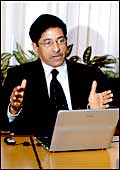 P.P.R. Rao: Yes, financial sacrifice is involved, but...
Ravichandar adds another dimension to the discussion. "There are many reasons why people decide to move on. The need to do something different, to set up an initiative or enterprise which can make a difference in a particular field is a major decision driver. The motivation to stay 'relevant' and not get frozen on the learning curve is another reason, I believe, that motivates people to leave the safe cocoon of regular jobs and get into consultancy," she says.
Das, Ravichandar, Jain, Rao and others like them also serve on the boards of various companies as independent directors. Ronesh Puri, Managing Director of search firm Executive Access, thinks this trend will gain momentum. "It doesn't pay very well. But, it doesn't matter to these people as they have already made their money. For them, it's the prestige that counts," he says, adding: "but as the pay increases, more candidates will take this up as a career option."
In the meantime, they'll simply step off the corporate fast lane to become mentors to their successors.
---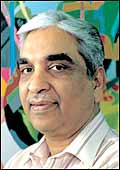 I am a 26-year-old science graduate working as a Senior Sales Assistant (Corporate Marketing) with a reputed company for the last one year. I also have over two years' experience as a sales executive in a construction company. Although I am comfortable in my current job, I still wonder if sticking to the sales line would have been a better option.
The sales profession is quite good and there are job openings there all the time. However, there is a distinction between a job in actual sales and the sales support function. While the former may sometimes be stressful in terms of having to achieve targets, frequent travel and long working hours, the rewards and growth opportunities are much better as compared to the latter.
I am a 40-year-old woman teaching English in classes XI and XII. I have been in this profession for the past 14-15 years and am now considering becoming a lecturer. I've done BA (English Hons), MA (English) and BEd. Is it a good idea to become a lecturer at this stage? If yes, what kind of a formal training or course do I need to pursue?
Do you now want to teach in a college rather than a junior college/school or are you currently teaching coaching classes? In either case, you do have the necessary qualifications, though there are some colleges that insist on a PHD. Also, the curriculum (in colleges) is quite different and you will need to familiarise yourself with it.
I have been working with a leading realtor for the past six months. Before that, I used to work for a small estate agency. I now regret my decision to quit, as I had more freedom, responsibility and my work used to be appreciated. Here, I am one among many. Please advise.
Think about your ultimate goal and do a pros and cons analysis. It may open your eyes to things that you may be taking for granted in your current job. If size is not an issue, then the choice is pretty clear. But remember, all small agencies may not be alike!
---
Answers to your career concerns are contributed by Tarun Sheth (Senior Consultant) and Shilpa Sheth (Managing Partner, US practice) of HR firm, Shilputsi Consultants. Write to Help,Tarun! c/o Business Today, Videocon Tower, Fifth Floor, E-1, Jhandewalan Extn., New Delhi-110055..
---
The IC Quotient
It's still at a nascent stage. But this new tool for evaluating corporate value can change the way companies recruit fresh talent.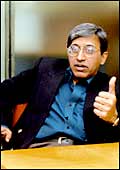 Bizworth's Suri: Human capital is unique
The trend started in the 80s. That's when analysts and accountants noticed an increasing gap between the book value and the enterprise value of companies. And that's when a new term was coined to identify the key input behind this incremental value: intellectual capital (IC). The most important component of IC is obviously people or human capital. But IC has other intangible elements as well-internal processes, databases and the customer relationships that form the superstructure within which human capital operates.
Says J. Suri, Executive Vice President (Intellectual Capital Services), Bizworth India Pvt. Ltd: "Human capital is unique because it's the only form of capital which can never be owned by a company; it can only be contracted. And therein lies the challenge in maximising returns on capital employed." Bizworth, incidentally, is the only company in the country that measures intellectual capital.
How does it help? "On the human capital side, IC evaluation can help companies determine the contribution of groups of employees to its overall performance," he says, adding: "IC, however, cannot be used to assess individuals."
IC evaluation is a long process-it takes 10-12 weeks to calculate the IC of a mid-sized company and involves in-depth interviews with 30-40 people-two-thirds of them outsiders-on over 300 parameters, followed by aggregation, analysis and extrapolation of the collected data.
IC evaluation can, thus, help companies get a handle on human capital and other intangibles-the largest components in their enterprise value.
-Arnab Mitra