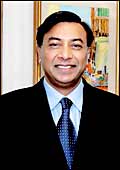 NAME: LAKSHMI NIWAS MITTAL
AGE: 55
DESIGNATION: Chairman & CEO
GROUP: Mittal Steel
When your business becomes everybody else's business, you can claim to have arrived in life. Not that Lakshmi Niwas Mittal, the world's largest steel maker and the third richest man on the planet (net worth: $25 billion, or Rs 1,12,500 crore), hadn't arrived till now; it's just that his boldest-ever business move is exercising the minds of statesmen, politicians, business executives, regulators and p3p all over the civilised world. Corporate Europe and large sections of the Continent's politicians have ganged up against his $23-billion (Rs 1,03,500 crore) bid to take over the world's second largest steel company, the Luxembourg-based Arcelor. Even as Mittal has launched a charm offensive to win over hostile politicians, he's achieved what few would have thought possible till the other day-he's managed to get the Indian government to tick off and threaten France and Luxembourg over the issue. Mittal, who owns the world's most expensive private residence, (which he bought for $128 million or Rs 576 crore), is a remarkable business leader. After splitting with his father Mohanlal and brothers PK and VK in 1994, Mittal set out on his own, building a transnational steel empire, mostly by acquiring rundown rustbuckets at rock bottom prices and then turning them around. A hands-on workaholic, he depends on a trusted band of senior executives many of whom he recruited from the public sector Steel Authority of India Ltd. But this Carnegie from Calcutta-that's what a section of the western media has dubbed him-has had his brush with controversies, too. British Prime Minister Tony Blair dashed off a letter to the Romanian government asking it to favourably consider Mittal's bid for the public sector Sidex steel plant in return, it was alleged, for a £125,000 (Rs 96.25 lakh) contribution to the Labour Party. This connection was never proved. He was also criticised for spending £30 million (Rs 231 crore) on the 2004 wedding of his daughter Vanisha.
Mittal has already achieved what only a handful of others have. But his ambitions are far from satiated. "I want to be the Henry Ford of steel," he proclaimed to the London Sunday Times on September 4, 2005. If he can pull off the Arcelor deal, he'll definitely be in a position to claim that mantle.