Every revolution starts small, so small that most people do not realise there is one underway. By the time they do, it is too late. Going purely by the simplistic logic that the sample that came up from this year's informal polling of consultants, headhunters, analysts and know-it-all corporate types (the same methodology used to generate the list of the most powerful women in Indian business in previous editions of the survey) was larger than anything that had come up in previous years, India Inc. could well be standing on the brink of a revolution. The number of women in senior executive positions seems to be on the rise, especially in businesses such as banking and financial services. It will be a while before men become the other sex at the workplace-realistically speaking, it may never be-but right now, it is time to forget everything else and celebrate our Power 25. They deserve it.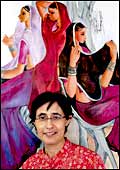 Vinita Bali
50/CEO/Britannia Industries
She has headed the strategy function for Coca-Cola (globally), overseen the company's Andean business and worked as a consultant with marketing whiz Sergio Zyman's consulting firm. Now she is working her quiet kind of magic at Britannia.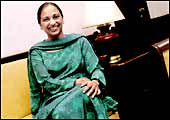 Vedika Bhandarkar
37/MD & Head (Investment Banking)/JP Morgan India
Her moves are the envy of the competition. That's only to be expected: she takes Kathak lessons every weekend with her daughter. Seriously speaking, however, what Bhandarkar's fellow investment bankers would like to know is how the lady manages to seal a deal even before they can smell it-a case in point being the mandate from the Anil Dhirubhai Ambani Group for restructuring the Reliance Group. Much of this has to do with the quiet aggression Bhandarkar exudes. And at least some of it has to do with desire and her early grounding in the tenets of banking. "I always wanted to be in finance and I learnt a lot in the project finance division of ICICI Ltd," she says.
-Anand Adhikari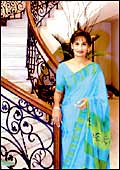 Shobhana Bhartia
49/Vice Chairperson & Editorial Director/
HT Media
Bhartia's newspaper has held its own against the times of India in Delhi and taken on the latter in Mumbai. The lady is now in the process of launching a business daily to take on market leader The Economic Times. And she has just been nominated to India's upper house of Parliament.
Elaben Bhatt
73/Founder/SEWA
Inclusion is a buzzword that has worked its way into the corporate lexicon in the 2000s. It simply means that companies that have hitherto ignored the poor, even the not-so-rich, stand to gain by engaging with these segments. Try telling that to Ela Bhatt, the lawyer-turned activist who founded a movement called sewa (Self Employed Women's Association), and she is sure to smile. "From making the poor work for business, we have to make more and more businesses work for the poor," she says, repeating something she has said before, something that could well serve as a definition of the term inclusion. sewa's focus is poor and self-employed women who work in the informal sector (think maids, cooks, nannies, farm labourers, vegetable vendors and cart-pullers), some 800,000 of them across the seven Indian states where it operates; it provides them with banking and insurance services; healthcare; childcare and microfinance. There's nothing Bhatt would like to see more than the poor women she works for becoming the focus of the economic reforms the country has embarked upon. That, an increasing number of companies are beginning to realise, would be real growth.
-Ahona Ghosh
Neelam Dhawan
46/Managing Director/Microsoft India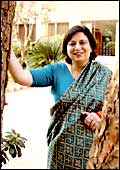 You are the fifth woman country manager for Microsoft worldwide." That, says Neelam Dhawan, were the first words Bill Gates spoke to her when she met him for the first time last year. Microsoft has 100-odd country managers and it doesn't have a reputation as a great place to work for women (for the record, it doesn't have the reputation of not being a great place to work for women either); ergo, Dhawan's is some achievement. There's something else Dhawan can be proud of: after working for 22 years in the hardware industry (she began 22 years ago as a trainee with HCL), she has finally ended up as the Managing Director of the India operations of the best known software firm in the world. Initially, Dhawan admits that she was "apprehensive about the career shift", but says that Microsoft India Chairman Ravi Venkatesan managed to convince her. "Both (software and hardware) are about the deployment of it," reasons the lady.
-Sahad P.V.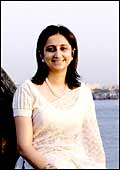 Manisha Girotra
36/Chairperson & Managing Director/ UBS Securities
Last year, jet airways made a high-profile IPO (oversubscribed some 26 times), Videocon acquired the picture tube business of French consumer electronics major Thomson Electronics, and Vodafone acquired a 10 per cent stake in Bharti Tele-Ventures. Manisha Girotra had a role to play in all three. And there were challenges involved in all. In the case of the Vodafone-Bharti deal, Girotra spent two years convincing Vodafone that there was merit in an India-play. And in the case of the Jet IPO, she says, "There was not too much understanding of the sector in the Indian context." Apart from these deals, Girotra, a gold medallist from Delhi School of Economics, has also been involved in the ADR offerings of Infosys and ICICI Bank, and the privatisation of VSNL, IPCL and BALCO. That makes for an interesting resume.
-Krishna Gopalan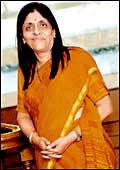 Lalita Gupte
57/Joint Managing Director/
ICICI Bank
An ICICI-lifer, Gupte has held a variety of positions in the bank and is now in charge of its international operations. She was the first in a long and growing list of women who have established beyond doubt that ICICI Bank doesn't have any glass ceilings.
Ekta Kapoor
30/Creative Director/Balaji Telefilms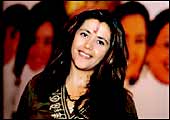 She is the undisputed queen of Indian television, with her programmes (largely soaps) safely ensconced in the top 24 positions in the list of the top 50 programmes on the tube. "I create concepts by instinct," says Ekta Kapoor. Well, her instincts seem to have a keen insight into the collective psyche of Indians, largely women who swear by her soaps. Much of that has to do with Kapoor's conviction that Indians are "an emotional audience". Thus, her soaps shun the complex New Woman some producers of TV soaps and motion pic makers are beginning to depict. The interesting thing: despite everyone seeming to know what Balaji's formula is, no one has been able to reproduce it. Maybe there is something instinctive about Kapoor's creative process.
-Ahona Ghosh
Renu Karnad
53/Executive Director/ HDFC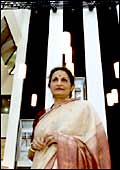 Renu Karnad is just back from a 10-day trip to Japan and Australia. She travels a lot, to strike alliances, discuss where the Indian housing finance business is going with HDFC's international partners, or to simply reassure investors (foreign holding in HDFC is around 78 per cent) that India's real estate boom is for real. "People outside are worried whether we can sustain the growth rate," says Karnad. In some ways, the lady could well be the ambassador for India's property business. Karnad is #3 in terms of HDFC's hierarchy. Deepak Parekh is Chairman and Keki Mistry, Managing Director, but as the head of the retail and corporate lending operations at HDFC, she is indubitably the most important person in India's housing mortgage industry.
-Sahad P.V.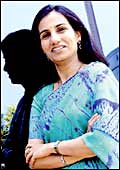 Chanda Kochhar
45/Executive Director/
ICICI Bank
She is the lady behind ICICI Bank's aggressive (and successful) retail play and is widely tipped to succeed K.V. Kamath as CEO when he retires.
Naina Lal Kidwai
48/Deputy CEO/HSBC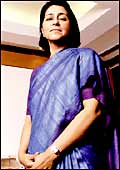 In her own words, the past year has been one "filled with interesting changes" for Naina Lal Kidwai. The first Indian woman to graduate from Harvard Business School may also be the first Indian woman to sit on the board of a multinational (she will, in all likelihood, be elected to the board of Nestle SA in April), but she'd rather talk about the bank's achievements in India where it grew its retail business and became a significant player in the fund management space. "Across businesses, we have done well," she says. "It has been a year where we took a lot of initiatives and encountered several successes." India, it is evident, is important to HSBC; the bank's global board met in Mumbai and Delhi last November and it hopes to become a large player in the retail banking business in the country. For Kidwai, who has been-there-done-that in several high-profile postings, and who can be excused for slowing down (not that the lady is having any of that), this, is time to "reset one's goals".
-Krishna Gopalan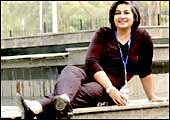 Punita Lal
43/Executive Director (Marketing)/PepsiCo India
There is some poetic justice to the fact that Punita Lal is the person in charge of Pepsi's marketing efforts in India. Circa 1992, it was the same Punita Lal, then an executive with J. Walter Thompson India (then Hindustan Thompson Associates) who mid-wifed the brand's launch commercial. The ad, with the punchline Are You Ready For The Magic and featuring Indipop singer Remo Fernandes and Bollywood's favourite girl-next-door Juhi Chawla, was a hit, and Lal, who also gave birth to a son the same year, says it remains the one "closest to her heart". In her 17-year long career, Lal, an alumnus of Delhi's St Stephen's College and Indian Institute of Management, Calcutta, has been an advertising executive, then a brand director with Coke (in Hong Kong), before moving to her current assignment. "I enjoyed every bit of advertising," she says, but adds that shifting to the other side of the table made sense as she wanted to get the most out of her career. "Working for Pepsi, by far, has been the most challenging and fulfilling phase of my career," says Lal. She, apparently, is ready for the magic.
-Archna Shukla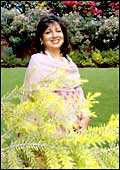 Kiran Mazumdar-Shaw
52/Chairman and
Managing Director/Biocon
India's richest woman, Kiran Mazumdar-Shaw isn't just the founding CEO of the country's best-known and most respected biotech company; she is also a torch-bearer for the entire biotech industry.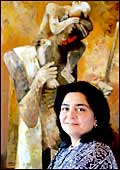 Zia Mody
49/Partner/AZB & Partners
Increased corporate activity equals more work for lawyers. Just ask Zia Mody. Last year, she was involved in Tata Steel's acquisition of Natsteel, Maxis' of Aircel, and she represented Mukesh Ambani in the settlement he hammered out with his brother. Many of these deals have been high-profile ones and Mody, the daughter of India's former Attorney General Soli Sorabjee, thinks that is good. "There has been a higher profiling of our practice in the past year," she says. "Over the next five years, we will hopefully be more successful. The kick is in creating an institution." Legal circles would vouch for the fact that the lady, who was also elected to the board of directors of HSBC, is one herself.
-Krishna Gopalan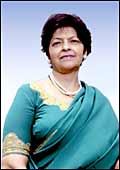 Kalpana Morparia
57/Deputy Managing Director/ICICI Bank
The versatile Morparia is ICICI Bank's preferred troubleshooter, and oversees a range of functions from legal to hr to strategy to risk management to treasury management.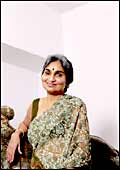 Amrita Patel
62/Chairperson/
National Dairy Development Board
Amrita Patel is probably in her last (it is her second) term as Chairperson of the National Dairy Development Board and could retire by 2008. By then, the First Lady of the Indian co-operative movement would like to see co-operatives everywhere. Patel is clearly in a hurry; she knows that in the wake of increased competition from the private sector, co-operatives have to become efficient. For instance, she wants to link the auction mechanisms in rural marketplaces "to commodity exchanges, to make the whole system transparent". This, she claims, "will benefit the farmer". That'll take some doing.
-Archna Shukla
Falguni Nayar
43/Managing Director/Kotak Mahindra Capital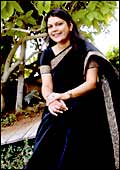 For eight-and-a-half years after she graduated from IIM-A, Falguni Nayar worked with A.F. Ferguson. In late 1993, she moved to Kotak Mahindra Finance to oversee M&A and corporate advisory. In 1994, her husband, Sanjay Nayar, now CEO, Citigroup (India) and a high-flier in Citibank even then was posted, first in the UK, and the US. Falguni saw this as an opportunity and offered to set up Kotak's international equity business. The business bloomed and in the early 2000s, the lady returned to India to head Kotak's institutional equity business. In June 2005, she was asked to head the company's investment bank. "The capital market is all about today while investment banking is about developing business strategies for the next five years," says Nayar, a mother of two, and swimming enthusiast who still finds the time for Bollywood's latest.
-Anand Adhikari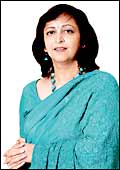 Swati Piramal
49/Director (Strategic Alliances & Communications)/
Nicholas Piramal
Swati Piramal is in the prime of her organisational life. "Women typically peak after the age of 40 because they lose time in bringing up children," she says. "And in a sphere like scientific research (which she is in), they end up losing more years in academics." Factoring all that in, 2005 must rank as a great year for Piramal. "We became a global company with two acquisitions in the UK," says the lady who was also nominated to the Prime Minister's Scientific Advisory Board last year. "I am the only woman there," she adds proudly. Then came appointments to the boards of LIC and State Bank of India. All that in one year.
-Krishna Gopalan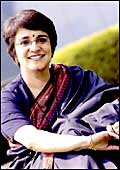 Madhabi Puri-Buch
39/Sr GM & Country Head
(Customer Delivery and Ops, Products and Technology,
and Brand Mgmt)/ ICICI Bank
She took a four-year break from ICICI to be with her family in the UK (where her husband was posted at the time), but has since worked her way to overseeing three of the bank's most critical functions, customer delivery, brand management and technology.
Renuka Ramnath
45/CEO/ICICI Venture

Renuka Ramnath heads one of the largest private equity funds in the country, and as the deal with Dr Reddy's to share risks and rewards of the drug discovery process shows, one that is probably the most innovative of its species in India.
Preetha Reddy
48/Managing Director/Apollo Hospitals Group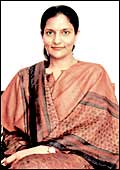 I always wanted to be a doctor," says the 48-year-old Preetha Reddy, a chemistry graduate. Well, in this case, medicine's loss has been medicine's gain. Reddy has ended up at the helm of the country's largest organised healthcare business-quite the best compromise possible. Her fascination with healthcare shows. As Managing Director, she has taken the Apollo Group to new geographies and new frontiers of quality and technology. "Access to medical care is the chief issue today in India," she says. Today, the Rs 800-crore Apollo Group owns 23 hospitals with 4,000 beds at over 10 locations, and manages an additional 2,700 beds across 14 locations, and runs a sprawling retail pharmacy chain of over 200 stores. Woman power rules at Apollo, with all four Reddy sisters actively involved in the group's management. When Reddy came into the business, she recalls having to start from scratch, but "in the healthcare industry, you learn a lot by standing on your feet", she says.
-Vaishna Roy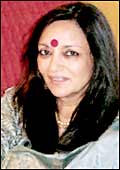 Radhika Roy
56/Managing Director/NDTV
For a managing director of a media company, and for someone who decided long ago that journalism was where her "heart and mind" was, Radhika Roy is an extremely low-profile individual (something made just a little more surprising by the fact that her sister is the in-your-face Brinda Karat, one of the leading lights of the CPI-M). A qualified speech pathologist, Radhika met her husband Prannoy Roy when they were both students in London; both wanted to be journalists.
She realised that dream (of being a journalist) in 1978, and after a decade spent equally at The Indian Express and India Today, she and her husband decided to launch their own TV production company. In 1988, NDTV was born, an original garage start-up: Radhika and Prannoy did everything "from writing scripts to editing". Today, NDTV is a 1,200-people strong full-fledged broadcaster with three round-the-clock channels, it is a listed company and Radhika has moved on from journalist to Managing Director.
The past year has been challenging: competition has intensified; the pressures of being listed (and having analysts assess performance quarter on quarter) are considerable; and several senior employees have moved on. "More than anything, it has been a learning experience," says Radhika. Still, she thinks NDTV's "commitment to credible journalism" will see it through. That it should.
-Archna Shukla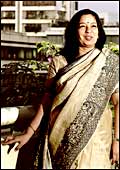 Shikha Sharma
47/CEO/ICICI Prudential Life Insurance
The alumnus of Indian institute of Management, Ahmedabad has the reputation of being a start-up pro. And ICICI Pru Life is the largest private sector life insurer in the country.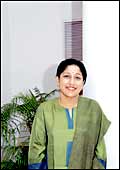 Mallika Srinivasan
45/Director/ Tractors and
Farm Equipment
The quiet and low-profile Mallika Srinivasan is the unsung heiress of a quieter and even more low-profile (if that is possible) group, the Chennai-based Amalgamations.
Preeti Vyas Giannetti
49/CEO/Vyas Giannetti Creative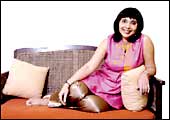 Rumoured to be the most expensive advertisement ever made for an Indian company, the new commercial for the Aditya Birla Group meshes the group's Indianness with its global footprint (it is a multinational group with manufacturing locations in nine countries) into a visually compelling whole of the kind one has come to expect from its creator Vyas Giannetti Creative (VGC). If VGC is different it is because the agency believes that it can marry the creative process with the brand management one. "I wanted to create an organisation that derives its culture from my own experience," asserts Preeti Vyas Giannetti who insists that everyone leaves work by 7.30 p.m. (they need permission to stay back). "Everyone's inspiration comes from life," she says, explaining why it is essential to strike a balance. For instance, the single mother manages to have lunch with her daughter every day.
-Ahona Ghosh