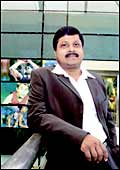 About a year after A.S. Watson announced its plans for India, Li Ka Shing's Hutchison Whampoa-owned retailer may have found a man to spearhead its launch. Krish Iyer, who recently quit Pyramid Retail as its Managing Director after spending eight years with it, is said to be the man Watson has picked. Iyer, 48, would not confirm whether he was joining Watson, but he did say that he had found an "exciting new opportunity at this point in my career". A trained Chartered Accountant and Company Secretary, Iyer wandered into retail when he was asked by the Piramals to study the viability of setting up a mall, which became the famous Mumbai landmark, Crossroads. "I am very proud of what I have achieved with Pyramid, I will have great memories of that job," he says. It is not known what formats Watson, which is into everything from supermarkets to drug stores and food courts in Asia and Europe, plans to bring in. But Iyer says his new employer and he plan to "transform the retail experience for Indian consumers". Willing investors and eager consumers. It's a deadly mix for retail.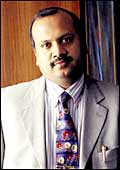 In The Dragnet
Dinesh Dalmia, lodged in Delhi's Tihar Jail as this magazine goes to press, is something else. The man, who set up the DSQ Group in Chennai, fled India in December 2003 after it came to light that he had fraudulently stripped DSQ Software of its assets. He fled to the us, where he is said to have spun a bigger scam by secretly promoting a BPO company called Allserve System Corp. in New Jersey that, it now appears, defrauded banks by borrowing money ($100 million or Rs 450 crore and counting) to buy computers. He did buy them, but used ones for a paltry $300,000 or Rs 1.35 crore. Arrested last fortnight soon after his return from the US, Dalmia, also involved in the Calcutta Stock Exchange scam, will have enough time to look back and reflect.
Dogfight Over Airports
Up until the final winners were announced on January 31, Anil Ambani's (left) Reliance Airports Development (RAD) was pretty confident of winning the airport modernisation/privatisation bid for either Delhi or Mumbai. So, when a relatively obscure G.M. Rao's GMR Group walked away with the Delhi bid, Ambani cried foul. Early February, he challenged the selection process, alleging that the bids were rigged in favour of GMR and GVK (the bidder that got Mumbai). In its petition, the Ambani company has alleged that the Airports Authority of India and the Union Civil Aviation Ministry made last-minute changes to the tender conditions to favour GMR over RAD. Spokespersons for both the groups refused to comment, stating the case was sub judice. When BT went to press, the Delhi High Court was to hear the case on February 20. But it will be a long while before the dust settles over this kick-up.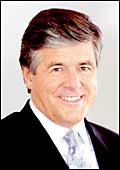 Big Mama Moves
Back home in Germany, everyone calls Deutsche Bank (DB) the Big Mama. We don't expect you to know that because in India, db has been a corporate bank and hence largely invisible. But four months ago, it decided it wanted a piece of the booming retail business. And guess who flew in last fortnight for a little go-go talk? DB's CEO Josef Ackermann, 50, himself. It was a low-profile visit with no media interviews, but it's obvious that the Big Mama, with m972 billion (Rs 5,151,600 crore) in assets worldwide, is excited about India. So much so that India is the only country in Asia where it has a retail business.
My Enemy's Friend...
Vijay Mallya's (left) fragile peace with BDA's Kishore Chhabria seems to have been shattered. At Herbertson's EGM in Mumbai on February, Chhabria, 51, opposed plans to merge Herbertsons (a company he sold to Mallya in 2005 while retaining a nominal stake) with Mallya's United Spirits. Why is Chhabria having a change of heart? "I have an issue with the UB-Herbertsons merger and it is related to the fact that they haven't recalled the case in the Kolkata High Court as per our understanding," Chhabria told BT as he prepared for his daughter's wedding in Mumbai. The issue: Last year when Mallya bought Shaw Wallace owned by Chabbria's late brother Manu, he also inherited a fight that had been going on between the two brothers over BDA, a company Kishore took with him when he left the Shaw Wallace fold in 1992. Apparently, Mallya had agreed in principle to drop the case, but hasn't.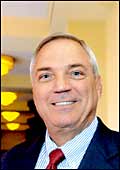 Oracle Of Outsourcing
When Dennis Mcguire founded TPI in 1989, he launched an entire industry: BPO advisory. Over the years, McGuire, 59, now Chairman of Veritage (formed following TPI's merger with EquaTerra early February this year), has been involved in outsourcing decisions worth billions of dollars. So, when people want to know how things will shape up in the industry, they talk to McGuire. What does the Guru of BPO have to say about India's position in the marketplace? "You must remember that western it giants are fast catching up in the offshore game, which the Indians invented," he cautions. McGuire also believes that "(Indian it companies') claims of having broached the rarefied consulting arena is stretching it a bit", since most of the deals coming their way are still about application maintenance. Despite that, McGuire feels there's more business that could come India's way.