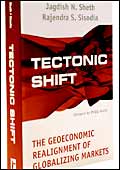 TECTONIC SHIFT
Jagdish N. Sheth and Rajendra S. Sisodia
Response Books
PP: 350
Price: Rs 550
Globalisation just has to be the most written about subject in recent history. Run a search for the word on Amazon books and you get 3,466 results. Writers on the subject range from Thomas Friedman to Kenichi Ohmae to Jagdish Bhagwati to Joseph E. Stiglitz. So when you come across a book like Tectonic Shift, one is tempted to state-much like the gentleman from the US patent office of early 1800s-that everything that can be written on globalisation has been written. But guess what? Such sweeping statements tend to be egregiously wrong, be it the early 19th century or the 21st. For, Tectonic Shift-penned, surprisingly, by two marketing experts-isn't about why globalisation is inevitable, how it will shift economic balance from the developed countries in the west to developing countries in the east, yada yada...Most of all, Sheth and Sisodia's work is about predictions-make that bold predictions-about how the global economic boundaries will meld in another two decades. Like marketing guru Philip Kotler says in his foreword to the book, "it is to Sheth and Sisodia's credit that they offer a penetrating analysis of where the future of different countries is going under the pressure of geoeconomic forces".
How does the world in Sheth and Sisodia's view-the former is a professor of marketing at Goizueta Business School in Emory University, Atlanta, and the latter, also professor of marketing at Bentley College, Waltham-look by 2020? Let's start with Europe. According to the authors, for Europe, "the former Soviet states will provide the 'developing world' through which its stagnating economy will refuel itself". In other words, expect a much bigger and more powerful EU, where the already prosperous economies will find trading partners in the poorer East European countries. As for the Americas, they will find reason enough to create an FTAA, i.e., the Free Trade Area of the Americas, including the US, Canada, and South America. "FTAA is the destiny of the Americas, and our prediction is that it will stay on track for implementation-perhaps as early as 2010", the authors say. Similarly, Sheth and Sisodia propose, Asia will create its own enlarged free trade zone, where Japan and China (despite the heavy odds against it) will be closer than before, and new members will include countries like Australia and New Zealand, besides those of ASEAN.
Most of the authors' predictions seem reasonable, if not predictable, enough. But relentless as the economic forces are, let us not underestimate the paralysing power of volatile global politics. That still remains the single-biggest challenge to globalisation.
---
Q&A: JAGDISH SHETH
"Jobs And Wealth Creation Will Drive 21st Century"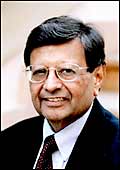 Recently in India to launch his book, Jagdish Sheth spoke to BT's Archna Shukla on why he expects a global tectonic shift.
What'll be different about the 21st century?
While the 18th century was about ideologies and wars, the current century will be about markets and economies. In the 21st century, it will be jobs, wealth creation and economic growth that drive nations.
Which nations will be at the forefront of this re-revolution?
Developing economies will drive the world in 21st century. One reason for this is that advanced economies are ageing very fast. And if a country doesn't have enough population growth, its domestic economic growth will suffer. Then, they will need to get growth from elsewhere like developing countries.
What will be India and China's role in the new world order?
India, China and the US will be the three main economic superpowers that will shape the first half of the current century. And the relationship between these countries and their relations with other countries will determine world relations.