Know what's the real measure of power? When it doesn't come by virtue of an office held, but is given unto you for being the real, if unobtrusive, force behind a powerful personality. In another words, you, the male CEO with a large corporation to run, are powerful because the person behind you has not just helped create an environment where your powers can bloom, but has actually contributed to its potency. In corporate India, more often than not, such shadow sovereigns tend to be the wives (or widowed mothers) of powerful corporate chieftains. They are not just the alter egos of their powerful husbands, but also accomplished women in their own rights; women with vision, courage, ambition and energy. It would have been unfair not to recognise them. Ergo, in this section, Business Today looks at 10 such women.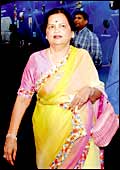 Kokilaben Ambani
Homemaker who became the peacemaker
Like the archetypical Indian wife, Kokilaben, 71, spent her life in the shadow of her husband Dhirubhai Ambani as he took Reliance from one great height to another. But last year, the girl from Jamnagar who married Dhirubhai when she was just 21 and lost him in 2002, became the one person millions of Reliance shareholders looked to save the conglomerate from a debilitating fight between her two sons, Mukesh and Anil. The mother in Kokilaben did not let either her sons or the shareholders down. Quietly, but very firmly, she helped hammer out a settlement between her warring sons. Dhirubhai must be proud.
-Krishna Gopalan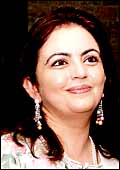 Nita Ambani
Chief confidante and counsel
Be it reliance industries' impressive township in Jamnagar or the 140-acre Reliance Infocomm campus in Navi Mumbai, Nita Ambani's subtle influence on the group shows up in many ways. But the subject closest to her heart is education. Nita, 43, whom husband Mukesh consults on every major decision, runs the Dhirubhai Ambani International School in western Mumbai, besides the Dhirubhai Ambani Foundation. With the school growing in size and stature, the next few years promise to be busy for the mother of three.
-KG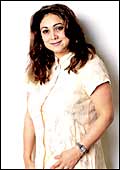 Tina Ambani
It's art that inspires her
Think 'harmony' and you have to think of Tina. Over the years, the 43-year-old former movie star and wife of Anil Ambani has turned Reliance's premium fabric brand into a buzzword in the world of art. Her annual Harmony show, launched in 1996, has grown from a one-off event to a movement of sorts. Its mission: Offer a common platform to both seasoned and amateur artists. Last year's show, for instance, brought together 200 artists who displayed more than 500 of their works.
-KG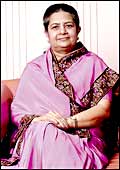 Rajashree Birla
Spreading the sunshine around
For a mother of two and grandmother of five, Rajashree Birla keeps a rather busy work day. She's in at the group's sprawling headquarters every day at noon and puts in at least six hours of work before calling it a day. On her plate is none of the group's diverse businesses, but almost all of its social work, including rural development and hospitals. "The focus on rural development is important since it's not possible for the government to handle everything," says the 58-year-old Birla. Agreed.
-KG
Parmeshwar Godrej
The lady you ought to know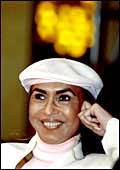 There's only one way to figure out your social quotient: Either you've been invited to a Parmeshwar Godrej party or she's been to one of yours. For, Godrej, 61, is the epitome of uber-chic: Rich, beautiful, phenomenally networked, but most of all sophisticated and caring. Wife of Godrej group Chairman Adi Godrej, the lady was fundamental in starting in 2004 "the Heroes Project" to fight the stigma of aids. Once the life of Page 3 parties, Godrej is keeping a low profile. She even refused an interview for this profile.
-Kushan Mitra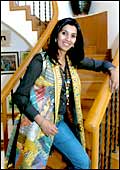 Geetanjali Kirloskar
Businesswoman, goodwill ambassador and TV show host
If there were a way to tap into Geetanjali Kirloskar's energy, her city of Bangalore would never face outages. Mom to 16-year-old Manasi and wife to Vikram, Kirloskar, 41, likes to don several hats at one time. She is the Director of ad agency Quadrant Communications, a 50:50 JV between Pratibha and Inter Public Group, Chairperson of India Japan Initiative, which promotes better understanding between the two countries, and a newly-minted TV show host (Life's Like That on Times Now). "I want to be intellectually engaged in my multitude of interests," says Kirloskar. It shows.
-Venkatesha Babu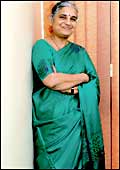 Sudha Murty
Writer, teacher and do-gooder
She helped husband N.R. Narayana Murthy set up Infosys by being its first code writer, she's authored 20 books (royalty last year: Rs 4 lakh), taught computer science to underprivileged students, and is currently the chairperson of Infosys Foundation, which has a budget of Rs 15 crore and works in the area of education and healthcare. "We have a responsibility to give back to society. Wealth is only a means to an end and we are just trustees of that wealth," says the 50-year-old Padma Shri winner of 2005-06.
-VB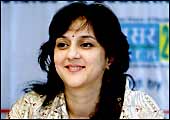 Rohini Nilekani
Making the world flatter and fairer
While her husband Nandan sells brand India abroad, Rohini, 47, improves things at the grassroots. The journalist-turned-novelist-turned-philanthropist has been spending personal money and time on causes close to her heart. Rohini's Akshara Foundation and Pratham Books seek to make education available to poor children in and around Bangalore. Another of her NGOs Arghyam (Sanskrit for "offering") works to make access to water, both equitable and sustainable, to all-its Rs 100 crore corpus is courtesy the Nilekanis alone-while Sanghamitra offers micro finance to very small entrepreneurs. Two others, CISED and ATREE, promote ecology. In between all this, the mother of two (she refused an interview), found time to write a thriller called Stillborn. Impressed? You bet.
-VB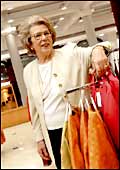 Simone Tata
India's answer to Coco Chanel
She got out of the cosmetic business eight years ago, but Simone Tata will always be remembered for giving India its first chic cosmetic brand, Lakme. Seventy five years old today, Tata hasn't lost any zeal for business. "We will be doubling our turnover in two years," says the Chairman of Trent Ltd, which owns the Westside chain of departmental stores. Last year, Trent acquired Chennai-based bookstore Landmark and now has big plans in the hypermarket space, where it debuted last year with Star India Bazaar in Ahmedabad.
-Ahona Ghosh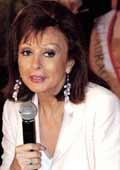 Maureen Wadia
A good word for all
I find myself giving advice all the time," says Maureen Wadia. "My family, friends, doctors, patients, employees, models...everybody seems to turn to me for advice," she says jokingly. For good reason. Wife of Bombay Dyeing group Chairman Nusli Wadia, Maureen, 60, seems exceptionally talented at managing multiple businesses. She oversees the family's charitable hospital, publishes a magazine (Gladrags), organises model talent hunt and the Mrs India pageant every year. No wonder it was past bedtime when this magazine finally managed to catch the workaholic mother of two for a quick chat.
-KM