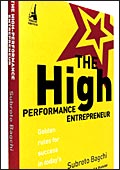 THE HIGH-PERFORMANCE ENTREPRENEUR
By Subroto Bagchi
Portfolio
Pp: 244
Price: Rs 395
Typically, books on entrepreneurship come in two varieties. One, from motivation gurus or professional writers, and the other from really big entrepreneurs (like Richard Branson) on how they cracked it. And usually, neither is a fulfilling answer to someone who wants to figure out how to become a successful entrepreneur. The problem with the first variety is obvious: It's mostly written by people who have no experience of starting and running a large business but, just the same, feel compelled to advise others on the subject. The problem with the second variety is that it is largely individual-specific. Autobiographies don't offer distilled rules that can be generally applied by everyone else. Thanks to Subroto Bagchi, we now have a third, and a vastly more useful, variety: A practitioner's guide to entrepreneurship.
Bagchi, readers would know, is one of India's best-known tech-executive-turned-entrepreneurs, who teamed up with a bunch of colleagues from Wipro, including Ashok Soota, to launch MindTree Consulting, an it consulting company, in 1999. In The High-Performance Entrepreneur, Bagchi sets out to lay down the "golden rules for success in today's world" based on his and his partners' experiences within and without MindTree. Written in a simple and straightforward style, the book offers to be the entrepreneur wannabe's friend and guide. To that effect, it's almost designed like a manual. There are 18 chapters in the book, all of them meant, first, as advisories and only then a lesson on how MindTree did it. 'When Do I Know if I am Ready?', 'Writing a Business Plan', and 'Managing Your Money', therefore, are some chapters you'll encounter in the 244-page book.
But make no mistake. The High-Performance Entrepreneur is no evangelic spiel on entrepreneurship. As an entrepreneur who's come up the hard way, Bagchi doesn't for a moment pretend to be a cheerleader for starry-eyed youngsters, keen on striking out on their own. He's more like a football coach-brutal, honest, but always well meaning. Therefore, in the book, you'll hear him say things like "If you don't need the money, do not start a company"; "Comfort with postponed gratification is a critical requirement of entrepreneurship'; or "the best way to make an organisation opaque is to bring in relatives''.
To Bagchi's credit, he doesn't think anyone needs to read a book on entrepreneurship to become an entrepreneur. "You really do not need to read this book-for that matter any book-to start your own enterprise," he advises. Just like "...no amount of reading about romance is equal to the act of falling in love...the actual experience (of entrepreneurship) is in the enactment. So, go on and do it," he urges. Indeed, but if you want to avoid costly mistakes, the Rs 395 you spend on Bagchi's book may be the best investment your start-up makes.
---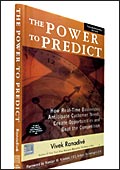 THE POWER TO PREDICT
By Vivek Ranadive
Tata McGraw-Hill
Pp: 239
Price: Rs 299
When you have people like Mukesh Ambani, Nandan Nilekani, Rajat Gupta, Indra Nooyi, and R. Gopalakrishnan writing testimonials for your book, selling it to other readers shouldn't be a problem. But who is Vivek Ranadive? He is the founder-CEO of TIBCO Software, a (Palo Alto) California-based company that makes business integration and process management software. An MIT and Harvard alumnus, Ranadive is considered an authority on real-time technology, and has another book to his credit (The Power of Now). In The Power To Predict, Ranadive argues that companies can anticipate future developments and serve customers better by continuously matching real-time events with historical patterns. "The Power to Predict," writes Ranadive, "addresses how seemingly insignificant situations can now be correlated, interpreted and processed in ways we never thought possible." According to him, several companies in the US are harnessing real-time technology to build greater intelligence on their customers with the idea of serving them better. So, The Power To Predict is really a marketing pitch for the software TIBCO makes, but that doesn't take anything away from the fact that intelligent IT can be a powerful tool for business transformation. Or as the author says, "becoming a predictive business is fundamental to the future of any company."