India Inc. is certainly on a roll. Having tightened their belts over the past decade, Indian companies are now on a spending spree-enhancing capacities and buying companies both in India and abroad. Spurring them on are robust domestic demand and massive global opportunities. "Indian companies today are taking gigantic steps," says Chanda Kochhar, Deputy Managing Director, ICICI Bank. And she is not talking only of the kinds that Tata Steel is taking in contemplating a takeover of Corus.
Over the past few years, Indian companies have re-engineered their processes, reduced working capital cycles and improved efficiencies several fold. The ensuing competitiveness gains have spurred their ambitions even further. "The plans made earlier are being implemented on the ground. Sustained economic growth and the competitiveness of individual companies are enabling that change," adds Kochhar.
Add to that the rapid build-up of infrastructure and other large projects, (see Money's No Issue) and the figures move into eye-popping territory. Topping the list of big spenders are energy (oil and gas and power), metals and mining companies. So, it's no surprise then that top bankers believe corporate India could well end up spending around $200 billion (Rs 9,20,000 crore) over the next few years.
A. Michael G. Rees, CEO, Wholesale Bank, and Director, Standard Chartered Bank, estimates that Indian companies will spend $150-200 billion over the next 3-5 years. He believes this will be driven by the "internationalisation of the Indian economy". The implication: more inbound fund flows and still greater outbound flows.
Keeping pace with this changing macro-economic environment is the mergers and acquisition activity both in the domestic market and overseas. About 300 M&A deals, with a total value of $13.7 billion (Rs 63,020 crore) have taken place in the January-August 2006 period, according to Grant Thornton, compared to 467 deals in 2005 valued at $18.2 billion (Rs 81,900 crore then). Stanchart expects the cumulative M&A activity by Indian companies to rise to $70-100 billion (Rs 3,22,000-4,60,000 crore) over the next 3-5 years.
While domestic M&As are driven by the economic rationale of consolidating often fragmented capacities and increased efficiencies, the logic for overseas acquisitions differs across acquirers-and spans acquisition of brands, marketing and distribution networks and technology transfers.
And quite a few of these deals are, or can be, transformational. "For instance, Tata Steel's proposed acquisition of Corus, if it goes through, will transform the company (to a large global one)," says Rohit Kapur, Head, Corporate Finance, KPMG.
How will these plans be funded? "There is abundance of capital. The challenge for companies is to access the right kind of funds," Kapur says. A large majority (around 50 per cent or $100 billion or Rs 4,60,000 crore) of these gargantuan spending plans will be funded out of cash accruals and equity since Indian companies are generating sizeable cash flows. Companies such as Maruti Udyog and Tata Steel have doubled profits over the last two years. However, for smaller and mid-sized companies, private equity is also emerging as a major source of funds.
On the debt side, while the exposure to foreign debt is expected to increase, the pinch is likely to be felt on the domestic side, though few will admit it today. The absence of a deep and liquid bonds market is yet another constraint. Subir Mehra, Head, Commercial Banking, HSBC India, believes that companies will need to keep an eye out for changes in the demand scenario, since "much of the incremental capacity addition in being done with an eye on exports".
The slowdown in the US economy will also need to be closely watched. A sharp look at cost structures is the other area that HSBC India's Mehra expects corporates to keep a watch on, "as we do not function in an environment where shedding high cost structures is easy".
---
INSTAN TIP
The fortnight's burning question.
Does the government's new Garibi Hatao slogan mark a setback for economic reforms?
No. Subir Gokarn, Chief Economist, Crisil
When the economy is growing at more than 8 per cent, you need to make the benefits of growth inclusive. In any case, I don't see the government trying to wrest back the ground it has already ceded to the private sector.
No. Arjun Sengupta, Economist and MP
The economic reforms that India has undertaken are not only about growth, but also about alleviating poverty and enhancing the well being of the people. So the latest slogan is nothing but a recognition of India's pressing need to alleviate poverty. It's obviously different from the Garibi Hatao slogan of the 1970s.
Yes. Gurcharan Das, Columnist and Strategic Consultant
When the economic growth is helping the poor, where is the need for Garibi Hatao? I suspect it reflects a mindset that has already manifested itself in schemes like the National Rural Employment Guarantee Scheme, which offers the poor jobs that don't exist.
---
Q&A
"Indian BPOs Are Very Secure"
Kiran Karnik, 59, president, NASSCOM, tells BT's Rahul Sachitanand that despite a recent sting operation by a British channel, India remains a most trusted location for outsourcing. Excerpts:
How serious is the problem of data theft in the Indian BPO industry?
India ranks highest in a detailed analysis comparing 40 sourcing destinations across the world (The A.T. Kearney Global Services Location Index 2005). And despite a few security breaches and some media-instigated cases, India remains very secure from a data protection viewpoint. A PWC study says there are many more such cases in the US and the UK.
What is NASSCOM doing to tackle this issue and what are the challenges you have faced?
NASSCOM has mooted the idea of constituting a Self Regulatory Organisation (SRO) for the IT-ITEs industry to help further upgrade data protection and security practices. Industry is solidly behind this initiative and the first phase of its rollout is already underway.
Will the Indian BPO industry be affected by these incidents?
Offices which deal with such issues in the UK, like the Information Commissioner, and even companies outsourcing to India, have not indicated any special concern with regard to outsourcing work here, because of the recent incidents. We do not see any business impact of stray-and unverifiable-incidents of alleged data theft.
---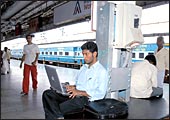 Keeping track: It's a long way away from attracting traffic
Bangalore city may have been the first station in the country to get partially rigged for wireless internet access, but four months since its launch, it doesn't seem to have taken off. Local officials blame the lack of publicity for the slow offtake of pre-paid vouchers that are required to access the web. "We sell around five or six pre-paid Wi-Fi coupons every week at Bangalore City Station, but we believe this amount will increase as more people become aware of this facility," says a senior Railways official in Bangalore. Despite the slow start, officials say they are now gearing up to add more hotspots to the station and expect to soon have the entire facility covered. "The few users who've accessed the internet, have given us positive feedback," he says. Incidentally, pre-paid vouchers are today restricted to the station of purchase, but the railways is also planning to introduce "roaming" pre-paid vouchers, costing Rs 20, with top-up amounts varying between Rs 50 and Rs 500. "This could spur the growth of our Wi-Fi initiative," the official adds. Verdict: The speed's not too bad, but since passengers can access the net at just a handful of locations (this writer tried it at the main concourse), there's some way yet before it becomes pervasive. Railtel wants to make 500 stations across the country Wi-Fi enabled. But its pilot project in Bangalore seems to have been a damp squib.
-Rahul Sachitanand
---
Megatrends, Competition And Technologies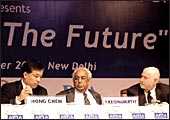 Managing the future: Speakers at the AIMA convention in Delhi
When the economy revs up, it makes sense to peer into the future and psych up for it. So, the All India Management Association's 33rd National Management Convention, held in Delhi on October 6-7, was appropriately themed 'Managing the Future', and attracted an impressive roster of speakers-Peter Schwartz, Chairman, Global Business Network of Monitor Group, (who is as well known as a futurist as a business strategist), Mohanbir Sawhney, the McCormick Tribune Professor of Technology, Kellogg School of Management (named by Business- Week as one of the 25 most influential people in e-business), and Raj Reddy, Mozah Bint Nasser University Professor of Computer Science and Robotics, Carnegie Mellon University.
Schwatrz identified the increasingly real-time trade in goods and services, new technology, spread of education, and the growing middle class as the global "megatrends" of the next decade. "The IT revolution has just begun and quantum computing is only some years away," he reminded the audience.
"China and India, in that order, will be the world's largest economies after the us in less than 30 years, according to Goldman Sachs. That projection underlines the need for the two Asian giants to collaborate in areas where they complement each other," said Hong Chen, Chairman and CEO, The Hina Group, a China-focussed investment banking and private equity player.
Speaking on the sub-theme of 'The Talent Imperatives', Pramod Bhasin, CEO, Genpact, the BPO company, said: "In future, management is increasingly going to be about managing talent. The BPO sector, like other industries, has been hungry for talent and hard-pressed to retain it. Today, every employee in my industry has at least three job offers in hand at any given point in time."
---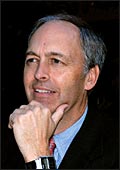 I saw that coming: Forrester's Colony
George F. Colony, Chairman and CEO, Forrester, a technology and market research company, is known to stick his neck out and make bold predictions, most of which come true. Here are some more:
On why the US downturn will help Indian companies: Tech spending in the US, which is projected to grow 8 per cent in the current year, will slow down to 3-4 per cent next year. When budgets are cut, low-cost destinations give the biggest bang for the buck.
On the fourth wave in technology: It's the X-Internet, for Executable or Extended Internet, and will happen in 2008-09. (The first three waves were mainframe computing, the PC wave and the network computing wave, each of which lasted about 15-20 years). Even mission critical applications like ERP, CRM or accounts payable or receivable will have ad-supported software that is free in the hands of the end user.
On Indian IT companies.
They are at the apogee of their profitability. As they grow larger and more international, cost structures will start reflecting reality. They will continue to enjoy good times, but it will never be as good as the present.
On why IT should be called BT.
It is no more just about information, it is about business. It is time to call it Business Technology.
---
Q&A
"We Are Excited About India's Talent"
Jane Friedman, president and CEO, Harper Collins Worldwide, was in India recently on a "long overdue" visit. She spoke to BT's Arnab Mitra on the company's plans in this country. Excerpts:
Despite the huge English-speaking population in India, the market for English language publications is a little thin in this country. How do you propose to tackle this?
Let me begin by saying that we are excited about our growth potential in India and equally excited about its writing talent. Harper Collins is already among the leading publishers here, but we need to do more. One way, obviously, is to strengthen our retail and distribution network across the country. Our distribution agreement with The India Today Group will make our titles available in over 2,000 outlets across 80 cities and towns. We are also looking at alliances with retail chains like Reliance, Odyssey and Landmark to reach out to a wider audience. Then, we also plan to fully utilise the potential of the internet. It's a great marketing tool and we're exploring the possibility of making some books partially downloadable. This will raise our visibility in the market and help generate interest in our titles. However, I must clarify here that we have no plans to actually market e-books in India.
Any plans of entering the market for Indian language publications?
That is one of our focus areas. We are making a beginning by publishing international bestsellers in Indian languages. Harper Collins will soon launch The Chronicles of Narnia by C.S. Lewis in Hindi. We are committed to serving the vast numbers of local language readers by providing them with literature of the highest caliber. In the same way, we are also committed to deliver works by Indian authors to the wider reading public the world over.
There is a feeling that Indian authors have to write exotic literature to sell in the West...
(Laughs) It's part of the process of acceptance. Twenty years ago, even British writers were considered exotic in the US. It's just a matter of time before Indian authors also become part of the global mainstream. Vikram Chandra and Vikram Seth have already made that transition. They happen to be authors who are Indians; but they're not considered "exotic" any more.
Will you be outsourcing any core editorial and design work to India as well?
It is high on our agenda and we are exploring opportunities in this regard. Price is an obvious driver, but we have to keep in mind that very aggressive pricing can also devalue a book.
---
Magic Kingdom Goes Into Overdrive
Walt Disney Company India seems to be getting its act together in India. The company bought Hungama TV, a cable and satellite channel for children, for $30.5 million (Rs 140.3 crore) three months ago, announced a franchisee agreement with Delhi-based RJ Corp last week to launch Disney Artist, a retail chain that sells its branded stationery and craft products, launched Disney Jeans, an apparel brand and also plans to launch its global news channel, ABC News, on Dish TV. Besides, it will produce films in India. New mobile phone and internet properties are also on the anvil. "I expect all our businesses to grow three-to-four fold in the next two years," says Rajat Jain, Managing Director of the company.