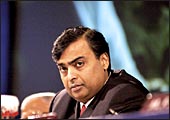 NAME: MUKESH AMBANI
AGE: 49
DESIGNATION: Chairman and MD
STATE: Reliance Industries
Mukesh Ambani is at it again. Over the last six months, he has managed to list a brand new company, Reliance Petroleum Limited (RPL), following an enormously successful Rs 2,700-crore public issue. The big story before the IPO was of course us major Chevron's decision to pick up a 5 per cent stake in RPL for $320 million (Rs 1,472 crore). The gas story is still on and Ambani seems to be going full steam on it. Media reports have suggested that Reliance Industries (RIL) has hired about 1,800 Chinese personnel who will lay the pipeline from the Krishna Godavari (KG) basin all the way to Jamnagar and Dadri. RIL's contract for the project is with China Petroleum Pipeline Engineering Corporation (CPPE). In yet another example of Ambani's undiminished clout with the government, these reports also suggested that the Ministry of Home Affairs has reportedly decided to sympathetically consider RIL's plea to issue visas to the Chinese technical experts whom it has hired for the project-a significant concession considering that all previous efforts by other companies and political parties (read: the CPI(M) and the CPI) have run into "security-related" roadblocks. "As Reliance moves ahead, oil and gas exploration and production will undoubtedly be the highest value creating business," Ambani told shareholders at RIL's Annual General Meeting (AGM) in June this year. Ambani, it is learnt, is also examining the possibility of spinning off the assets in the kg Basin into a separate company. If it does happen, and given his track record, there is no reason to believe it won't, he is certain to generate enormous value for all the stakeholders in the project.
Ambani's core team has been with him for a long time now. He has also recruited several other top notch professionals from the private sector. Like Ambani, his senior executives are rarely seen in public and the AGM is one of the few occasions when they come under the arc lights. Those who work with him say he is very hands on but also delegates responsibilities to a select group of senior colleagues. The Jamnagar refinery, that has been up and about for over five years now, is an example of his, and his team's, ability to deliver mega projects within stiff deadlines. Ambani is now ready to improve on that record.