Malvinder Mohan Singh
33/CEO & MD, Ranbaxy Laboratories
Cameras: Nikon FM, Nikon FM2 and Nikon F3
Singh's interest, which first became evident in school, led to him winning the first prize at the inter-college photo competition while at St Stephen's College, Delhi. He started with a "locally-made camera" (he doesn't remember which one), graduated to using Nikons from his early teens and now has the Nikon FM, FM2 and F3. Singh inherited his interest in photography from his father and maternal grandfather. He gets very little time these days to devote to his hobby but still indulges himself when on holiday. Over the years, Singh has built a huge collection of wildlife, action, nature, architecture and portrait photographs and prefers analogue to digital cameras though he does find the latter more convenient.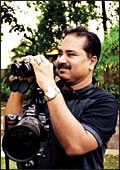 G.V. Prasad
45/Vice Chairman & CEO, Dr Reddy's Laboratories
Cameras: Nikon D70, Casio Exilim, Sony Cyber-shot
"I like to watch nature and I particularly like bird watching," says Prasad. Thrice every year, he travels out with his camera, three lenses, a tripod, Leica binoculars and a Swarovski scope to capture his magic moments. Prasad first became interested in photography as a 12-year-old when he received a Kodak camera as a gift. Eight years later, he was the proud owner of his first professional camera, a Nikon EM. He has learnt the nuances of photography on his own and by experimenting. "Technology is so good these days that you get good pictures quite easily," he says. He is also getting lucky. Recently, at his home in Banjara Hills in Hyderabad, he spotted and shot (with his camera) a hornbill and a kingfisher! Talk of killing two birds with one stone.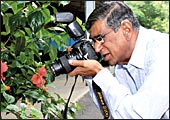 K. Mahesh
63/ CMD, Sundaram Brake Lining
Cameras: Nikon D70 and Nikon D200
He has been shooting pictures ever since he was seven. And in the 56 years since, he has used a wide range of cameras-he started with the Kodak Box Camera in 1951, used the Contax 35 mm range finder camera from 1955 to 1970, the Rolleiflex from 1962 to 1968, then moved over to the Cannon T90 SLR and now uses the Nikon D70 and the Nikon D200. How did he develop his interest in photography? "It's in the genes," he says, adding that he grew up seeing his father, uncle and cousin shooting photographs. He was able to hone his skills by what he calls "asking for criticism and by talking to people." Mahesh picked up the essence of shadow play (in black and white pictures) through his association with Harry Miller (the then chief photographer of The Indian Express in Chennai in the early 60s). He began by shooting photographs of the Gods (Chitra festival), but now prefers to shoot the people, and their emotions, there. Over the years, his collection has grown to over 6,000 photographs which he plans to publish as a book soon.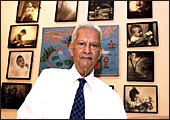 Basant Kumar Birla
86/ Chairman, B.K. Birla Group
Camera: Olympus Super Zoom 76 multi AF
His photographs capture nature; they capture youth; and most importantly, they are sensitive and warm. As the 86-year-old patriarch of the Birla family leafs through these magic moments, frozen in black and white, his voice is full of emotion. "I was always fascinated by photography. The new box camera aroused my interest," he says, recalling how he took to photography in 1931 with a Kodak box camera gifted to him by his father. "Gradually, the interest grew. So did my capability and confidence," says B.K. babu (as people refer to him affectionately and respectfully). Eventually, he became the family photographer of sorts, recording the history of the Birla family-and, by extension, the history of the development of Indian industry-on a variety of cameras, among them the Contax, Asahi Pentax and Nikon. In the 50s, he delved more deeply into his hobby-leaving home on foot at the wee hours of the morning and shooting for five-six hours at a stretch. "Maybe four or five out of 20 shots used to be good," he recalls. "But that gave me the confidence and the courage to participate in photography exhibitions in big cities across the world. For an amateur photographer like me, it is an honour to get an entry in such exhibitions. Many of my photographs received high commendations and around half a dozen even won top medals and awards," says Birla. He now uses an Olympus Super Zoom 76 multi AF camera. "At my age, I cannot manage bigger equipment than this," he says. His book of photographs, Frozen in Time, was published in December 2003.
-Ritwik Mukherjee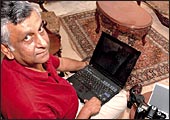 Utpal Sen Gupta
57/President, Agro Tech Foods
Cameras: Canon S50, Nikon D70
It's thanks to Howard Buffett (Warren Buffett's son), who joined the Agro Tech Foods board three years ago, that his interest in photography was revived. Sen Gupta has been accompanying Buffett, who, when in India, prefers to visit places that offer good opportunities for photography. But Sen Gupta has been a keen photographer for a long time. He acquired his first serious camera-a Minolta-30 years ago; 10 years later, he moved to the Canon T70 SLR. He bought a Canon S50 four years ago and a Nikon D70, which he now uses, two years ago. Needless to say, he has a huge collection of more than 5,000 photographs-they range from shots taken during an Alaskan cruise in June this year to profiles of Bastar tribals to photographs of nature and wildlife. The piece de resistance: a clear shot of a cheetah in South Africa about a year ago. How did he learn the nuances of photography? "I read several books on the subject, sought professional help and learnt by trial and error," he says. Later this month, he and Buffet will be setting out for Bhutan on their next photography expedition.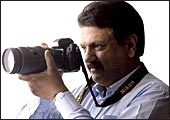 Ajay Piramal
51/ Chairman, Nicholas Piramal India
Cameras: Nikon F100, Canon EOS 5D and Canon EOS 1D
He was always attracted to photography but it took a programme on the subject organised by the Indo-American Society in 1973 to get him hooked. Result: he now has a rich collection of about 10,000 pictures-typically wildlife, nature and holidays. For wildlife shoots, he usually carries two cameras with him. But learning the nuances of photography was not easy. He found his way around the problem by reading up on the subject and by relying on experience. Today, he is seeking professional help and is learning new techniques, including ways to improve pictures using Photoshop. His first camera was a Nikon (F3 or F100, he doesn't remember). Piramal prefers sticking with the Nikon family of cameras for still pictures. In the digital space, he has opted for Canon EOS 5D and the Canon EOS 1D.